A painted composition of a dad and his son fishing on the riverbank; this is a commission painting.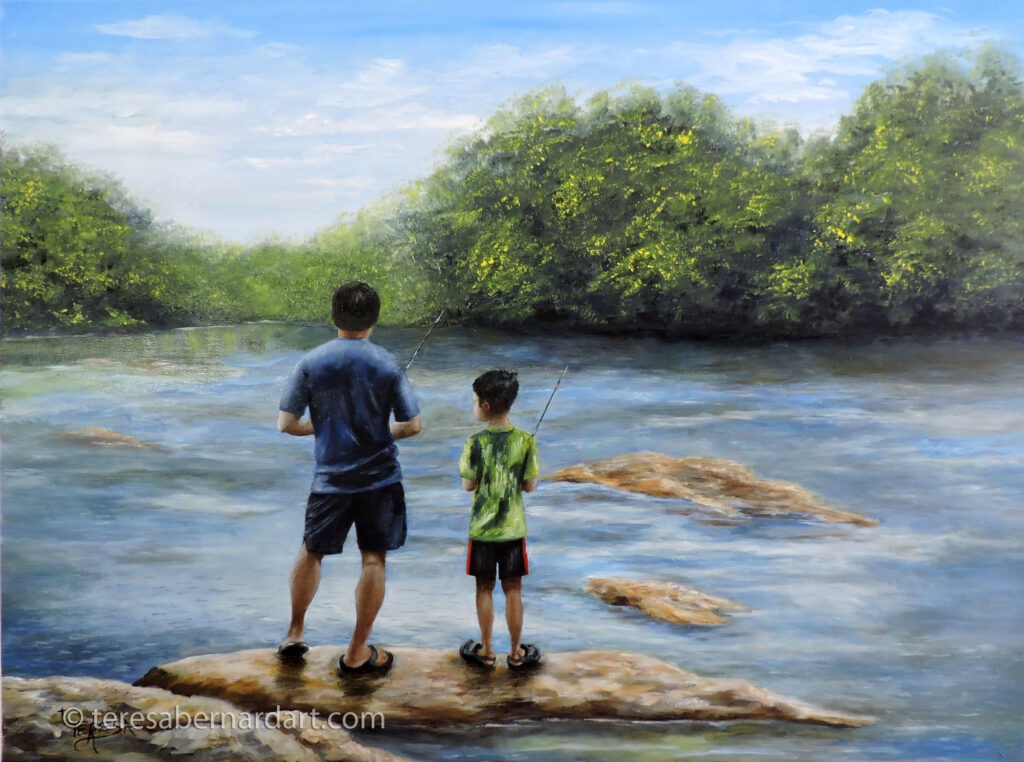 SOLD: This painting is a commissioned work and has been sold.
Customer Feedback
"The painting arrived yesterday, and we absolutely love it! Thank you so much! I love seeing it hanging on the wall with the sides painted!" — John Ouch, Peachtree Corners GA
Details & Description
Title: Fishing with Dad
Size: 24″ w x 18″ h
Canvas Type: Gallery Wrap Stretched Canvas
Shape: Horizontal (landscape)
A young lad and his dad are fishing off the banks of Georgia's Chattahoochee River in this painting. The sky above is cloudy, and trees line the far bank of the river.
Fishing with Dad is hand-painted on gallery wrap stretched canvas and signed by fine artist Teresa Bernard.
Artist Comments
A gentleman from Georgia contacted me about creating a painting for him. He emailed a photo of what he wanted. The photo was of himself and his son fishing, however, it was tightly cropped and did not show much of the area surrounding the two. He told me they were fishing along the shores of the Chattahoochee River at Jones Bridge Park in Peachtree Corners, Georgia. So I did some research on the river and was able to incorporate it into his painting.
When the painting was finished, I didn't know what its title should be, so I shared it on social media and asked for some ideas. I received numerous good suggestions, none of which I used; however, they did help me come up with what I believe is a suitable name for the subject matter. That's how the title "Fishing with Dad" came to be for this commission painting.
Art Commissions
Teresa does commission paintings. If you have a special painting in mind and you want to make it a reality just like John did, contact us. See "How to Commission a Painting" for more information.
Thanks for looking!
Feel free to share this with your friends.
---
UPDATED: 27 November 2023