An original painting of our nation's official national mammal, the American bison. This large artwork would look fantastic with any rustic decor.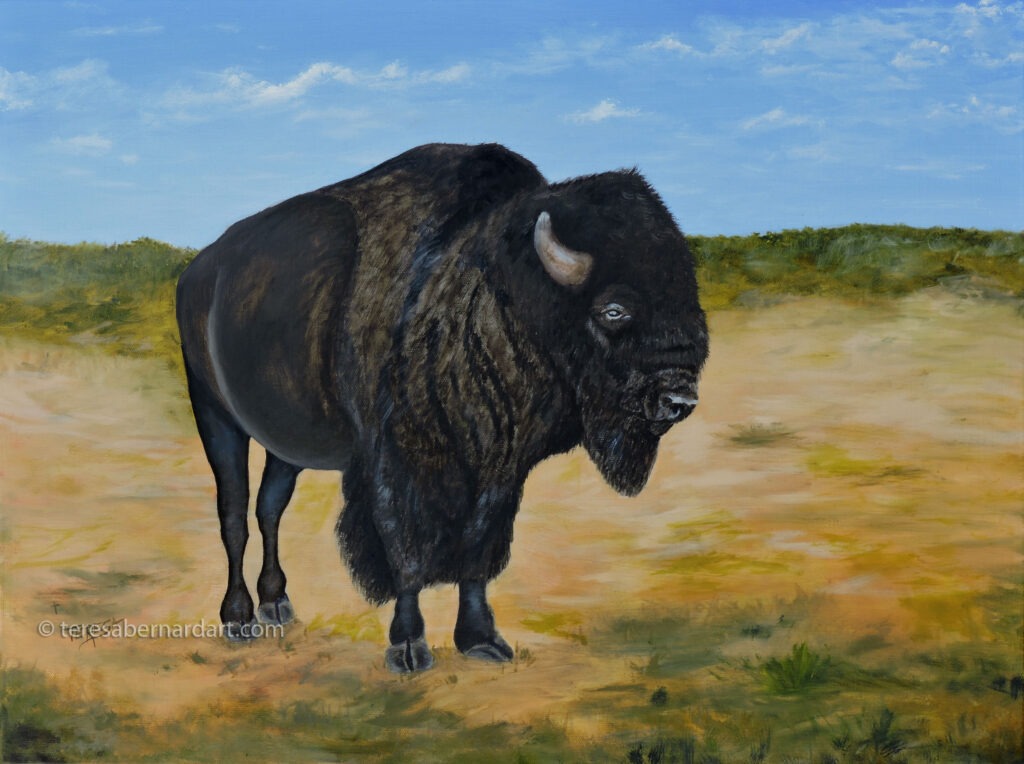 $420
FREE shipping and handling within the U.S.A.
Contact us for international postage and handling.
All transactions are via PayPal, a safe and secure way to make your purchase.
About American Bison Painting
Title: The American Bison
Size: 24″ w x 18″ h
Support: Gallery Wrap Stretched Canvas
Shape: Horizontal (landscape)
Description:  A wildlife painting depicting a lone American Bison standing out on the open range. In the background, the prairie rises to meet a blue sky with whispy overhead clouds. This painting will look great in any rustic, Native American, or western-theme room. The artwork is signed by fine artist Teresa Bernard.
This American Bison painting is hand-painted on a large gallery wrap stretched canvas. No frame is required to exhibit it because the artwork extends around the edges of the canvas. However, it will look great should you choose to have it framed.

This painting comes with an official Certificate of Authenticity. More information here.
Artist Comments
The story behind this American Bison painting begins in 2016. It is the year the American Bison became America's official national mammal. It is also in the summer of that same year, we traveled to Rapid City, South Dakota, on a family vacation. While there, we made it a point to visit Custer State Park, where several herds of American bison roam freely. We just had to see these magnificent animals up close, and we were not disappointed.
Upon entering the park, a ranger told us to keep a safe distance and be conscious that this park is their home. We, humans, are the visitors, at least from the bison's point of view. We drove through the park and were privileged to watch a herd of the largest mammal in North America crossing the road just a few feet ahead of our vehicle. They took my breath away. I wanted to exit the car and approach them, but that would not have been wise because Bison are massive wild animals that can become easily startled and behave aggressively toward what they perceive as an approaching predator.
I'm amazed by the Bison, they are truly a favorite animal of mine. I created this painting of the American Bison several years later after returning home from this trip.
American Bison, Where Are They Today?
In the 1500s, an estimated 30 to 60 million bison were living in North America. Today, approximately 200,000 bison live in all 50 states, including Native American lands, wildlife refuges, national parks, and private lands. The top five states where bison roam are South Dakota (where the largest population is), Nebraska, Montana, Colorado, and Oklahoma. The largest bison herd is in Yellowstone National Park, where bison have continuously lived since prehistoric times. What makes Yellowstone's bison herd so special is that they are pure-blood descendants of the early bison that grazed on America's grassy plains.
Have a question?
If you have a question about this painting, please contact us, and we'll be happy to answer any of your questions.
Other Wildlife Paintings of Interest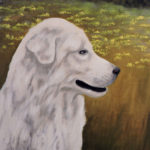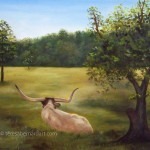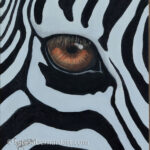 Your Feedback
♦ "Bison are dangerous. Don't get "up close" to them. We ran the Bill Cody Ranch for a while. One day someone drove up in a minivan with a broken-off buffalo horn sticking out of the side of the van. They had been up in Yellowstone Park, pulled off the side of the road to look at buffalo, and had opened the side door to take pictures. The flash set one of them off, and he charged the van. They managed to get the door closed just before he hit." — Paul47, Rural Life, Gab
♦ "I love South Dakota, just everything about it. Your painting captures my memories beautifully." — blewmom, Rural Life, Gab
♦ "Awesome Artwork, …wonderful paintings in naturalism…my compliments." — Fred Baniago, NATURE & ANIMALS, MeWe
♦ "Teresa, that's a beautiful painting! Thanks for sharing. I liked South Dakota when I was there years ago too." — Muriel Kuri, The Good Morning Brigade, Gab
♦ "You have great talent!" — John Groulik, ART: REALISM AND HYPERREALISM STYLES (ONLY), MeWe
♦ "Nice painting, bison is my favorite animal." — Víctor Murillo, Rural Life, Gab
Thanks for looking!
Feel free to share this with your friends.
---
UPDATED: 24 July 2022