A painting depicting a view of the Yaquina Head Lighthouse from below. The beacon sits atop a tall tower bathed in the warmth of the sun.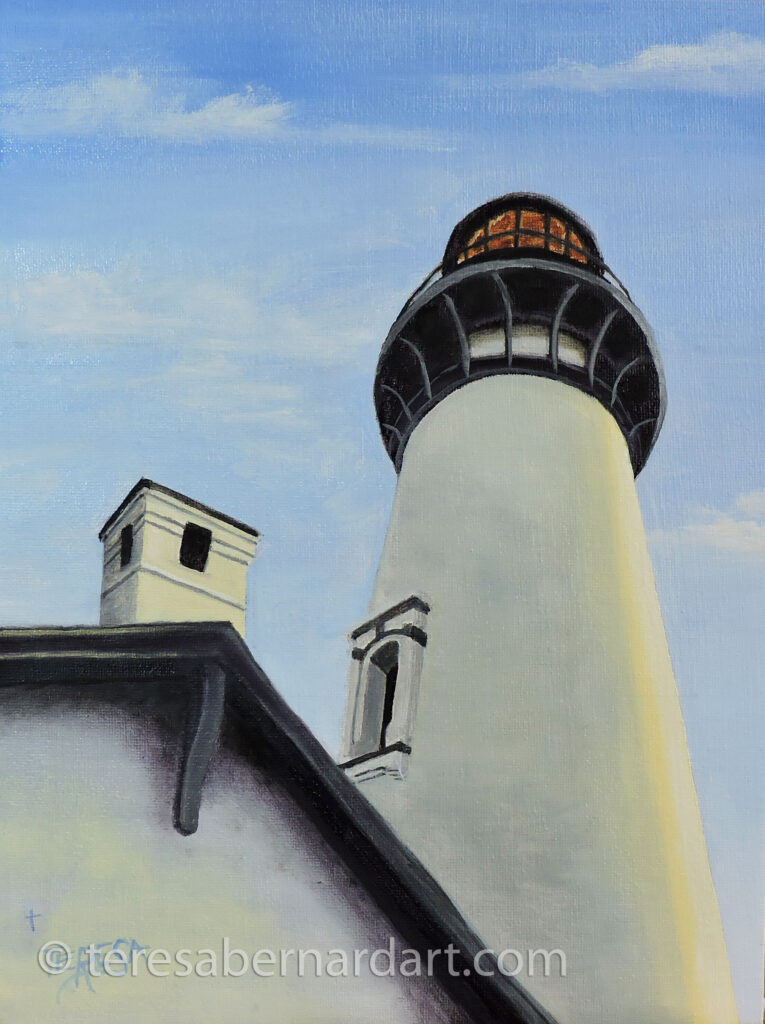 SOLD: This painting has been sold to a private art buyer in Nevada.
About this Lighthouse Painting
Title: Yaquina Head Lighthouse
Size: 9″ w x 12″ h
Support: Canvas Panel Board
Shape: Vertical (portrait)
Description:  A painting of Yaquina Head Lighthouse as seen from below and looking up. From this artwork, one gets a sense of its height as it towers above the keeper's quarters with a blue sky overhead, while the warm sun shines upon the column that supports its beacon. This hand-painted artwork is signed by oil painting artist Teresa Bernard.
Yaquina Head Lighthouse is hand-painted on a quality canvas panel board. It will need to be framed before it is can be displayed.
Artist Comments
The beautiful Yaquina Head Lighthouse (pronounced "ya-queen-eh" by locals) was built in 1872-73 on the Oregon coast just north of Newport. The lighthouse is named after an American Indian tribe of the same name that is now nearly extinct. It is a popular tourist destination, with visitors coming to explore the surrounding beaches and tide pools.
The composition of this painting is almost a "worm's-eye view" of the famous Yaquina Head Lighthouse. That struck me as an intriguing angle. I was hesitant to paint the lighthouse at first because I wasn't sure I could get the angle right. However, I'm glad I overcame my apprehension and decided to paint the lovely lighthouse anyway. I love how it turned out.
Your Feedback
♦ "Have always wanted to live in a lighthouse! Love this painting and its perspective! Great job!!" — kennethk3475, Rural Life, Gab
♦ "Very nice! Looks a lot like Pigeon Point lighthouse. 🥰💕" — @mamasan4, TRUTH Social
♦ "Beautiful work, Teresa…you really know how to bring out the dimension and form of your subject(s) – I see a lot of positive influences from other artists in your work, but will just say I like what you're doing … I'll keep checking back for more paintings!" — @TK_MAJOR,  TRUTH Social
Thanks for looking!
Feel free to share this with your friends.
---
UPDATED: 12 December 2022