A leopard is depicted in this African wildlife painting. This piece is part of the Adventures in Africa series.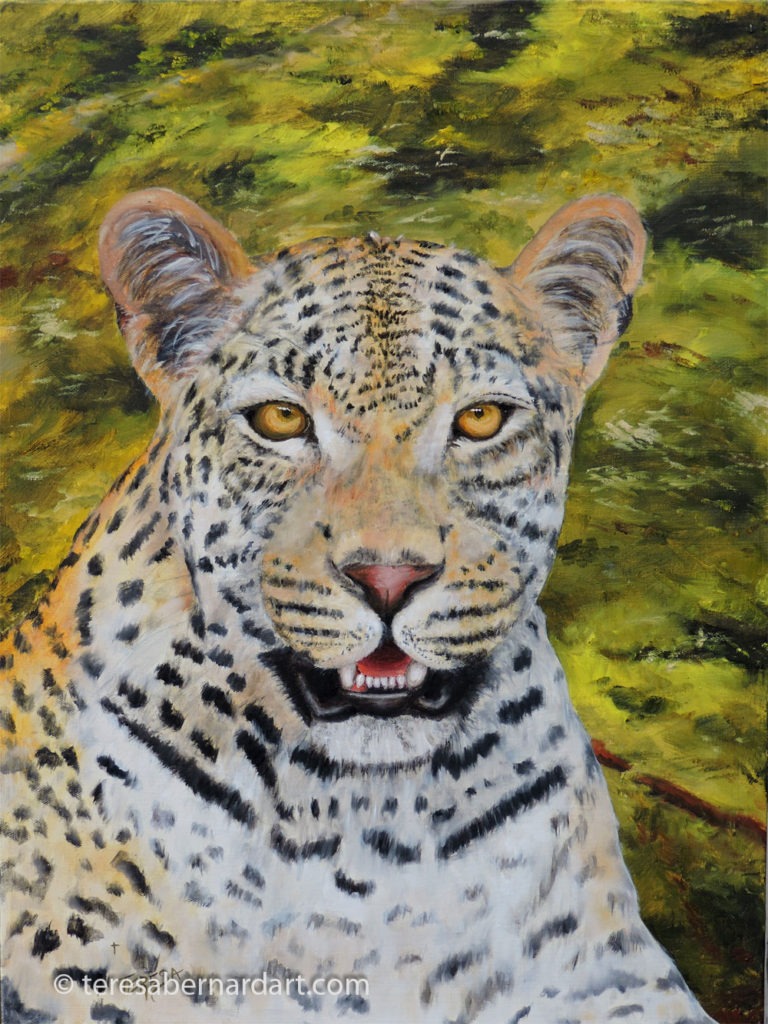 SOLD: This painting is a commission and has been sold to an art collector in San Diego, CA.

Fine Art Prints
Although the original painting has been sold, this artwork can still be enjoyed in your home or office. Art prints are available for purchase at the link below.
⇒  African Wildlife Leopard Painting by Teresa Bernard – Fine Art America
About this Painting of The African Leopard
Title: African Wildlife — Leopard
Size: 18″ w x 24″ h
Support: Gallery Wrap Stretched Canvas
Description: A realistic African wildlife portrait of the leopard. The leopard is sitting in front of a camouflaged background. This painting is hand-painted on gallery wrap stretched canvas and signed by artist Teresa Bernard.
Artist Comments
An art collector who is passionate about Africa commissioned this wildlife painting of a leopard. He wanted me to create a portrait of a leopard for his personal collection of African art. I composed this artwork using a reference photo provided by my client. It's one of five paintings he commissioned from me. However, before I began working on this painting, I did some research about leopards. Here is a little of what I learned about this big cat.
About Leopards
Leopards are graceful and powerful big cats closely related to lions, tigers, and jaguars. They live in sub-Saharan Africa, northeast Africa, Central Asia, India, and China. They easily adapt to a wide variety of habitats, altitudes, and temperatures, from high mountains to deserts to rainforests. The largest of the species are named after the regions where they're found, like the North African leopard and the Persian leopard. These big cats have a varied diet and enjoy different kinds of grub. They will eat bugs, fish, antelope, monkeys, rodents, deer; pretty much any prey that is available!
Other Paintings in The Adventures in Africa Series
An art collector commissioned five African-themed paintings, including the leopard painting shown above. The links below will take you to the other paintings in this commissioned series.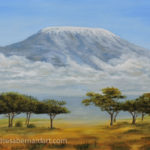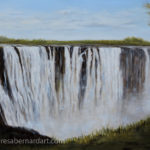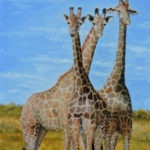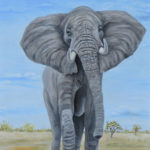 Thanks for looking!
Feel free to share this with your friends.
---
UPDATED: 31 July 2023