A garden snail makes its way out on a limb in this small creature painting. This artwork is ideal for anyone who loves snails.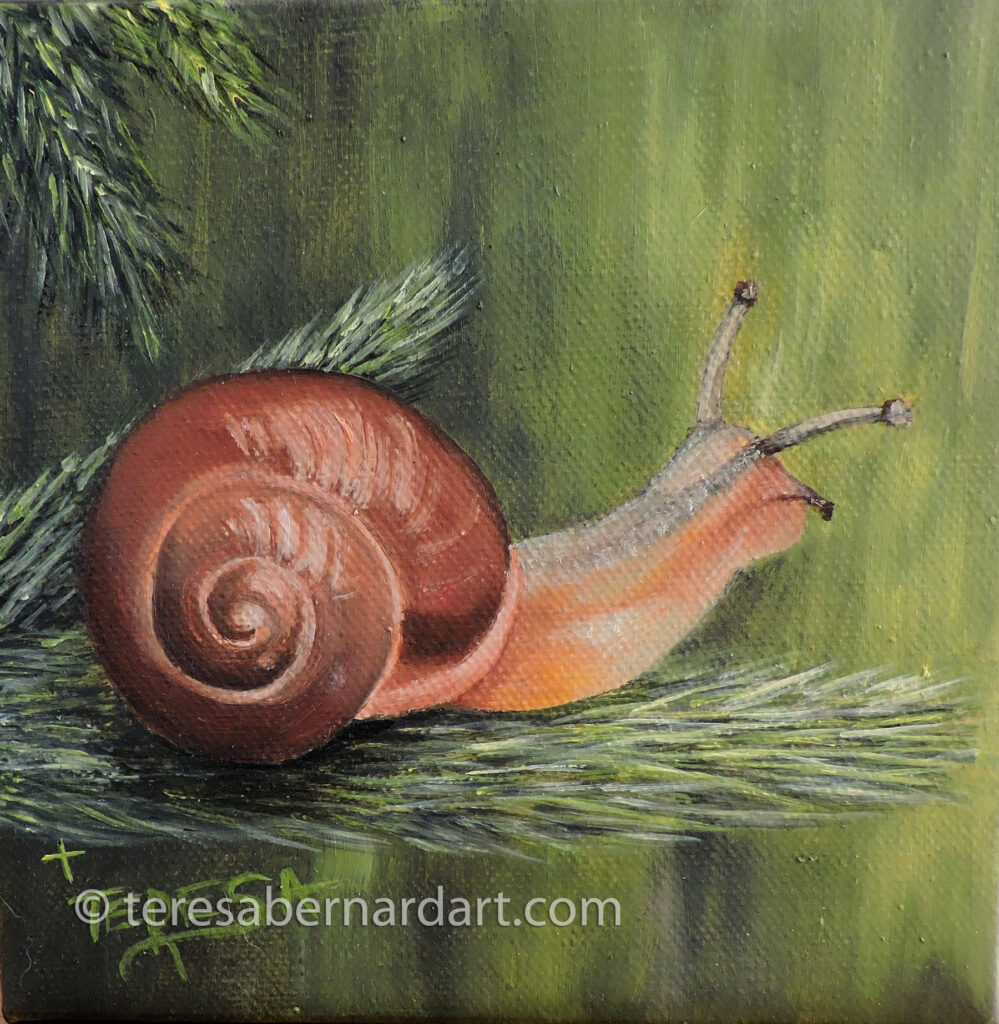 $120
FREE shipping and handling within the U.S.A.
Contact us for international postage and handling.
All transactions are via PayPal, a safe and secure way to make your purchase.
Details & Description
Title: Snail #3: Out on a Limb
Size: 6″ w x 6″ h
Canvas Type: Gallery Wrap Stretched Canvas
Shape: Square
A small creature painting depicting a commonplace reddish-brown garden snail moving its way out on an evergreen tree limb. The painting is one of four in a series and is signed by nature artist Teresa Bernard.
Snail #3: Out on a Limb is hand-painted on gallery wrap stretched canvas. Its scaled-down size makes it suitable for tight spaces or areas where space is limited. It doesn't require a frame before display because the composition stretches around the sides of the canvas giving it a modern look. However, if you prefer to have it mounted in a frame, it will look great in any location it's put on display.
The copyright watermark ©️ teresabernardart.com is not present on the canvas artwork.
Artist Comments
Snail #3 gives me a nostalgic feeling for Christmas. Perhaps it's the evergreen branch this small mollusk is perching on. This painting is of a garden snail, a species of land snail (terrestrial gastropod mollusk) and is one of the most widely spread species of all terrestrial mollusks worldwide. It is another in a series of small paintings I did of this amazing little life form. (See other paintings in this common snail series below.)
Have a question?
If you have a question about this painting, please contact us, and we'll be happy to answer any of your questions.
You May Also Like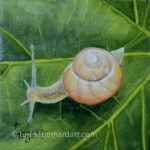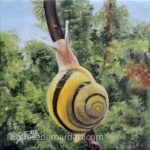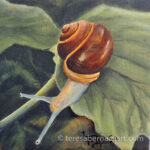 Thanks for looking!
Feel free to share this with your friends.
---
UPDATED: 24 November 2023