This large painting depicts space travel. The artwork features a spacecraft that resembles a NASA space capsule traveling through a distant galaxy.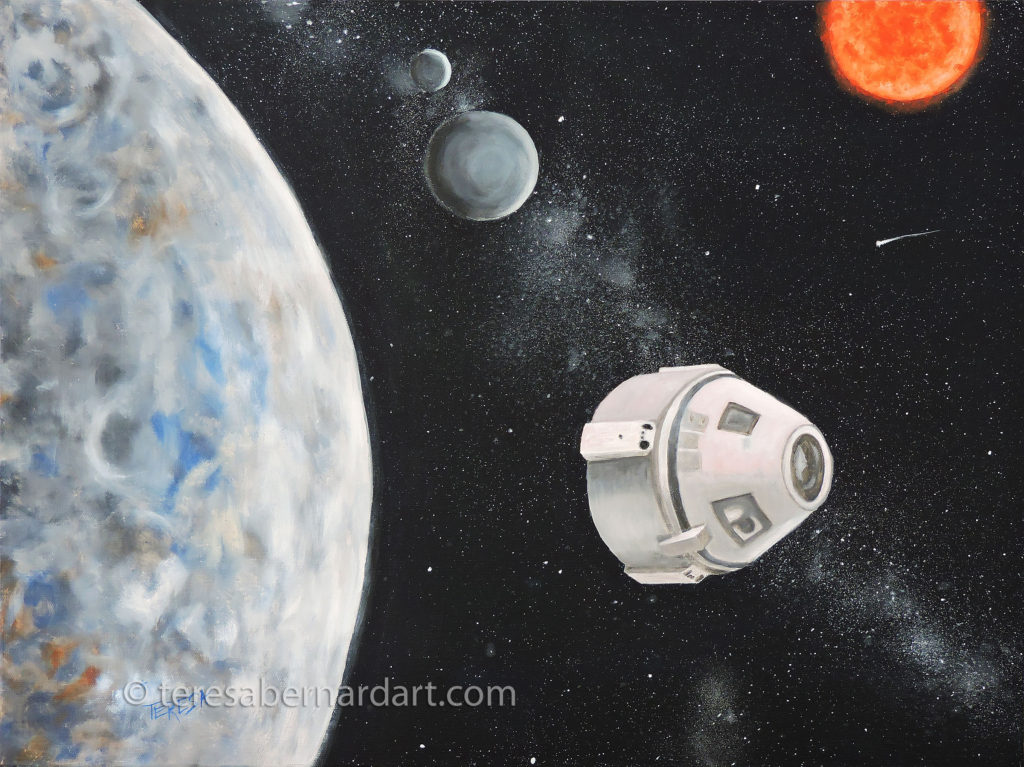 $420
FREE shipping and handling within the U.S.A.
Contact us for international postage and handling.
All transactions are via PayPal, a safe and secure way to make your purchase.
About this Space Travel Painting
Title: Space…The Next Frontier
Size: 24″ w x 18″ h
Support: Gallery wrap stretched canvas
Shape: Horizontal (landscape)
Description:  An original painting depicting space travel, the next frontier. The artwork features a spacecraft that resembles a NASA space capsule traveling through a distant galaxy. The spaceship is passing by an Earth-like planet with two moons and a red sun. In the background, a comet is making its way toward the Milky Way.
This space travel painting does not need to be framed. It is painted on a quality gallery wrap canvas which allows the artist to paint around the edges of the painting. It has been hand-painted and signed by fine artist Teresa Bernard.
Copyright watermarks are prominently visible on all online artwork images. This watermark is to prevent unauthorized use of the painting's image. It is not depicted in any of the original canvas paintings.

This painting comes with an official Certificate of Authenticity. More information here.
Artist Comments
I love great sci-fi movies like Star Trek, Star Wars, and Star Gate; just about any story where space travel is involved. I should have grown up to be an astronaut instead of an artist, well…, maybe. The bottom line is, that I love adventure, and traveling through the far reaches of outer space would be the pinnacle of adventure for me. As a result, I created a painting depicting space travel.
I titled this painting "…The Next Frontier" because I do not believe space exploration is our final destination. When we explore space, we are exploring the next frontier, not the last. Our final frontier is to spend eternity with our Creator God in His kingdom! The Holy Bible has much to say about this topic. Check it out for yourself!
Have a question?
If you have a question about this painting, please contact us, and we'll be happy to answer any of your questions.
Other Spacecraft Paintings of Interest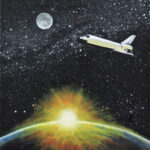 Your Feedback
♦ "When I was a little kid, I loved to draw spaceships during every idle moment. The adult caregivers eventually cured me of that allegedly bad habit. I know it doesn't pay well, but please continue with your space-themed art. I think your painting is beautiful!" — @Skylark5, Gab
Thanks for looking!
Feel free to share this with your friends.
---