A peaceful beach painting with a seagull in the foreground.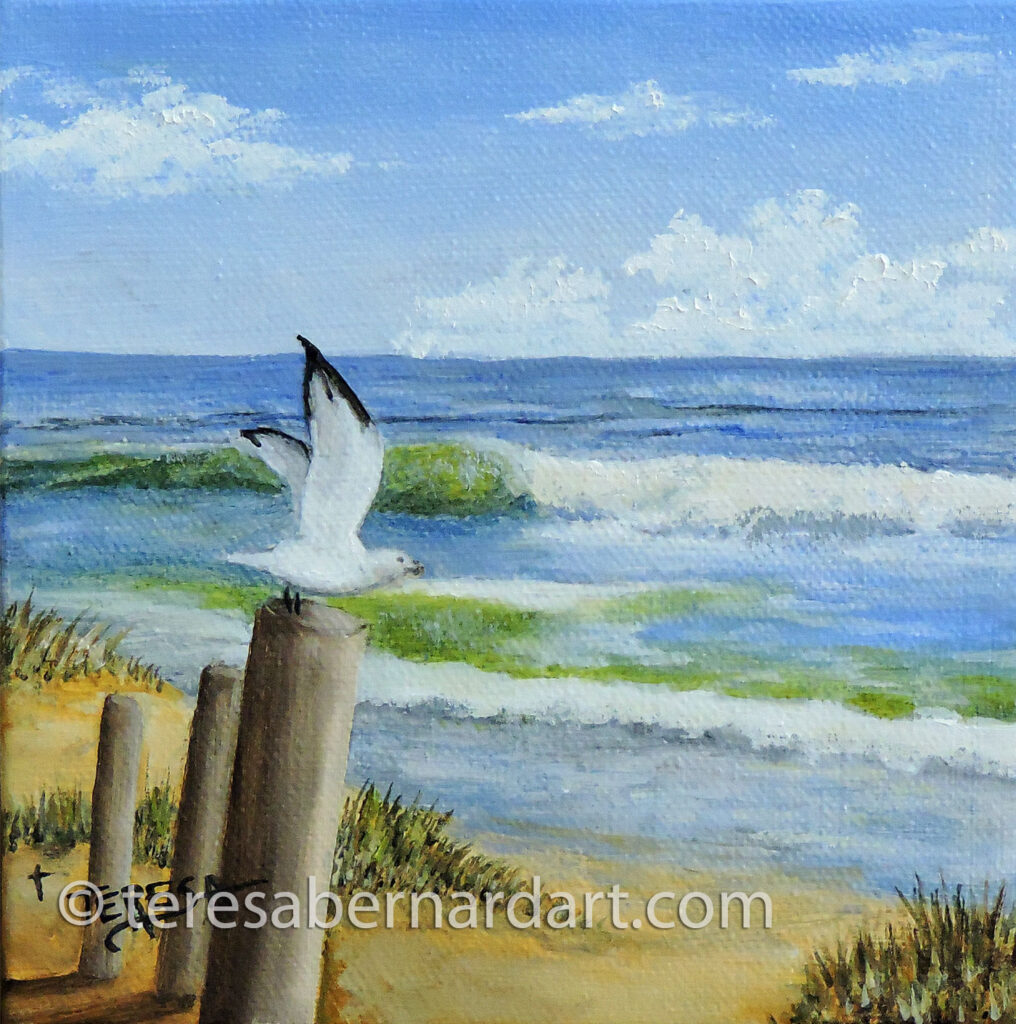 SOLD: This painting has been sold to an art buyer in Texas.
Customer Feedback
"I have a guest room with lighthouses, but I wanted something really special. I love the beach scene with the seagull because it looks so peaceful." — Roberta Bernard, Crosby TX
About Seagull and Beach Painting
Title: Seagull Beach
Size: 6″ w x 6″ h
Support: Gallery Wrap Stretched Canvas
Description:  A beach painting with a seagull sitting on top of a post in the foreground and ocean waves gently rolling into shore in the background, all against a partly cloudy sky overhead. Beautiful and soothing, this seaside artwork is a must-have for any beach lover and will be a perfect addition to your coastal-themed home or office decor. Composed by hand on quality stretched canvas and signed by American artist Teresa Bernard.
Artist Comments
The composition of this seaside painting consists of a sandy beach, gentle ocean waves, and a seagull in the foreground. The aquatic color scheme has both a soothing and calming effect on its viewer.
This oil painting measures 6″x6″. Its small size makes it perfect for tight places with limited space. (See "Small Paintings for Small Spaces" for more info.)
I hand-painted it on gallery-wrap canvas. This allowed me to paint on the sides or edges of the canvas. What this means is the canvas wraps around the support bars and is stapled at the back instead of the sides. This gives the painting a modern look and it can be hung on the wall without having to be put into a frame. Most of the paintings I do today are composed on this type of canvas.
Thanks for looking!
Feel free to share this with your friends.
---
UPDATED: 07 July 2022