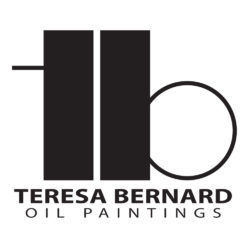 At Teresa Bernard Oil Paintings, we take privacy and security seriously. This privacy policy discloses the privacy practices for teresabernardart.com. This privacy notice applies solely to information collected by this website that is voluntarily given by site visitors.
Our privacy policy includes:
Data collected:
Email address (required)
Name, Country (optional)
Data use – We use your data to send emails regarding Teresa Bernard Oil Paintings.
Data access – We never have and will never rent, sell, trade, or share your information with any third party.
Each email sent provides a link to opt-out of future emails.
This notice responds to the General Data Protection Regulation (GDPR) – Europe's new framework for data protection effective May 25, 2018. If you have any questions related to our Privacy Policies, please let us know.
Information Collection, Use, and Sharing
Teresa Bernard is the sole owner of the information collected on this site. We only have access to/collect the information you voluntarily give us via email or another direct contact. Your information will not be shared, traded, sold, or rented to anyone.
Teresa Bernard Oil Paintings will only use your information to respond to you regarding the reason you contacted us. Your information will not be shared with any third party outside our organization other than as necessary to fulfill your request, e.g., to respond to a comment, question, or request, or to ship an order.
Unless you ask us not to, we may contact you via email in the future to tell you about specials, new products or services, or changes to this privacy policy. You may opt out of any future contact at any time.
Additional Information
Company Policies and Other Important Stuff
Have a question?
If you have a question about this information, please contact us, and we'll be happy to answer your questions.
Thanks for reading this!
---
Updated: 30 June 2022