A painting of a starry night with a lone scraggly tree in silhouette and a line of trees on the horizon against a bright yellow and orange sunset.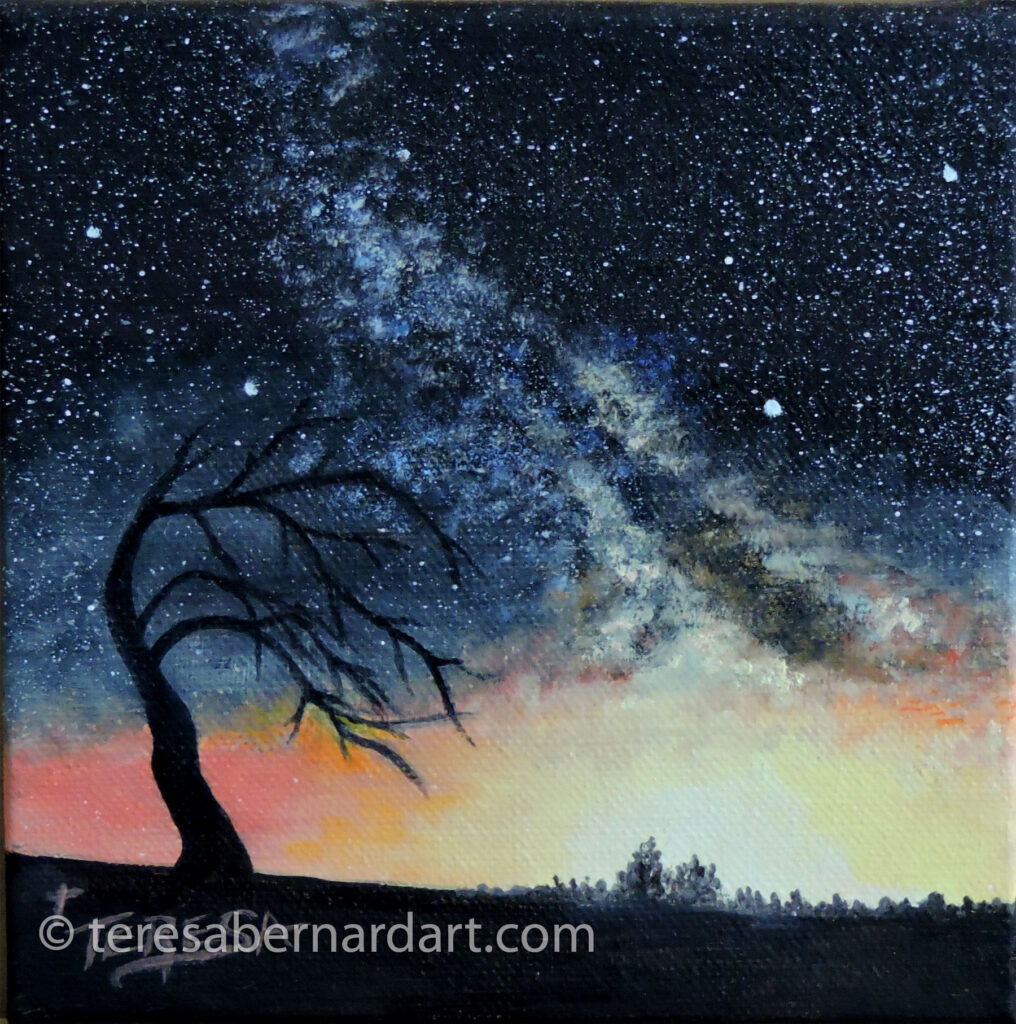 SOLD: This painting has been sold to an art buyer in Washington state.
Customer Feedback
"I am thrilled to have received the painting today. It is absolutely beautiful. What initially attracted me to your paintings is your use of light. In this particular painting, I love the boldness of the light and the darkness. Also, I can imagine myself standing in that wide open space looking up at a creation of God and feeling grateful for being a part of it all. Thank you!" — Cynthia Haro, Yakima, WA
Details & Description
Title: Starry Night with Lone Scraggly Tree
Size: 6″ w x 6″ h
Canvas Type: Gallery Wrap Stretched Canvas
Shape: Square
A painting featuring the silhouette of a lone scraggly tree against the Milky Way and starry night background. In the distance is a line of trees on the horizon which are also in silhouette against a bright yellow and orange sunset. The painting is signed by oil painting artist Teresa Bernard.
This 6×6 inch painting is hand-painted on gallery wrap stretched canvas. Its small size makes it perfect for small spaces or areas where space is limited. Because the composition stretches around the sides of the canvas, it does not need to be framed before being displayed. However, if you prefer to have it framed, Starry Night will look great in your home, office, or anywhere it is displayed.
Artist Comments
I painted Starry Night with Lone Scraggly Tree because I wanted to do a night sky painting with the Milky Way. I have done a number of space paintings, but only a few of them depict space closer to home, Earth. There is so much out in the vastness of space to paint, galaxies, nebulas, suns, planets, gasses, stars, etc. I don't think I'll ever run out of subject matter to paint in the night sky or outer space.
Starry Night… reminds me of Psalm 19:1 which tells us "The heavens declare the glory of God; the skies proclaim the work of His hands."
As I view Starry Night…, a Christian worship song I often hear on the radio comes to mind. You can listen to it here "God of Wonders Beyond Our Galaxy" by Chris Tomlin.
Your Feedback
"It's a beautiful painting! ✍️" — @WonkyArtist, TRUTH Social
Thanks for looking!
Feel free to share this with your friends.
---
UPDATED: 27 November 2023