This oil painting is fan art of the Starship Enterprise from Star Trek a 1960s TV show. It is ideal for any "Trekkie."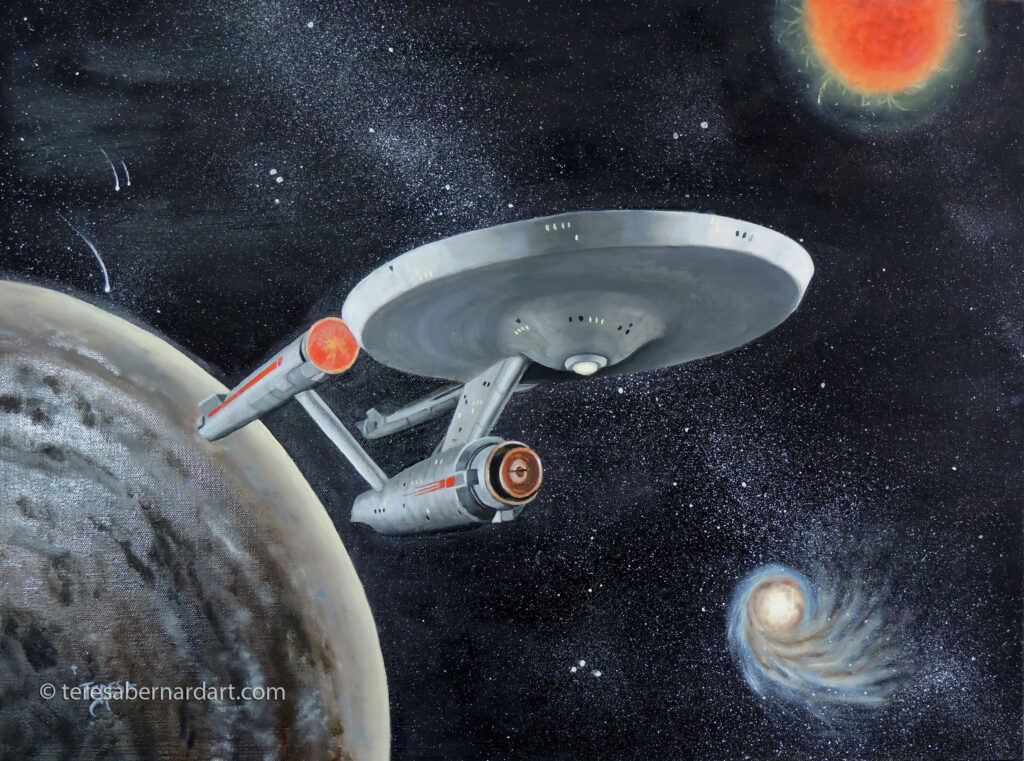 SOLD: This Star Trek fan art was sold to an art buyer; it now resides in a private collection in New York state.
Customer Feedback
"I bought this for my daughter who is 17. She just got accepted into engineering school and likes Star Trek. I hope in 50 years when my daughter is heading toward 70 years old your works will be highly sought after." — Jonathan Blake, Elma, NY
About this Star Trek Fan Art
Title: Starship Enterprise…To Boldly Go
Size: 24″ w x 18″ h
Support: Gallery Wrap Stretched Canvas
Shape: Horizontal (landscape)
Description: Fan art depicting the famous fictional starship USS Enterprise from the iconic 1960s TV show Star Trek. The Enterprise is breaking away from a distant planet's orbit. In the background, we see the vastness of space with its bright red sun. There is also a myriad of stars with a spiral galaxy bidding farewell to the crew of this futuristic vessel.
This is a large painting that would be perfect for any Star Trek fan. The fan art is composed on quality gallery wrap stretched canvas and does not require a frame before display because the composition extends around the edges of the canvas. Hand-painted and signed by fine artist Teresa Bernard.
Artist Comments
Starship Enterprise…To Boldly Go is Star Trek fan art. Star Trek (the original series) was my favorite TV show when I was a kid, and it still is! This painting isn't the first time I've created fan art of the USS Enterprise. When I was a young teen, I painted the famous starship and entered it in a local art show. My painting drew a lot of attention back then, and I remember there were many conversations over it. Unfortunately, it's been so long ago that I can't remember if it was a juried art show or not. However, I do remember the painting sold, and that was very exciting for a teenager just starting out as an artist of oil paintings.
The title for this Star Trek fan art came from the show's opening monologue.
Star Trek Opening Monologue
Space: the final frontier.
These are the voyages of the Starship Enterprise.
Its 5-year mission:
To explore strange new worlds;
To seek out new life and new civilizations;
To boldly go where no man has gone before!
Your Feedback
♦ "Accurate, which is more than could be said for most paperback covers back in the day!" — Jupiter_Equilateral, SciFi & Fantasy Writers, Gab
♦ "Awesome, I'll share this with my trek group." — Dean Hotter, MOONS OF THE UNIVERSE, MeWe
♦ "I'm by no means a great Star Trek fan but that is a wonderful picture!" — josisenberg, SciFi & Fantasy Writers, Gab
♦ "Super nice, good job!" — Nicholas Sevilla Zamoyski, SCIFI AND DARK ART ZOCALO, MeWe
♦ "Treat her like a lady, and she'll always bring you home." — dg54321, SciFi & Fantasy Writers, Gab
♦ "Wonderful painting of the greatest Sci-fi ship EVER! Very well done." — @TrumpOurRealPresident, TrumpREALPresident1, TRUTH Social
♦ "Excellent!! Die hard Trekker here." — @Tialin, Tialin ULTRA MAGA, TRUTH Social
Thanks for looking!
Feel free to share this with your friends.
---
UPDATED: 11 March 2023