A bright orange moon and two silhouetted egrets grace this colorful painting.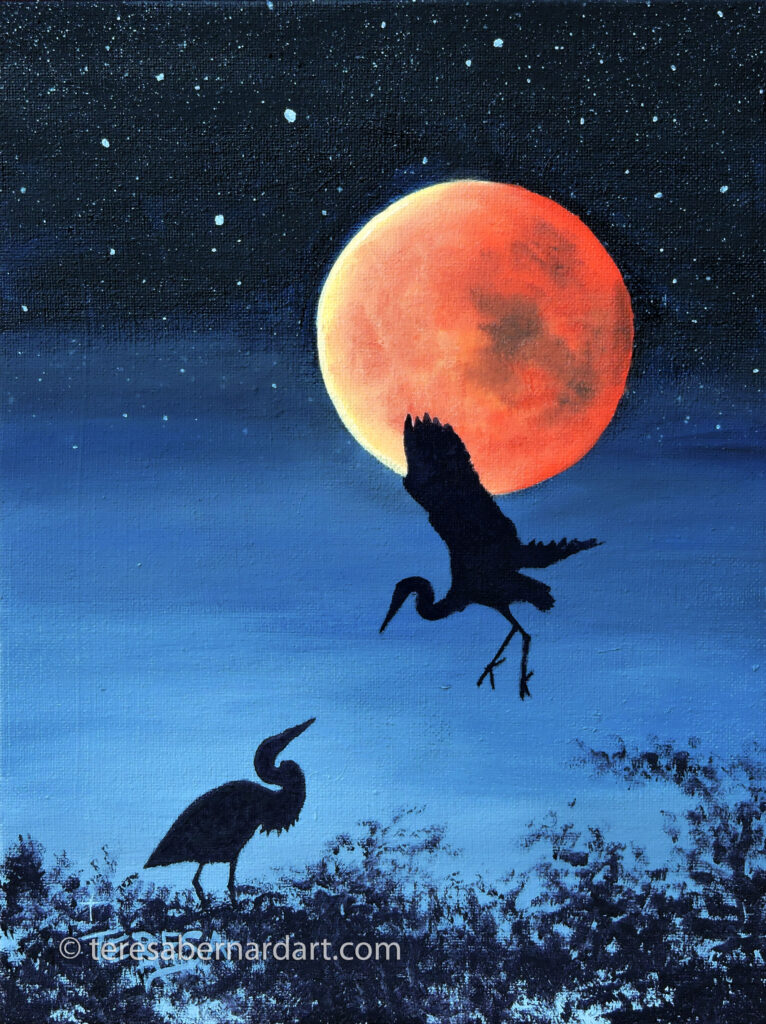 $180
FREE shipping and handling within the U.S.A.
Contact us for international postage and handling.
All transactions are via PayPal, a safe and secure way to make your purchase.
Details & Description
Title: Fly Me to The Moon
Size: 9″ w x 12″ h
Canvas Type: Canvas Panel Board
Signed: On the front 
COA: Signed Certificate of Authenticity
A vibrant one-of-a-kind painting of a bright orange moon in the night sky with two egrets in silhouette. One egret is perched atop a tree in silhouette, while the other is in flight. A starry sky and a blue glow from Earth's atmosphere can be seen behind the full moon.
Fly Me to The Moon is a 9×12-inch canvas board artwork that was painstakingly painted and hand-signed by space artist Teresa Bernard in the lower left-hand corner. Before hanging this artwork on the wall, it is best to frame it.
The copyright watermark ©️ teresabernardart.com is used solely for online purposes and is not present on the actual canvas panting.
Artist Comments
The most eye-catching feature of this painting is that big orange moon in the night sky with a silhouetted egret. Looking at it, one can easily imagine what it would be like to "fly away" to Earth's only satellite.
The night sky is one of my favorite things. I love looking up at it to see the vastness of outer space, the faraway planets, the milky way along with all the stars and constellations, and of course, Earth's moon in whichever stage it happens to be in at the time. I especially love seeing our moon shining so brightly it makes the night look like it's daytime!
Have a question?
If you have a question about this painting, please contact us, and we'll be happy to answer any of your questions.
You May Also Like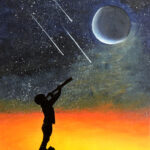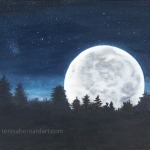 Your Feedback
"Beautiful paintings. Love the egrets flying in front of an orange moon." — X Oh, Science, Space & Technology News , Gab
"As always, an outstanding piece. By all means share more artwork here. You always have interesting pieces!" — @josisenberg, Gab
"Thank you Teresa, for your art and for sharing." — @Dvd_on_gab, Gab
Thanks for looking!
Feel free to share this with your friends.
---
UPDATED: 29 November 2023