An original oil painting with an American space shuttle entering Earth's orbit. This painting will make an ideal gift for the amateur astronomer or supporter of the United States Space Program.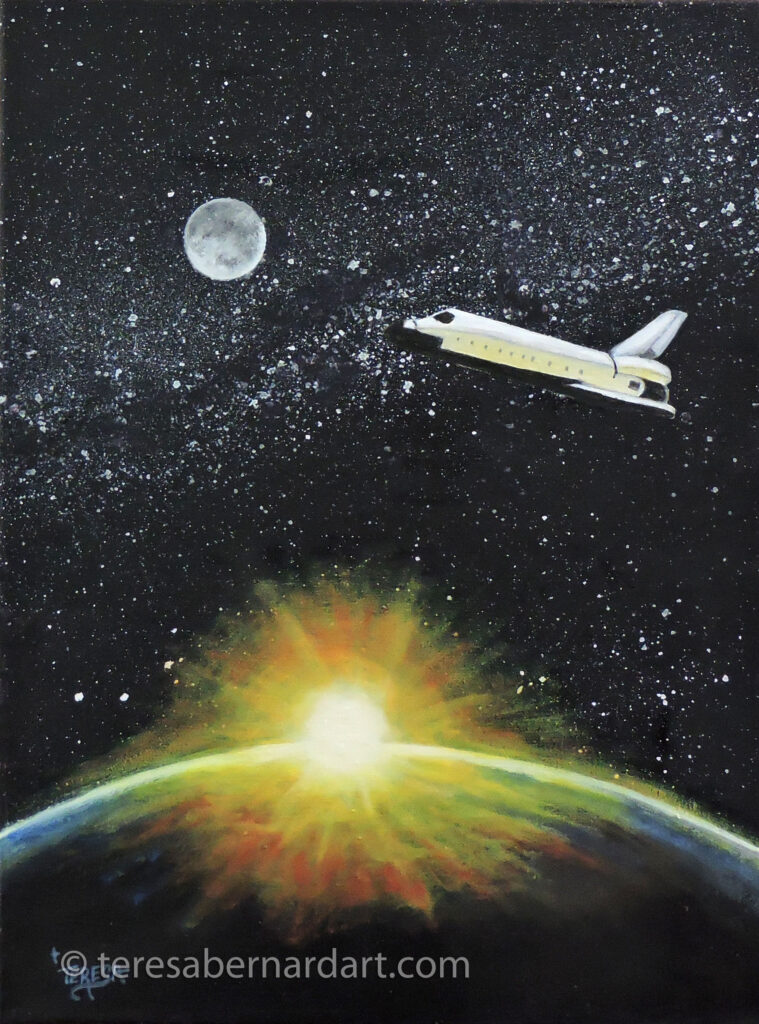 $280
FREE shipping and handling within the U.S.A.
Contact us for international postage and handling.
All transactions are via PayPal, a safe and secure way to make your purchase.
About this Space Shuttle Painting
Title: Reaching for The Stars
Size: 12″ w x 16″ h
Support: Gallery Wrap Stretched Canvas
Shape: Vertical (portrait)
Description: A painting of a U.S. space shuttle as it enters orbit over the Earth. The curvature of the Earth is visible beneath the shuttle, as the sun begins to rise and cast its rays. The moon is nested within the Milky Way stars above.
Reaching for The Stars is hand-painted on gallery wrap stretched canvas and signed by space artist Teresa Bernard. This painting is ready to hang as is, or it can be framed for a more finished appearance.

This painting comes with an official Certificate of Authenticity. More information here.
Artist Comments
I'm a huge supporter of the United States Space Program, both the military and civilian branches, and this painting is a tribute to them. I love traveling to new places, and for me, outer space would be the ultimate adventure in this physical universe.
About the U.S. Space Shuttle
The Space Shuttle is a retired spacecraft system operated by NASA from 1981 to 2011 as part of the United States Space Shuttle program. It was intended to be a partially reusable spacecraft that would be launched like a rocket and landed on a runway like a glider. The space shuttle launched astronauts and cargo into space and returned them safely.
Six space shuttles have been built for the United States Space Program since its inception. The first space shuttle, Enterprise, was a prototype that was carried on its maiden voyage by a Boeing 747, but it never made it into space. Challenger, Columbia, Discovery, Atlantis, and Endeavour were the other five space shuttles. All five went on space missions.
For more information about the space shuttle program, follow this link.
Have a question?
If you have a question about this painting, please contact us, and we'll be happy to answer any of your questions.
Other Spacecraft Paintings of Interest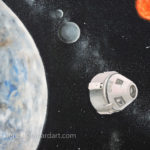 Thanks for looking!
Feel free to share this with your friends.
---
UPDATED: 02 March 2023