A spacewalker is depicted in this space-themed painting of an astronaut outside the orbiting spaceship.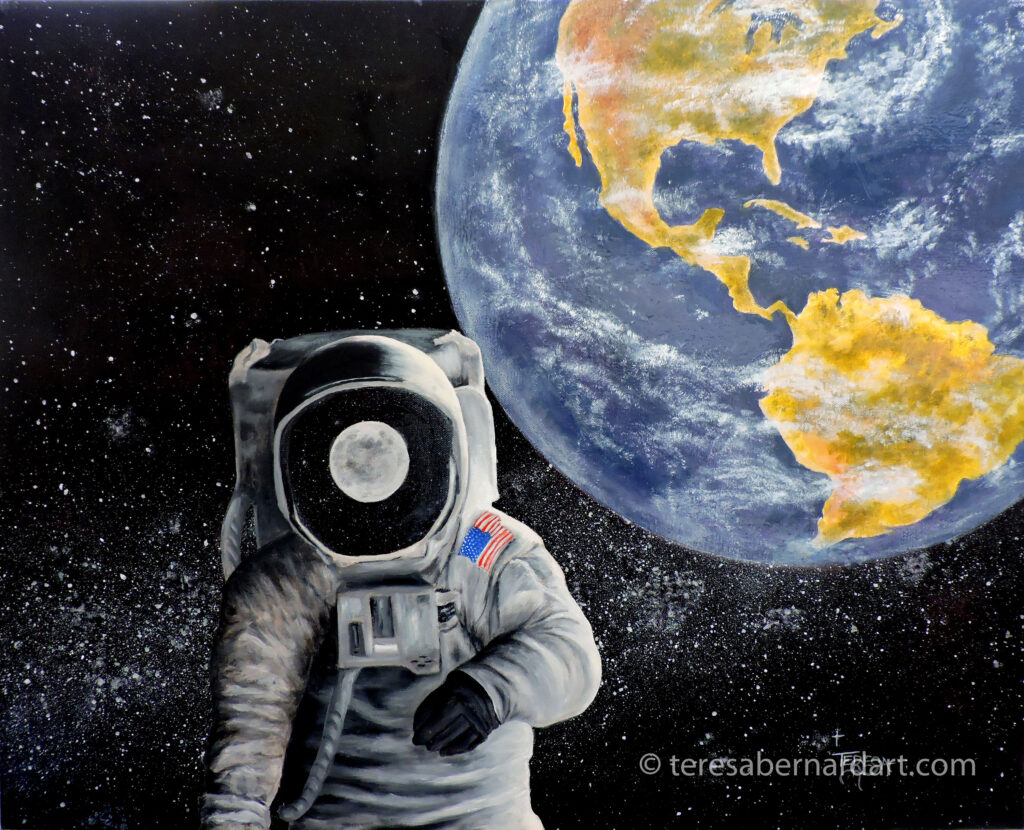 $540
FREE shipping and handling within the U.S.A.
Contact us for international postage and handling.
All transactions are via PayPal, a safe and secure way to make your purchase.
About this Astronaut Spacewalker Painting
Title: Spacewalker
Size: 30″ w x 24″ h
Support: Gallery Wrap Stretched Canvas
Shape: Horizontal (landscape)
Description: This is an oversized painting of an astronaut. The composition shows an American astronaut performing an activity in Earth's orbit. The Earth, which has the North and South American continents depicted, is hovering over the spaceman's left shoulder in the background, with a sparkling sea of stars beyond. The spacewalker is looking intently at the Moon, which is reflected in his helmet's face shield. Artist Teresa Bernard signs her work in the lower right-hand corner.
This space art painting is hand-painted on gallery wrap stretched canvas and is ready for display as is. Or if you prefer, it can be framed to give it more of a finished look.

This painting comes with an official Certificate of Authenticity. More information here.
Artist Comments
Spacewalker is an original oil painting of an astronaut. This artwork depicts an adventure of a lifetime as one of America's heroes leaves the confines of the shuttle and takes a spacewalk in Earth's orbit.
More About Spacewalkers
A "spacewalker" is an astronaut who maneuvers outside the spacecraft in outer space.  He/She may be tethered to the craft or propelled in the vacuum of space using a jet pack. To date, America has flown 129 astronaut spacewalkers into outer space. For a list of all spacewalkers see the link below.
https://en.wikipedia.org/wiki/List_of_spacewalkers
Have a question?
If you have a question about this painting, please contact us, and we'll be happy to answer any of your questions.
Other Space-themed Paintings of Interest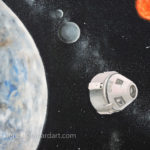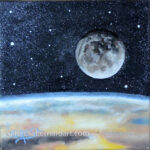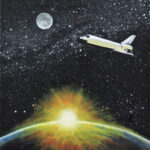 Thanks for looking!
Feel free to share this with your friends.
---
UPDATED: 02 December 2022