An asteroid strike is depicted in this small painting. It is ideal for anyone who is curious about our solar system.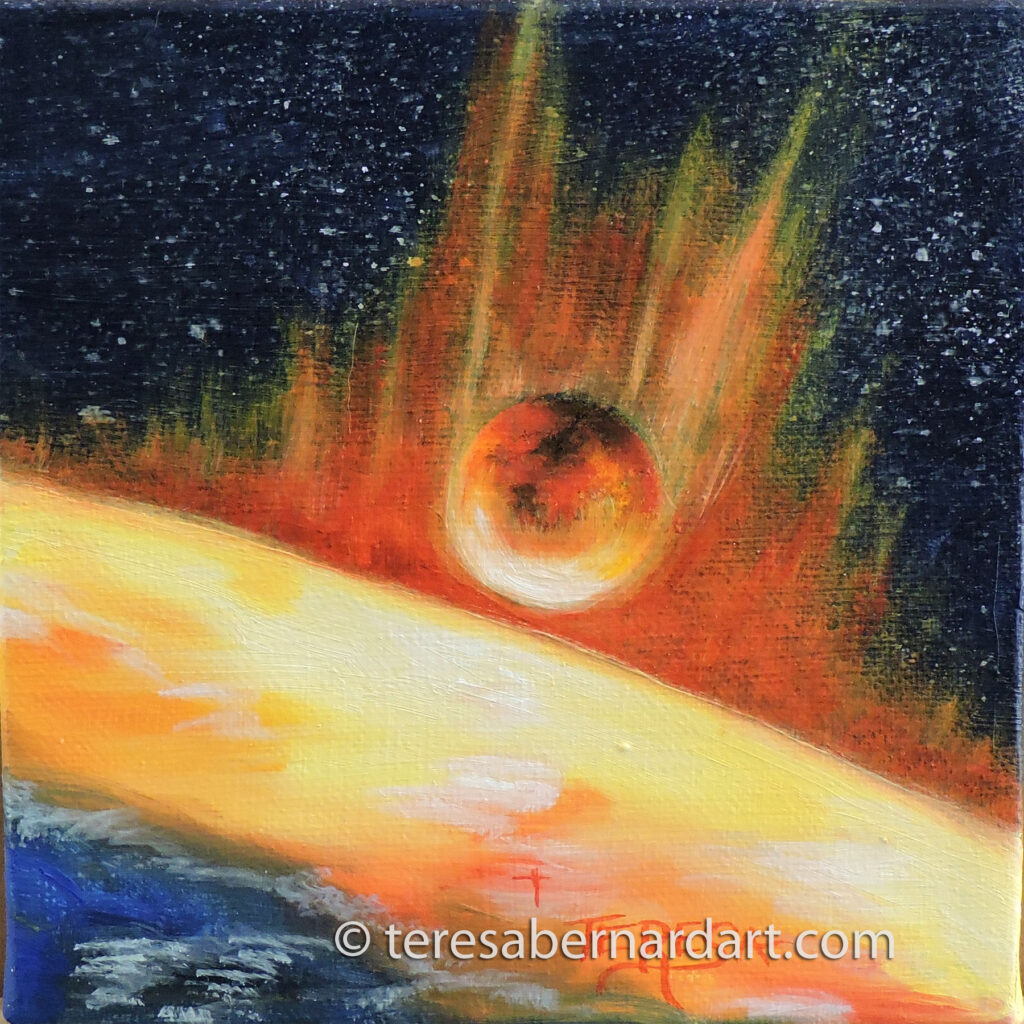 $120
FREE shipping and handling within the U.S.A.
Contact us for international postage and handling.
All transactions are via PayPal, a safe and secure way to make your purchase.
About this Asteroid Painting
Title: Asteroid Strike
Size: 6″ w x 6″ h
Support: Gallery Wrap Stretched Canvas
Shape: Square
Description:  A painting of an asteroid strike. Brilliant oranges and yellow radiate throughout this work of art depicting a fireball pushing its way through the atmosphere of a planet. This painting is ideal for anyone who has an interest in the solar system, astronomy, or astrophysics. The artwork is signed by fine artist Teresa Bernard.
Asteroid Strike is a small painting measuring 6×6 inches. It won't need a frame because the painting image extends around the edges of the canvas support. However, if you choose to frame it, it will look great in your home or office.
Copyright watermarks are prominently visible on all online artwork images. This watermark is to prevent unauthorized use of the painting's image. It is not depicted in any of the original canvas paintings.

This painting comes with an official Certificate of Authenticity. More information here.
Artist Comments
When it comes to decor, this small painting packs a big punch. Its eye-catching orange and yellow colors extend across this painting depicting an asteroid striking the atmosphere of a planet below.
Have a question?
If you have a question about this painting, please contact us, and we'll be happy to answer any of your questions.
Other Space Art Paintings of Interest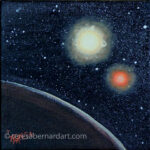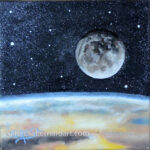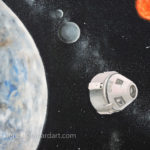 Thanks for looking!
Feel free to share this with your friends.
---
UPDATED: 17 July 2022