A vintage 1934 Ford V8 is depicted in this car painting. This large artwork will make an ideal accent for any room.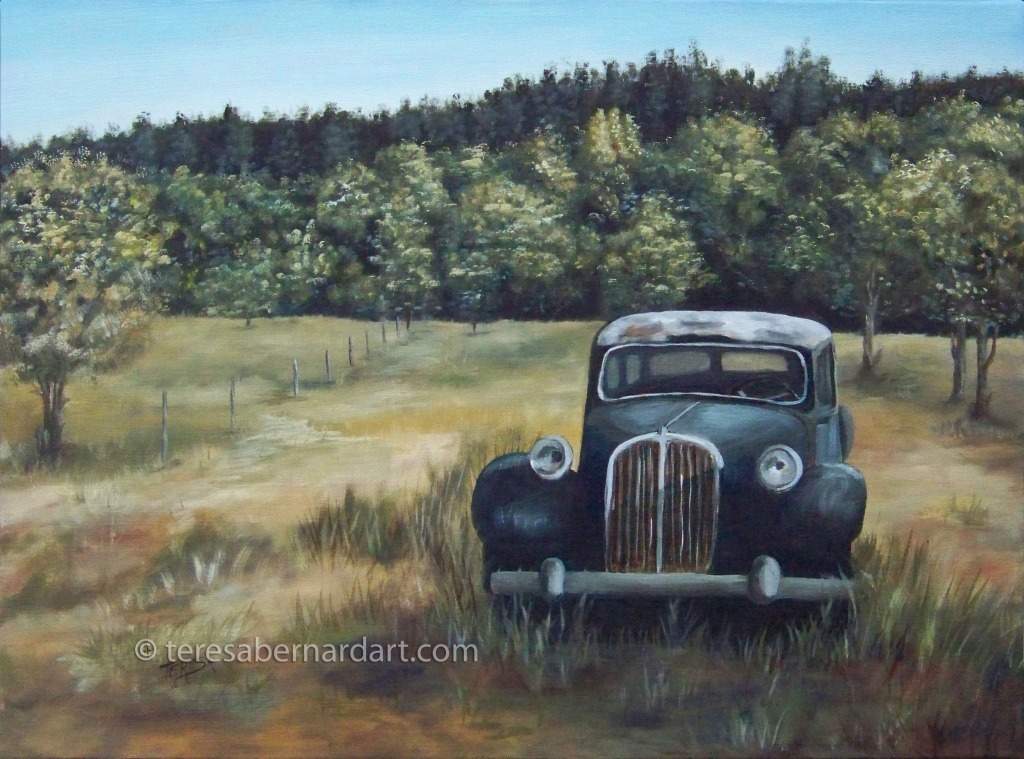 $420
FREE shipping and handling within the U.S.A.
Contact us for international postage and handling.
All transactions are via PayPal, a safe and secure way to make your purchase.
About this Vintage Car Painting
Title: Forgotten Roads of Bygone Days
Size: 24″ w x 18″ h
Support: Gallery Wrap Stretched Canvas
Shape: Horizontal (landscape)
Description: This is a landscape painting of a classic Ford V8  from 1934. The vintage car is similar to the one driven by the notorious Bonnie and Clyde. It is sitting forgotten and lonely in the countryside with treelined hills in the background and a clear blue sky overhead. In addition, the black paint on the car is peeling and weathered.
This wall art will not need a frame as the painting extends around the edges of the canvas. Hand-painted and signed by fine artist Teresa Bernard.

This painting comes with an official Certificate of Authenticity. More information here.
Artist Comments
This painting is of a vintage Ford V8, the same type of car that helped make "Bonnie and Clyde" famous in the early 1930s. Bonnie Parker and Clyde Barrow were notorious fugitives who traveled throughout the central states of North America with their gang during the Great Depression, robbing and murdering wherever they went. The couple's crime spree ended in their car when they were ambushed by Texas lawmen at a roadblock and then shot to death when 100 armor-piercing bullets riddled the vehicle. Bonnie and Clyde were buried in separate cemeteries in Dallas, TX. Clyde's gravestone reads, "Gone but not forgotten."
Today the actual bullet-riddled death car driven by the infamous couple is on display at Whiskey Pete's Resort and Casino in Primm, Nevada. There is no admission charge to see the exhibit. For more information about the actual car, Bonnie and Clyde met their demise in, visit Roads & Rides. See additional information at Roadside America.
Have a question?
If you have a question about this painting, please contact us, and we'll be happy to answer any of your questions.
Other Modes of Transportation Paintings of Interest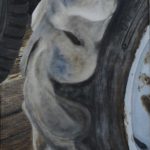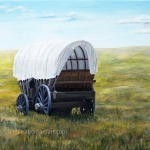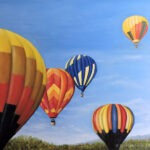 Your Feedback
♦ "Well done. I thought it looked like their car before I read your description." — BaronVonSteuben, Classic Cars, Gab
♦ "Beautiful painting Teresa, my parents paid admission when I was little for us to see the real Bonnie & Clyde car. Was hardly a single panel on the car that wasn't full of bullet holes." — Earl & Angela BeachBums, AMERICAN MUSCLE & CLASSIC CARS, MeWe
♦ "Good morning, Teresa. I like that painting and admire your talent." — Don L Turner, The Good Morning Brigade, Gab
♦ "Absolutely Beautiful! Love this. Very talented!" — Mel Lynn C, Classic Cars, Gab
♦ "Wonderful painting, it's beautiful work! I was able to actually visit this car in Gene, NV in the late 1970s, was very interesting." — Susan AZ Moore/ Ryder38, The Patriot's Buycott Group. Non-Woke American Companies Only, Gab
♦ "My favorite paintings are the ones that look the most like photographs, but really are brilliant combinations of colors that bring the picture to life like a photograph! 🤩" — The Deanna Express 🌸, TRUTH Social
♦ "#Americana at its best… Love the mood as I remember…" — AdirahsEyes, TRUTH Social
♦ "I love painting old trucks too. This is awesome 😎" — CheyAnne Sexton, TRUTH Social
Thanks for looking!
Feel free to share this with your friends.
---