Wall art of a ballerina in the spotlight. Ballet paintings are an excellent way to extend the agility and grace of ballet outside of the theater.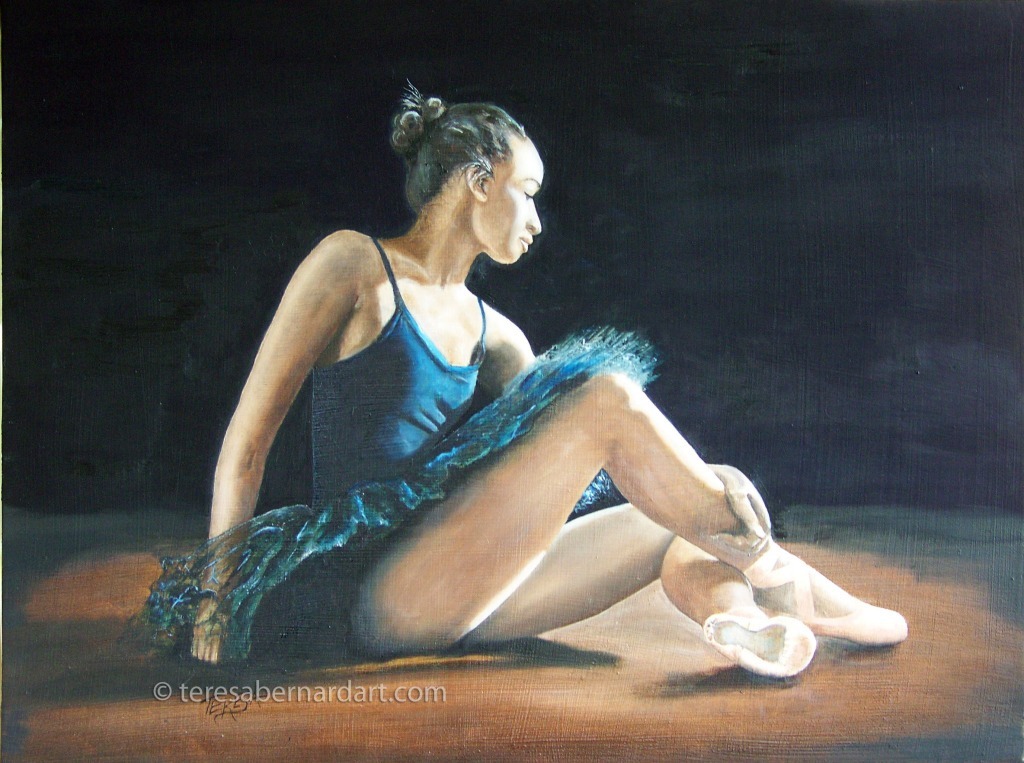 $420
FREE shipping and handling within the U.S.A.
Contact us for international postage and handling.
All transactions are via PayPal, a safe and secure way to make your purchase.
About this Wall Art of a Ballerina
Title: The Ballerina
Size: 24″ w x 18″ h
Support: Traditional-style Stretched Canvas
Shape: Horizontal (landscape)
Description: A realistic style painting of a ballerina in a blue tutu and pink ballet shoes. A bright spotlight shines down on her as she sits on the floor in a graceful pose. The dark background draws your attention to the ballerina. This large painting is signed by fine artist Teresa Bernard.
The Ballerina is hand-painted on a traditional-style stretched canvas. It will need to be mounted in a frame before being displayed. Adding a frame will give the painting a finished look.

This painting comes with an official Certificate of Authenticity. More information here.
Artist Comments
Ballet is a form of dance and artistic expression that I admire. I enjoy going to see live ballet performances. Nothing beats seeing these gifted musicians perform live. It's a sight to behold as one takes in the music, the sets, the ambiance, and the grace with which these dancers move across the stage telling a story.
Performing ballet is not for "the faint at heart." Dancers who want to become professional dancers begin training as young as two years old. And becoming a member of a professional dance company requires years of extensive training and proper technique. Furthermore, because the style and technique of this art form can be so demanding on the body, ballerinas are frequently at high risk of injury.
I was in my late teens when I saw my first ballet performance. My best friend Cyndie and her family had tickets to see the Nutcracker Suite at a local theater. I can't remember why, but Cyndie couldn't attend, so she gave me her ticket. She felt of all her friends, I would appreciate the ballet the most, and she was right! Thank you, Cyndie, for allowing me to have your seat at the ballet. I've loved this art form ever since.
Have a question?
If you have a question about this ballerina painting, please contact us, and we'll be happy to answer any of your questions.
Other Ballet Paintings of Interest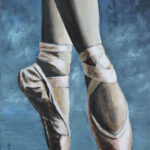 Your Feedback
♦ "I love this! I have a soft spot for paintings of dancers 🙂 So beautiful!!" — @wildpeoniesstudio, TRUTH Social
♦ "Beautiful! My daughter was a competitive dancer." — @Beachgirl20, Gab
♦ "I 💯 agree!!! In my world, nothing compares to the beauty of ballet!!! Your painting is exquisite!!! I Love it. Thank You for sharing your passion and talent with us. Godspeed 🙏🏼✨🙏🏼" — @lisalynn11, TRUTH Social
♦ "Beautiful! I love to see people's artwork. I have no talent along those lines but I sure like to look." — @EzAz12C, Gab
♦ "I know this painting!!! I was looking for a dance painting and my search results yielded this painting and five thousand Degas ballerinas! 😁 You're so gifted. So much stunning work ❤️❤️❤️" — @uniontrinity, TRUTH Social
♦ "Beautiful piece. I love this one. I'm partial to ballet only because my daughter dances." — @HepflDesigns, TRUTH Social
♦ "Beautiful original art in oils from this lady, Teresa Bernard. She covers a big variety of subjects and styles. I've just been enjoying a peruse. I love the light in this one in particular." — @Tooma, Gab
Thanks for looking!
Feel free to share this with your friends.
---