A sunflower is exhibited in this oils on canvas painting. The composition depicts a view from behind the blossom. The sunflower is a symbol of joy and optimism.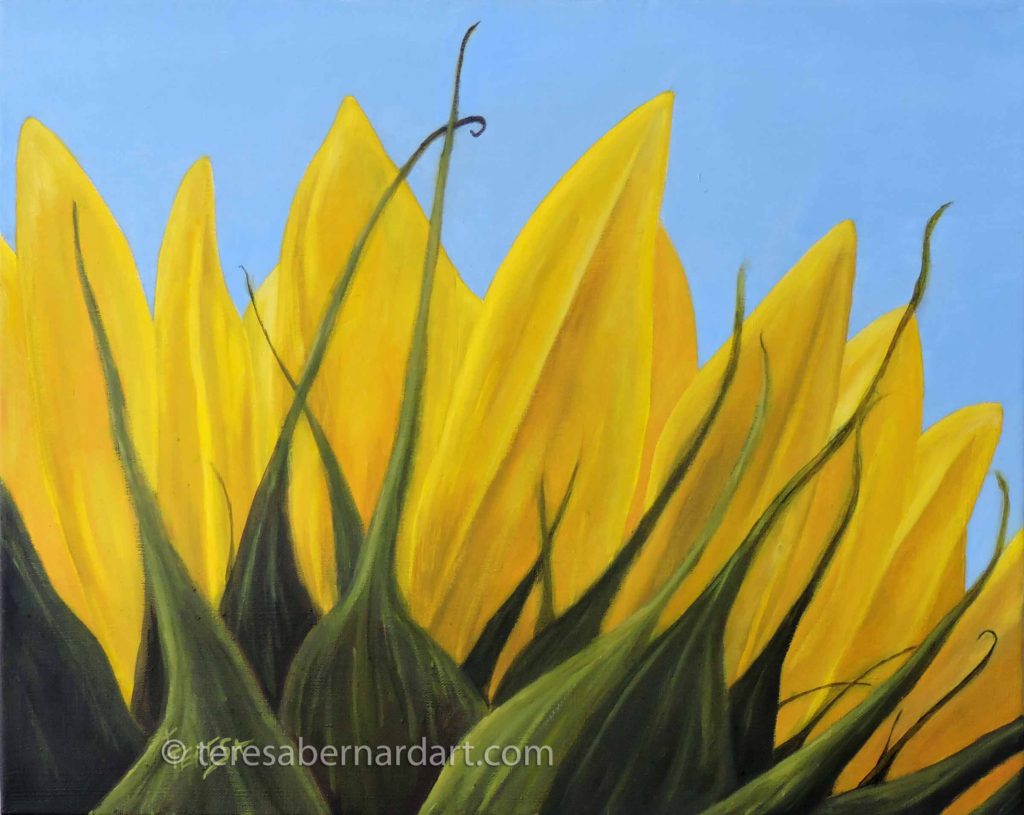 $360
FREE shipping and handling within the U.S.A.
Contact us for international postage and handling.
All transactions are via PayPal, a safe and secure way to make your purchase.
Details & Description
Title: Sunflower From Behind
Size: 20" w x 16" h
Canvas Type: Gallery Wrap Stretched Canvas
Shape: Horizontal (landscape)
An oil painting of the backside of a sunflower blossom set against a sky-blue background. The sunflower's petals are depicted in detail, as well as the texture of the involucral bracts.
Teresa Bernard, a talented artist who specializes in oil paintings, has signed this piece. Sunflower From Behind is composed by hand on quality gallery wrap stretched canvas and is ready to display with or without a frame.
The copyright watermark ©️ teresabernardart.com is used exclusively for online purposes and does not appear on the original canvas artwork.
Artist Comments
I love all flowers; however, the sunflower is one of my favorites. I love the bright sunshine-yellow petals and huge blossoms that resemble the sun. Most sunflower paintings are composed of the front of the blossom. However, the backsides of some flowers are just as beautiful, and the sunflower is certainly one.
About Sunflowers
The sunflower is a plant that is native to North America. Later it was introduced to Mexico and Peru. They can grow up to 6 feet tall and prefer dry, sunny places where their roots can dig deep into the soil.
When the plant is in the bud stage, it will face the sun following its movement across the sky from horizon to horizon. This movement allows it to get the maximum amount of the sun's rays. After the flower has fully opened into the radiance of yellow petals, it will face only east. No one knows why it does this. One theory is it is possibly a defensive response to prevent the sun from scalding the seed pod during hot summer days.
The sunflower is often equated as a symbol of spiritual faith, worship, adoration, loyalty, and longevity, perhaps because it always seeks the "Light."
Have a question?
If you have a question about this painting, please contact us, and we'll be happy to answer any of your questions.
You May Also Like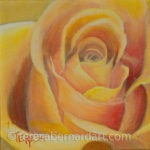 Your Feedback
"Nice work! Amazing realism." — Mad Hedgehog, Rural Life, Gab
Thanks for looking!
Feel free to share this with your friends.
---