A portrait of Robert in a painting.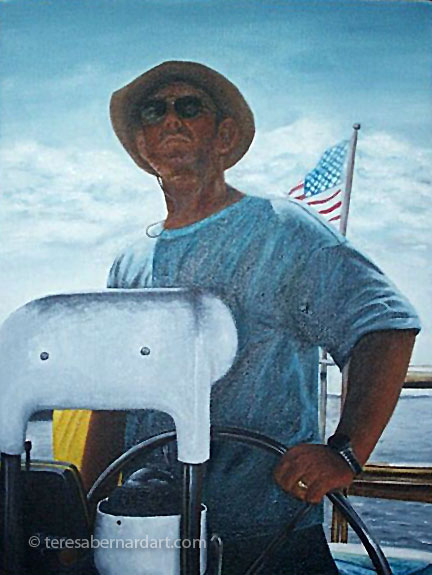 NOT FOR SALE: This painting is part of Teresa's private art collection and is not for sale.
About this Portrait Painting of Robert
Title: Portrait of Robert
Size: 12″ w x 16″ h
Support: Traditional-Syle Stretched canvas
Description: A portrait painting of Robert at the helm of his sailboat. The American flag flies high over his left shoulder. This oil painting is hand-painted on traditional-style stretched canvas and signed by artist Teresa Bernard.
Artist Comments
This painting is a portrait of my husband, Robert, at the helm of our sailboat, Misty Blue. I did this painting from a photograph I took while on a boat trip up the Intracoastal Waterway (ICW).
Robert was in the Navy and was in the process of being transferred from Jacksonville, FL, to the naval base in Norfolk, VA. We needed to move our 36-foot sailboat from a marina near where we lived in Florida to Virginia, so we decided to sail it instead of having it shipped. That decision saved us a lot of money while making us rich with memories!
We were sailing in open waters up the east coast at the beginning of the trip, but a storm blew in, forcing us to go inland and up the ICW instead. Because it was my first sailing trip, the storm was a little frightening for me; however, Robert handled it and the sails like the sailing pro he is!
Robert was on deployment with his ship at sea for six months when I began working on his portrait. It was finished before he returned home. He had no idea I was painting him and was surprised to see his portrait when he returned home. It will be passed down to his son Travis as a family heirloom one day, but for now, it will reside in our living room.
Your Feedback
♦ "Hi, I was just searching the web and wanted to look for original art, paintings, and drawings to inspire me. I love your artwork. You have a realism that really caught my eye. I like the Clown Fish. The portrait of the man on the boat is fantastic. I have a God-given talent that I need to re-discover and seeing your site and reading your 'About Me' section was just what I needed. Thanks for doing what you do."
♦ "I really like your paintings–the portrait of your husband is very unusual in composition and the backlighting–wish I could see it in real life. Another that really caught my eye especially is the Sea of Galilee at Capernaum–the light in the sky is particularly indicative of something spiritual, even if one didn't know a thing about the religious significance of the place." — Elena M., Columbia, MD
Thanks for looking!
Feel free to share this with your friends.
---