A brilliant sunset in a tropical setting is depicted in this canvas painting. The warm colors make this painting a perfect addition to any coastal-themed room.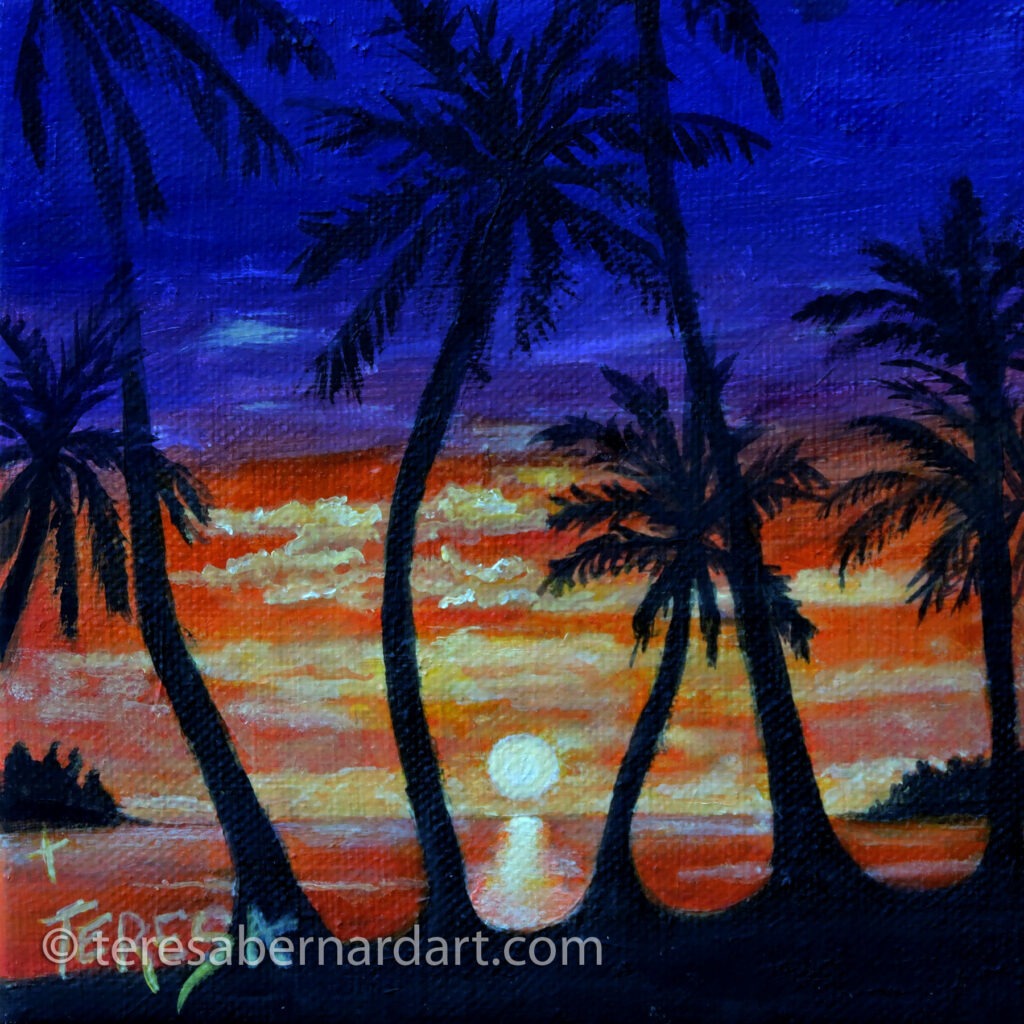 $120
FREE shipping and handling within the U.S.A.
Contact us for international postage and handling.
All transactions are via PayPal, a safe and secure way to make your purchase.
About this Tropical Sunset Canvas Painting
Title: Sunset in the Tropics
Size: 6″ w x 6″ h
Support: Gallery Wrap Stretched Canvas
Shape: Square
Description: A painting featuring a sunset of vibrant colors in a tropical setting. Palm trees are in silhouette against a sky of deep blue, orange, and yellow. The setting sun hovers just above the lagoon, illuminating the water. The painting is signed by oil painting artist Teresa Bernard.
This small 6×6 inch tropical sunset painting is hand-painted on gallery wrap stretched canvas. Its small size makes it ideal for small spaces or areas where space is limited. It doesn't require a frame before display because the composition stretches around the sides of the canvas giving it a modern look. However, if you prefer to have it mounted in a frame, Sunset in the Tropics will look great in your home or office, or any place it is put on display.
Copyright watermarks are prominently visible on all online artwork images. This watermark is to prevent unauthorized use of the painting's image. It is not depicted in any of the original canvas paintings.

This painting comes with an official Certificate of Authenticity. More information here.
Artist Comments
Sunsets in the tropics are truly something special. The combination of beautiful colors, the smell of the sea air, the feel of sand beneath your feet, and the sounds of the ocean splashing against the seashore. The rays of a setting sun have a way of making one reflect on the best things in life.
At one time or another, just about everyone has marveled at the beauty of a sunset (or sunrise) with the splendor of its red, yellow, and orange colors. It may not have been on a distant tropical island somewhere; it might have been right in your own backyard. Regardless, wherever you find yourself basking in the beauty of a sunset, it is the best place to be.
Have a question?
If you have a question about this painting, please contact us, and we'll be happy to answer any of your questions.
Other Marine Paintings of Interest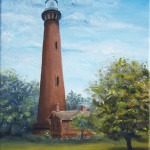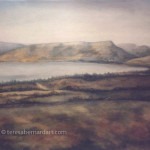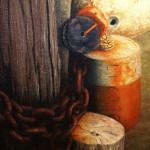 Thanks for looking!
Feel free to share this with your friends.
---
UPDATED: 12 July 2022