The Calvary cross stands out against a dramatic sunset in this landscape painting as the setting sun shines through the dark clouds.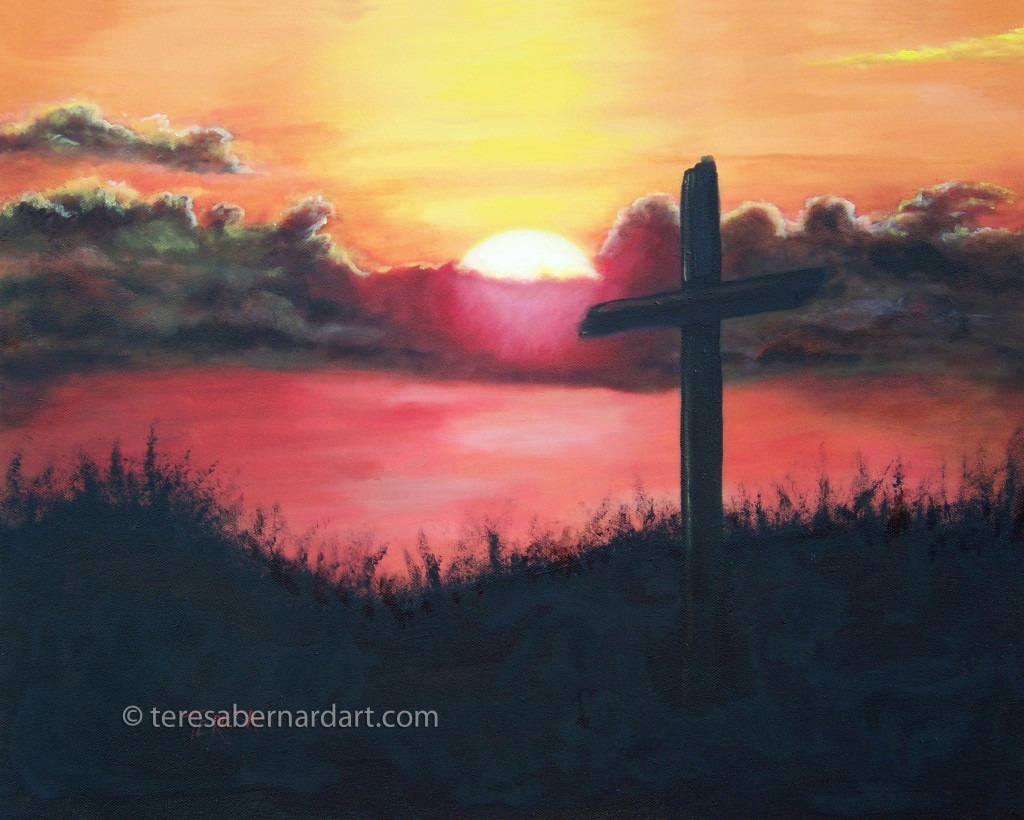 $360
FREE shipping and handling within the U.S.A.
Contact us for international postage and handling.
All transactions are via PayPal, a safe and secure way to make your purchase.
Details & Description
Title:  Calvery at Sunset
Size: 20" w x 16" h
Canvas Type: Traditional Stretched Canvas
Shape: Horizontal (landscape)
A Christian-themed landscape painting featuring the silhouette of the cross at Calvary against a vibrant sunset of reds, oranges, and yellows. The brightly setting sun gently peeks out from behind dark clouds. This painting, signed by artist Teresa Bernard, is an excellent way to display your faith for others to see.
Calvary at Sunset is hand-painted on a traditional stretched canvas. Its sides are raw and unpainted. This painting will need to be framed before it is put on display. This is ideal for individuals who prefer the polished or conventional appearance of paintings in a frame.
©️ teresabernardart.com is a copyright watermark, it is not on the original canvas painting.
Artist Comments
This Calvary sunset painting is a religious-themed landscape painting portraying the cross in silhouette against a colorful evening sky. One should not consider this painting as a literal representation of the crucifixion of our Lord and Savior, Jesus Christ. Instead, it depicts that moment in time just after the disciples took His lifeless body down from the cross.
The Holy Bible tells us about this momentous historical event throughout its pages. From Scripture, we learn that Jesus Christ endured the crucifixion from approximately 9 AM until 3 PM and that His dead body was removed from the cross just before sundown.
The four New Testament Gospels also describe a supernatural phenomenon that occurred at the moment of His death.
What we Learn from the Four Gospels
Matthew mentions an earthquake, the opening of the saints' tombs in the vicinity, and the resurrected saints making an appearance in Jerusalem.
Mark reveals that darkness spread throughout the land, and the temple veil was ripped in two.
Luke tells us Jesus was crucified with criminals and that the Roman soldiers mocked Him and cast lots for His clothing.
John describes the soldiers twisting a crown of thorns together and putting it on Jesus' head; and that Jesus was crucified at Golgotha, which means the place of the Skull.
Have a question?
If you have a question about this painting, please contact us, and we'll be happy to answer any of your questions.
You May Also Like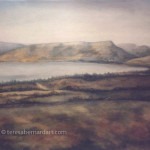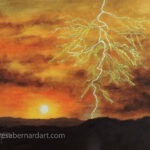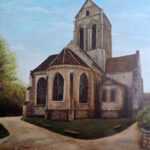 Your Feedback
"Thank you for sharing your God-given gift with us." — @joycemulder, MeWe
"Great to see you are using your gift to express Christ!!!" — Dr. Steven J. Lynne, Christianity, Gab
"I love the colors and the way the cross stands out against the background." — HotdogSmith99, Deviant Art
Thanks for looking!
Feel free to share this with your friends.
---