Fans of science fiction will like this space art painting depicting an asteroid on a collision course with an Earth-like planet.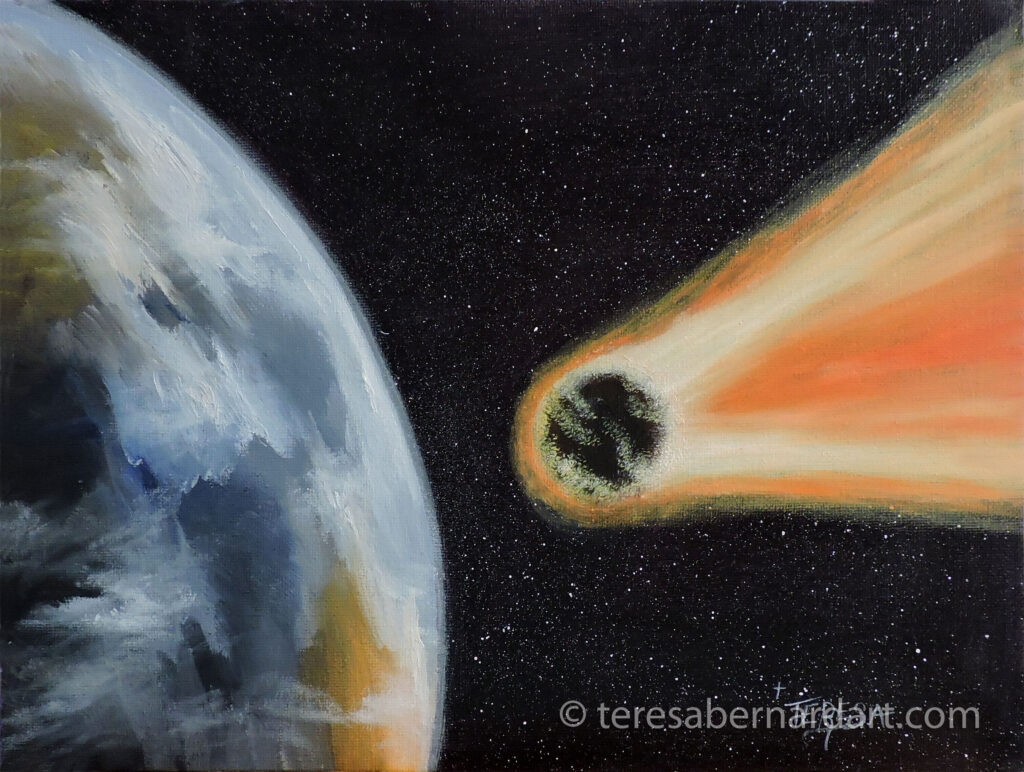 $180
FREE shipping and handling within the U.S.A.
Contact us for international postage and handling.
All transactions are via PayPal, a safe and secure way to make your purchase.
Details & Description
Title: Asteroid Collision Course
Size: 12″ w x 9″ h
Canvas Type: Canvas Panel Board
Signed: On the front 
COA: Signed Certificate of Authenticity
In this space art, an asteroid is on a collision course with a faraway planet that resembles Earth. In the background is a vast star scape. The asteroid in the foreground is followed by a fiery wake, as it makes its way toward the planet. American oil painter Teresa Bernard has signed the piece of art in the lower left corner.
Asteroid Collision Course a one-of-a-kind painting hand-crafted on a 1/8-inch-thick sturdy canvas panel board made from artist-grade materials making it ideal for framing. You will want to have this piece framed before hanging it on the wall in your home or office.
The original canvas painting does not have the copyright watermark ©️ teresabernardart.com.
Artist Comments
Space art has become my favorite genre of creative expression because it allows my imagination to travel to off-world locations. However, because I am a realism artist, I want to keep my art as realistic as possible. In my efforts to accomplish realistic looking space paintings, I often study NASA images and photos of galaxies, planets, stars, and suns. I also look up at the night sky to observe the Moon, stars and constellations.
In this space painting an asteroid is heading right for an Earth-like planet on a collision course.
A Few Things About Asteroids
Asteroids are rocks that orbit the sun within our solar system.
They're neither planets nor comets.
They don't have any atmosphere.
Asteroids are made up of rocky, metallic, or icy substances.
They range in size and shape from 1-meter rocks to 1000-kilometer in diameter, roughly the size of a dwarf planet.
Have a question?
If you have a question about this painting, please contact us, and we'll be happy to answer your questions.
You May Also Like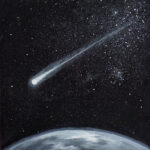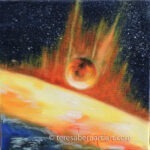 Your Feedback
"I hope you are just a painter, and not a prophet." — @JeremiahCoombs, Gab
Thanks for looking!
Feel free to share this with your friends.
---
UPDATED: 29 November 2023