The full Moon rises to illuminate the night sky in this oil painting. This is a stunning piece of art that is ideal for anyone who loves gazing at the night sky.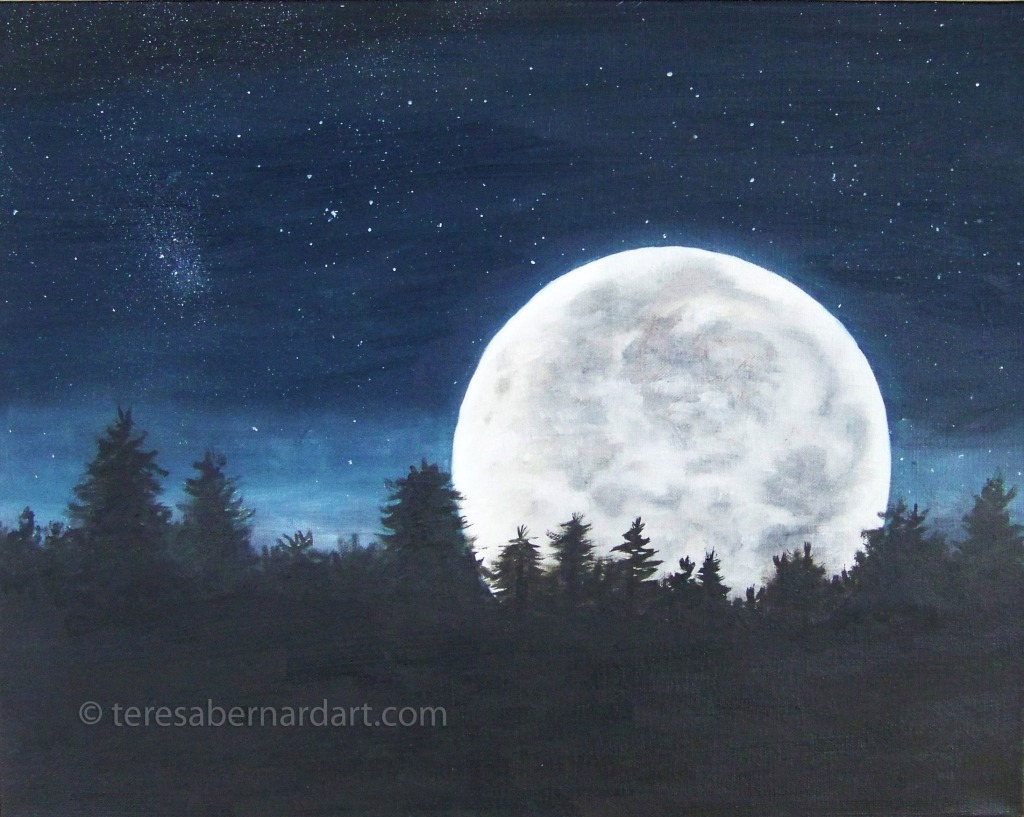 $360
FREE shipping and handling within the U.S.A.
Contact us for international postage and handling.
All transactions are via PayPal, a safe and secure way to make your purchase.
About Full Moon Rising Painting
Title: Full Moon Rising
Size: 20″ w x 16″ h
Support: Gallery wrap stretched canvas
Shape: Horizontal (landscape)
Description:  This is a painting of the full moon rising to light up the night sky. The moon appears above a line of trees that are in silhouette in the foreground and a star-filled sky in the background. This beautiful piece of art will look great in the home or office of anyone who enjoys gazing at the night sky.
This full moon painting does not require a frame because the painted image extends around the edges of the canvas. This piece is hand-painted and signed by fine artist Teresa Bernard.

This painting comes with an official Certificate of Authenticity. More information here.
Artist Comments
The east Texas moon is the inspiration behind Full Moon Rising. My favorite time to take a walk is in the late evening before turning in for the night. On a cloudless or nearly cloudless night, I love looking up into the night sky and seeing the stars and moon. I especially love it when the moon shines so brightly that it lights up the night and makes it appear almost like day! This is just one of the many "bennies" of country living.
The Far Side of the Moon
FYI…Did you know the common belief the moon has a dark side is a myth? The truth is both sides of the Moon see the same amount of sunlight.
The Moon makes a full rotation on its axis approximately once every 27 days. This is also approximately the same amount of time it takes the Moon to orbit the Earth, which means the same side is always facing the Earth. Astronomers refer to this as "synchronous rotation."
Only about 59% of the moon is ever visible to Earth over the course of an orbit. The rest of the 41% — the part we call "dark" — is never visible from Earth. The "far side" of the Moon has only been seen by the human eye from a spacecraft.
Have a question?
If you have a question about this painting, please contact us, and we'll be happy to answer any of your questions.
Other Moon Paintings of Interest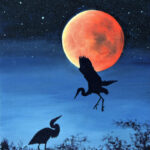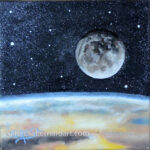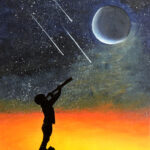 Your Feedback
♦ "What a magnificent painting you have made!" — Zevhiroth, Deviant Art
Thanks for looking!
Feel free to share this with your friends.
---