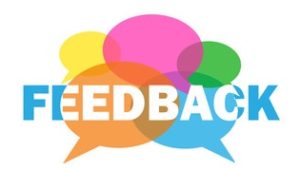 It's always great to receive feedback from fellow artists who are my peers, and even from art galleries. Read what they are saying about my oil paintings. I would love to hear from you too! Email your comments to me. Thanks!
"I went to your website and took a look at your work. Very nice. There is a definite peaceful and devotional feel to your religious pieces. I bookmarked your website. One day we plan on expanding into art that is more traditional and realistic. If you still have your website, I'm sure we will be in touch." — Susan Hooks, Director of White Stone Gallery
Fellow Artists Give Feedback
"Your paintings are great. I paint oil landscapes. I have been painting in oil for about six years." — Kirk W., Texas
"I am emailing you because I have been to your website and from one artist to another was very impressed with the quality of your work. I thoroughly enjoyed visiting your website, and will visit your site again in the future." — Lynn W., Stony Mountain, Manitoba Canada
"I saw your website and the beautiful paintings. They are wonderful. I am 50 now. Any kind of art used to be my hobby, especially drawing, rangoli, decorative art, etc. But I did not do much till now. Of late I have started painting. I do Tanjore paintings professionally." — Vimala J., India
"I came across your [Web] page and it was a pleasant surprise. I'm a painter too and although my style is different from yours I can relate to your work because it has a lot of atmosphere. I find it poetic. Very romantic but a bit dramatic which makes it more interesting." — Carmen U., San Juan, Puerto Rico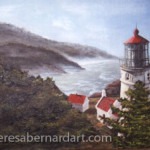 "I came across your site this A.M. and was delighted with your story of you and your father. How much we owe to loving parents! I have been painting watercolor for 20 years now, but am always interested in the principles of design and was thrilled to see how much info. you are offering freely, as your father gave freely to you of his life. I especially love your painting of Heceta Head Lighthouse as I live just 15 min. down the road from there. You have captured it beautifully. I have put it in as one of my screen savers, so I can see it every day. Thank you for blessing the world with your gift." — Mae P., Florence OR
"I just visited your website for the first time today. You have created some very lovely paintings. I am new to the 'art world.' I'm 44 years old and had never picked up a paintbrush (other than to paint a room in my home) until this past summer. I found a passion that I never knew I had. I appreciate all of the information that you've so freely given on your website. I have your site marked as one of my favorites and will be visiting often. Thanks a bunch! Best wishes for a successful future!" — Marty M., Kentucky
"I saw your paintings and I liked it, especially still life. But wildlife is more like illustration. I am a graphic artist from Delhi, India. Now I have decided to work on canvas." — Shubnam G., Delhi, India
"Hi, can't say enough about your work and enjoyed your seascapes. I live on the coast in Nova Scotia and paint with oils as well. Lighthouses are my favorite subject." — Rex, Nova Scotia, Canada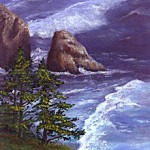 "I've been particularly interested in seeing the sites of realistic oil painters. I've been painting and teaching since the mid-'70s. Your work is lovely. One of my favorite paintings is the Heceta Head Lighthouse. The Oregon Coast is one of my favorite subjects too!" — Donna S., Washington
"You are in my art directory. I am a landscape and seascape oil/acrylic painter. I also draw buildings in pen and ink, charcoal, and pencil. I enjoy looking at other artists' work. I can't watercolor, though. You do very nice work. Keep on painting." — Michelle B., Cleveland OH
"Often when I have my morning coffee I will search the net for artists. I oil paint. I was in Oregon last summer, your pictures of the Oregon coast by the sea lions is the best I have seen of that view. Your Heceta Head Lighthouse is just beautiful. I painted the coast picture also. You are an inspiration to me." — Patricia B., Pontiac MI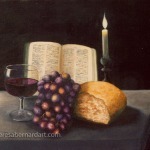 "I enjoy art making and am presently working in soft pastel on still life subjects. I really enjoyed your Communion Table still life and am further motivated to continue to give God all glory in my work. Your work reminded me of special symbolism in still life about which I had forgotten. Thank you! God bless you." — Tina, Australia
"What a great treat your site is. Your artwork is the best I've seen as I search different artists' sites. I too am an artist. My medium is watercolour and pencil as my favorites. I have done acrylic and Rembrandt pastel paintings too. The variety of your paintings is a real testament to your life and I am really pleased to see a fellow artist have such a wonderful time with your art." — Peter W., Smiths Falls, Ontario, Canada
"You have an amazing gallery of work and am a very talented artist. I hope to see more in the future. Take care and stay safe and well and if you ever feel like a chat, please drop me a note or chat message as I love to talk with other artists." — letmeposenakedforyou, Deviant Art
"Wonderful artwork. You are very talented! I am also a painter so I can spot a talented artist." — Sandy W., College Station TX
"Beautiful work. I am an artist also I was just looking around at different sites. Very nice and good luck with your art." — Brian M., Marshalls Creek PA
"I love your artwork. I do oil paintings myself and wish I could paint even half as good as you. May God continue to bless you." — Tennessee Toler
Thanks for reading this!
Feel free to share this with your friends.
---
UPDATED: 13 August 2022