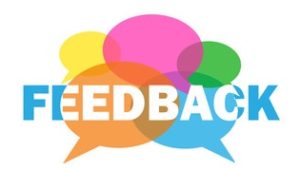 Read the feedback we receive from art teachers and students of the fine arts all over the world. This website contains a wealth of information and it's all free. Many write to say how much they appreciate that. We would love to hear from you too! Email your comments.
"I have known about the Good Design Principle lessons by artist Teresa Bernard for several years, and I am continually impressed. Recently I have shared several of them with my graphic design students." — Dr. Richard D. Sheridan, Assistant Professor Wilberforce University, Ohio.
"Good afternoon! My name is Maria Kline and I'm the proud visual arts teacher at Ninos Heroes Elementary in Chicago. During March (Women's History Month) my 1st and 2nd grade students were learning about different women artists and I stumbled across you during research. My students used your lovely work to compare and contrast landscapes, and created mountain river scenes by combining their favorite elements. They got so into it that we spent weeks on making different landscapes. I just wanted to send you a little thank you for the inspiration, the kids loved your artwork! Best wishes," — Maria Kline, Visual Arts Teacher Ninos Heroes Elementary, Chicago, IL
"Hi Teresa I am writing all the way from Cape Town, South Africa. I just love your site; thank you for all you make available. Being an artist myself (not professional), I found the information extremely valuable and what a joy to look at your artwork. There are many, many questions I wish I could ask you (over many cups of coffee!), but I was wondering if you have a newsletter? I am not on Facebook or any other social network, but if that is the only other way to be exposed to your work, I will try my best to learn that skill. Once again, thank you for what you are willing to share." — Adele, Cape Town, South Africa
"I am a student in the University of Education, Winneba, Ghana. Pursuing ART EDUCATION. I find your website very interesting and educative and would like to hear from you." — Jake Eshun, Winneba, Ghana
"I just had to email you to let you know how grateful I am for your principle of good design lessons. I am studying for a big art exam and your lessons are a great study aid. So clear and concise with great visual examples. I consider myself very lucky to have come across your website. Thank you so very much." — Alice B.
"I'm a current student at Texas A&M and I came across your site. I first want to say I admire your work tremendously! I'm a beginning oil painter and I just finished a painting of a white tail buck." — David A., College Station TX
"I am a freshman at (name withheld) Junior High school. Your work has really inspired me to just paint and see what happens. I'm not sure why but I can just hope it turns out as good as one of yours. I love how real your paintings look. They look like they were taken with a camera. I especially like the clownfish one. How it's coming up out of that plant. It reminds me of Finding Nemo." — Tylee K.
"I really admire your work. I'm an artist that works with a lot of subject matter like you do. I'm going to school right now for graphic design. Thank you for inspiring me. :)" — Sam G., Dallas TX
"You have a wonderful Website and beautiful paintings. You are truly an Artist. I just put you under my favorite web category so I can refer back to your Art School Info. and view your paintings any time I want. They are all beautiful but I must say, my favorite is the portrait of your husband. He seems to be in heaven, I only wish I was standing right next to him. Keep up the great work. Sincerely Frank." — Frank C., Cornwall NY
"I am not an Artist but I am learning to oil paint this message is to congratulate you for your wonderful work, I admire you!" — Jenny A., North Bergen NJ
"You have beautiful work. Hope to be as good someday. I've only been painting for a year now. Keep doing what you love. To paint. God bless." — Gary, Amherstburg, Ontario, Canada
Thanks for reading this!
Feel free to share this with your friends.
---
UPDATED: 13 August 2022