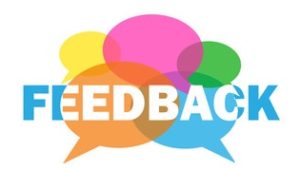 Read the feedback from satisfied customers that we have received.
Here is what customers and art collectors are saying about their Teresa Bernard oil paintings. Thanks to the Internet, Teresa has sold her paintings all across America and around the world.  If you own one of her paintings, we would love to hear from you too! Email us your comments, and we'll add them here.
"Hi Teresa, The painting arrived yesterday and we absolutely love it! Thank you so much! I love seeing it hanging on the wall with the sides painted!" — J. Ouch, Peachtree Corners GA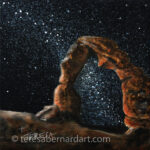 "Hi Teresa, I received the painting today. I love it. It's beautiful. My husband and I have a couple of other paintings by you. We love your work." — N. Schiller, Apple Valley, MN
"The painting is wonderful! It safely arrived on time." — P. Oelkers, Dearborn MI
"Teresa, the painting arrived and it looks wonderful! I can't wait to see my wife's reaction this weekend." — R. Draper, Granville IL
"Painting has arrived. I am pleased to add it to my collection. Thank you." — H. Shaw, Winston Salem NC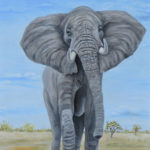 "Teresa, our favorite elephant [painting] just arrived. My wife and I absolutely love it. So much more special in person. Fantastic! We can hardly wait to see the next two. Thanks again." — G. Callan, San Diego CA
"Teresa, just wanted to let you know that the painting arrived and it's absolutely phenomenal!! Thank you again." — K. Burke, Erie PA
"Teresa, I received the painting in good order. Very nice and a good gift. Thank you and Merry Christmas!" — B. Kuller, Rockford IL
"Hi, my husband and I have one of your paintings. My husband bought it 22 years ago. We've moved homes and it has stayed with us. It is beautiful. Thank you for creating such fine artwork." — Brenda Ramos via Bēhance
"The painting arrived. It's beautiful!" — C. Mace, Eastland TX
"I wanted you to know that I received the painting and presented it to Jim and he loved it! Thank you so much for all of your time and effort. It was well worth the wait!" — A. Boutillier, Morristown NJ
"I received my painting! Thank you very much, it's a beautiful work of art!" — P. Cooper, Yokosuka, Japan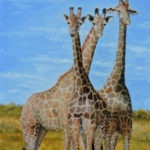 "Hi Teresa, we received the paintings. They're beautiful! Thank you very much. Our eldest will love the giraffes." — G. Callan, San Diego CA
The painting looks phenomenal in my living room and is a wonderful conversation piece. All my guests just rave about it. — C. Dalton, South Pasadena CA
The painting just arrived and we absolutely love it! Thanks so much for painting such a lovely work of art for us. We'll cherish it forever! — T. Phillips, Hampton VA
Thanks for reading this!
Feel free to share this with your friends.
---
Updated: 02 July 2023