A still life painting depicting the communion table. Religious elements included are bread, wine, grapes, candle, and the Holy Bible.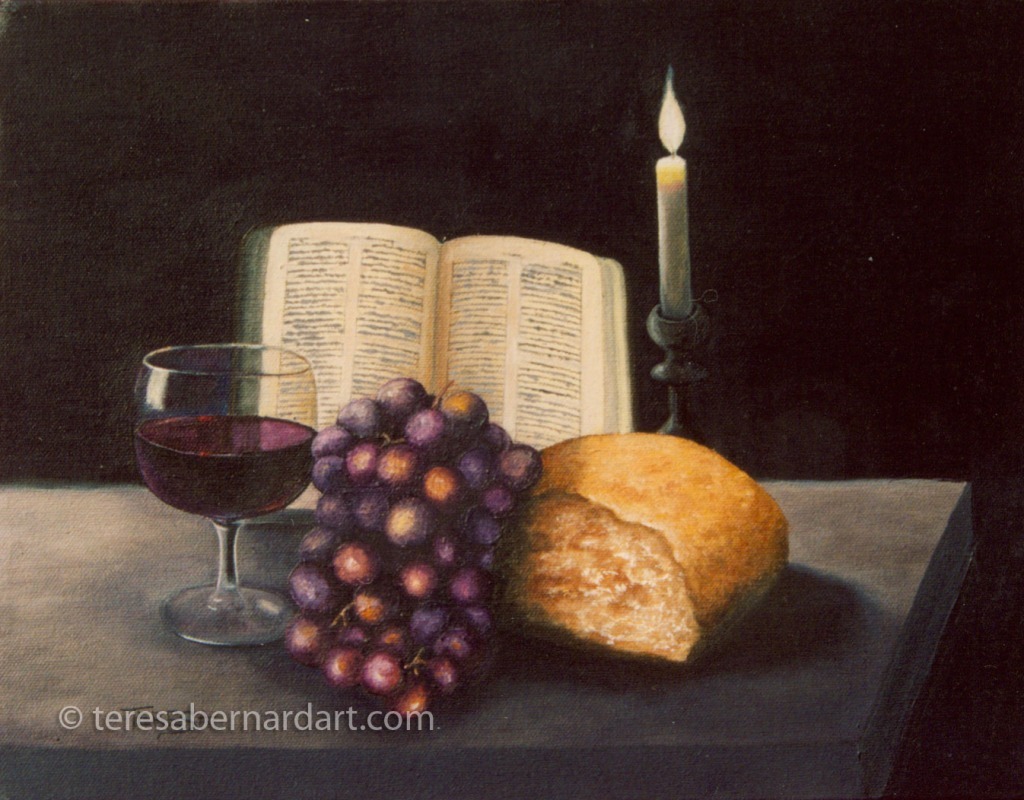 SOLD: This religious still life painting has been sold to an art collector in Singapore.

Fine Art Prints
Although the original painting has been sold, this artwork can still be enjoyed in your home or office. Art prints are available for purchase at the link below.
⇒  The Communion Table Painting by Teresa Bernard – Fine Art America
About The Communion Table Painting
Title: The Communion Table
Size: 14″ w x 11″ h
Support: Traditional-Style Stretched canvas
Description: A traditional still life painting of the communion table with bread, wine, grapes, candle, and the Holy Bible. Religious elements are also present, giving it a spiritual essence. Hand-painted and signed fine artist by Teresa Bernard.
The Communion Table is hand-painted on a traditional-style stretched canvas. This painting with its unpainted sides requires a frame to give it that finished look for exhibition in your home or office.
Artist Comments
This is a typical still life painting of bread, grapes, and wine,  elements often used by artists when painting a communion table still life. However, I added a few more objects to my rendition, a candle representing Jesus Christ, the Light of the world, and The Holy Bible, the Word of God.
God is a huge part of my life. I felt inspired to do some paintings which contain an inspirational message, and this painting is one of those. It depicts the bread and wine of communion and has special meaning to me.
Your Feedback
♦ "I enjoy art-making and am presently working in soft pastel on still life subjects. I really enjoyed your Communion Table still life and am further motivated to continue to give God all glory in my work. Your work reminded me of special symbolism in still life about which I had forgotten. Thank you! God bless you." — Tina, Australia
Thanks for looking!
Feel free to share this with your friends.
---