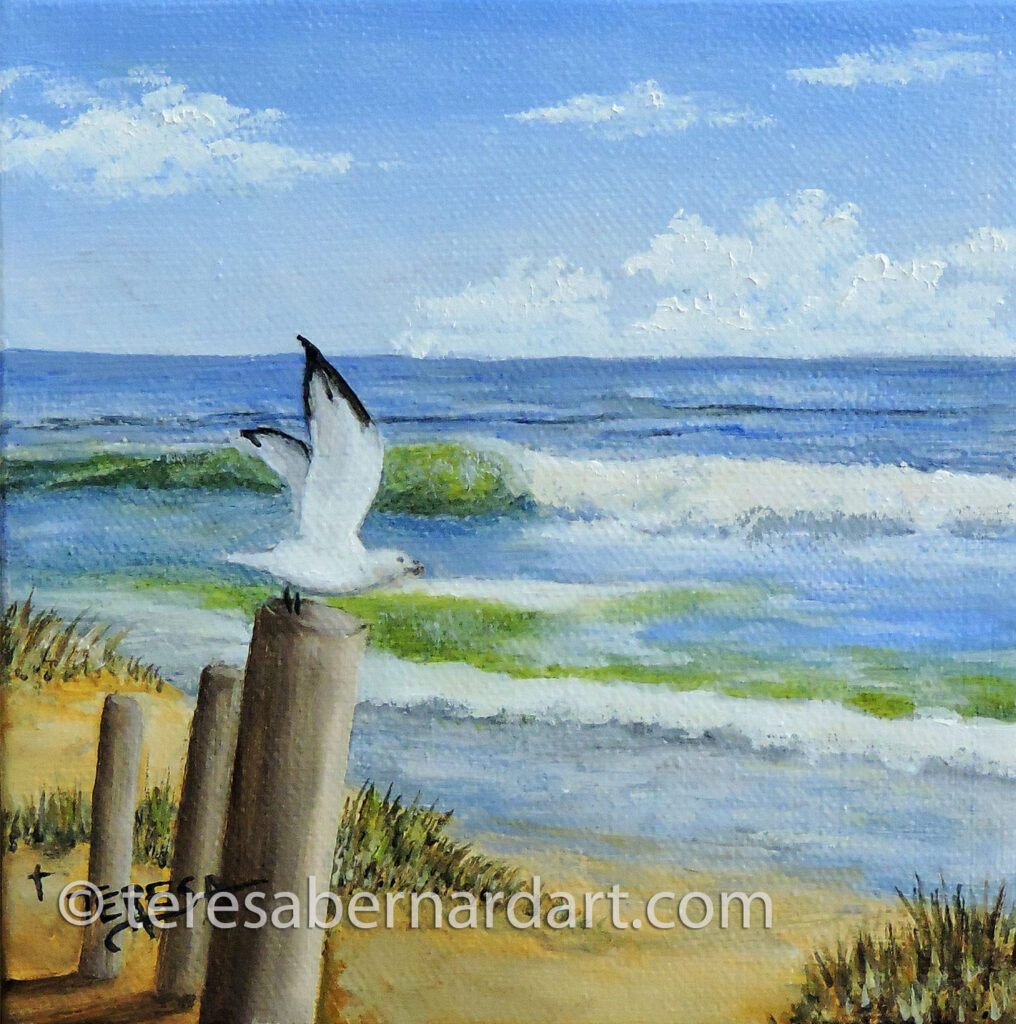 Size: 6″ w x 6″ h
Support: Gallery Wrap Stretched Canvas
Description:  A beach painting with a seagull sitting on top of a post in the foreground and ocean waves gently rolling into shore in the background. Beautiful and soothing, this seaside artwork is a must-have for any beach lover and will be a perfect addition to your coastal-themed home or office decor. This painting is signed by fine artist Teresa Bernard.
Sold: This painting has been sold to an art buyer in Texas.
Customer Feedback
"I have a guest room with lighthouses, but I wanted something really special. I love the beach scene with the seagull because it looks so peaceful." — Roberta Bernard, Crosby TX
Artist Comments
This is a small seaside painting of a beach with a seagull. Its small size makes it perfect for tight places with limited space. See "Small Paintings for Small Spaces."
Have a question?
If you have a question about this painting, please contact us, and we'll be happy to answer any of your questions.
Teresa's Insider News
Be the first to know! Sign up here to be among the first to receive sneak peeks of recently completed paintings, new announcements, and other updates at the art studio.
Teresa has an insider newsletter, and it's FREE! This is her way of keeping her friends up to date by giving you sneak peeks of new paintings she completes, as well as other announcements before they are made public. Her newsletter is published every other month, so be sure to get on her mailing list. You don't want to miss a thing!
Thanks for looking!
Feel free to share this with your friends.
---
UPDATED: 23 April 2022