An artwork of Kokomo Beach, a fictional romantic island getaway sung about by The Beach Boys.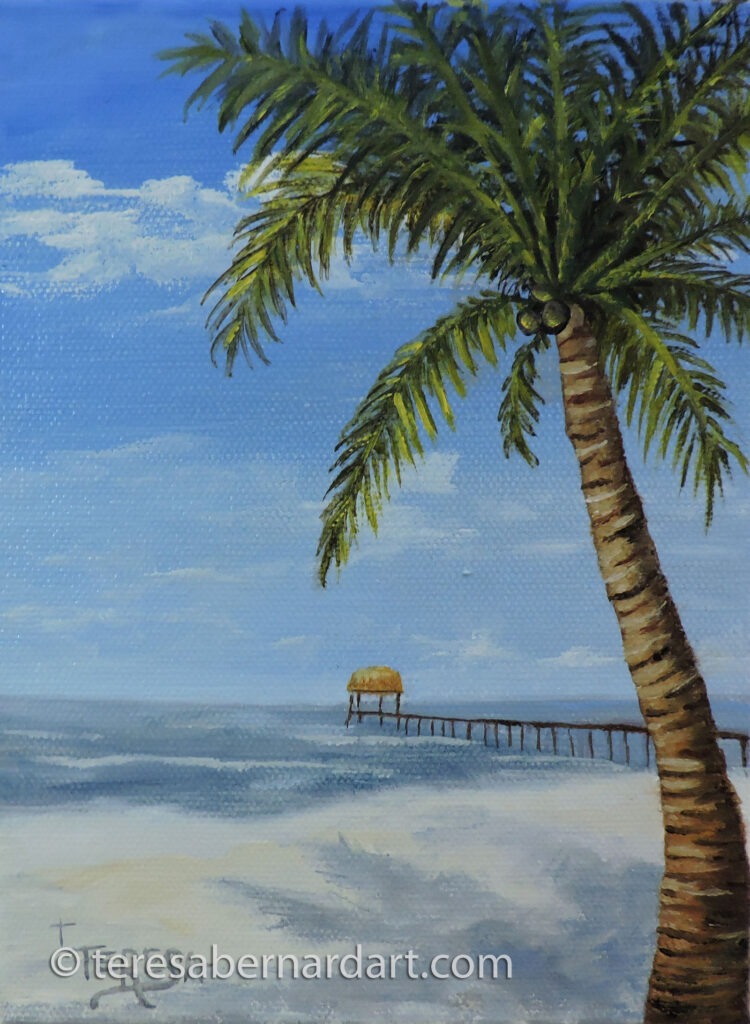 $140
FREE shipping and handling within the U.S.A.
Contact us for international postage and handling.
All transactions are via PayPal, a safe and secure way to make your purchase.
About this Beach Getaway Painting
Title: Kokomo Beach
Size: 6″ w x 8″ h
Support: Gallery Wrap Stretched Canvas
Shape: Vertical (portrait)
Description:  A small canvas artwork of Kokomo Beach, a fictitious romantic tropical retreat. In the foreground is a coconut tree, and in the background is a white sandy beach with a pier that extends off into the horizon. Teresa Bernard, a fine artist who specializes in oil paintings, has hand signed the piece.
This small 6×8 inch beach painting is hand-painted on gallery wrap stretched canvas. Its small size makes it perfect for small spaces or areas where space is limited. It doesn't require a frame before display because the composition stretches around the sides of the canvas giving it a modern look. However, if you prefer to have it mounted in a frame, Kokomo Beach will look great in your home or office, or any place you wish to put it on display.
Copyright watermarks are prominently visible on all online artwork images. This watermark is to prevent unauthorized use of the painting's image. It is not depicted in any of the original canvas paintings.

This painting comes with an official Certificate of Authenticity. More information here.
Artist Comments
The painting Kokomo Beach was inspired by the Beach Boys, a popular American rock band, and their song of the same name. The song tells of a make-believe island getaway off the Florida Keys, a place where two lovers can escape to get away from it all. If you aren't familiar with the song, or even if you are, click the link below to hear the Beach Boys sing about Kokomo.
Have a question?
If you have a question about this painting, please contact us, and we'll be happy to answer any of your questions.
Other Beach Paintings of Interest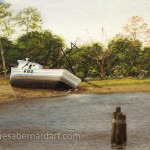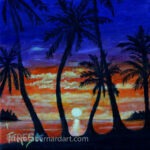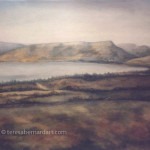 Thanks for looking!
Feel free to share this with your friends.
---
UPDATED: 26 January 2023