This insect art is an oil painting of the Monarch Butterfly. This painting beautifully captures the wonder of nature and is ideal for any nature enthusiast.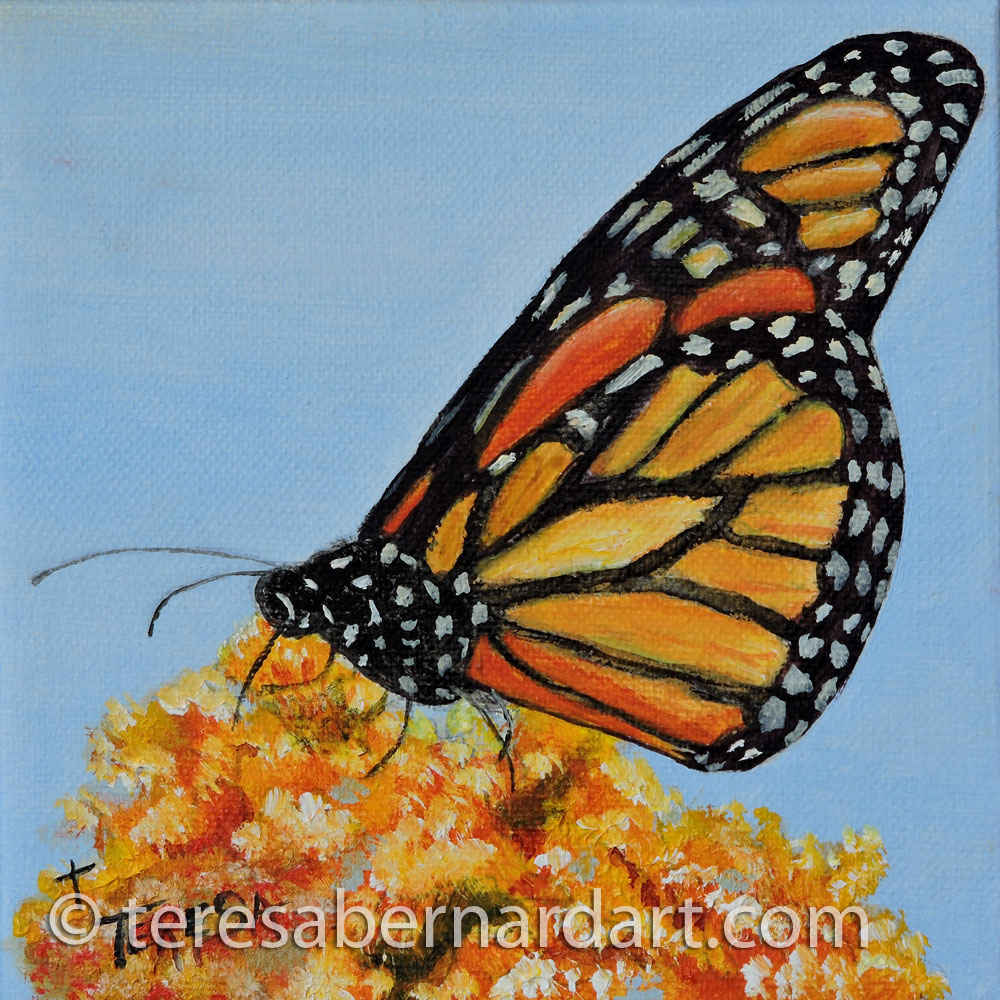 $120
FREE shipping and handling within the U.S.A.
Contact us for international postage and handling.
All transactions are via PayPal, a safe and secure way to make your purchase.
Details & Description
Title: The Monarch Butterfly
Size: 6" w x 6" h
Canvas Type: Gallery Wrap Stretched Canvas
Shape: Square
A painting of a Monarch Butterfly. This colorful insect is perched high on a bright orange flower blossom. The orange and black colors in this painting's composition beautifully contrast against a sky-blue background.  There is a sense of peace and happiness that the monarch butterfly radiates. This artistic piece is signed by fine artist Teresa Bernard.
The small size of this artwork makes it perfect for rooms or areas where larger-scaled artwork would not fit. It measures only 6×6-inches and is hand-painted on gallery wrap stretched canvas. The Monarch Butterfly won't need a frame because its composition extends around the edges of the canvas giving it a modern look. The artwork, whether framed or unframed, will enhance its appearance in your home, office, or any display space.
©️ teresabernardart.com is a copyright watermark and is used only on online. It does not appear on the original canvas artwork.
Artist Comments
This monarch butterfly painting is one of several compact-size paintings I've composed. I decided to do some smaller paintings to attract a broader range of buyers and collectors for my art pieces. So I purchased a supply of 6×6 inch stretched canvases and started composing paintings on them. I work on these small canvases alongside the larger paintings when I paint, working on both sized artworks during the same painting session.  I had no idea how much I would enjoy creating these smaller paintings until I started doing them.
Have a question?
If you have a question about this painting, please contact us, and we'll be happy to answer any of your questions.
You May Also Like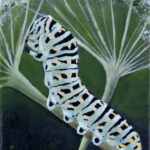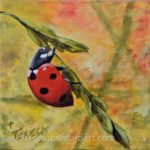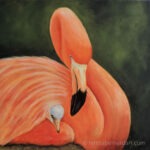 Thanks for looking!
Feel free to share this with your friends.
---