This insect art is an oil painting of a red ladybug. The painting is a bright and happy scene that beautifully captures the wonder of nature.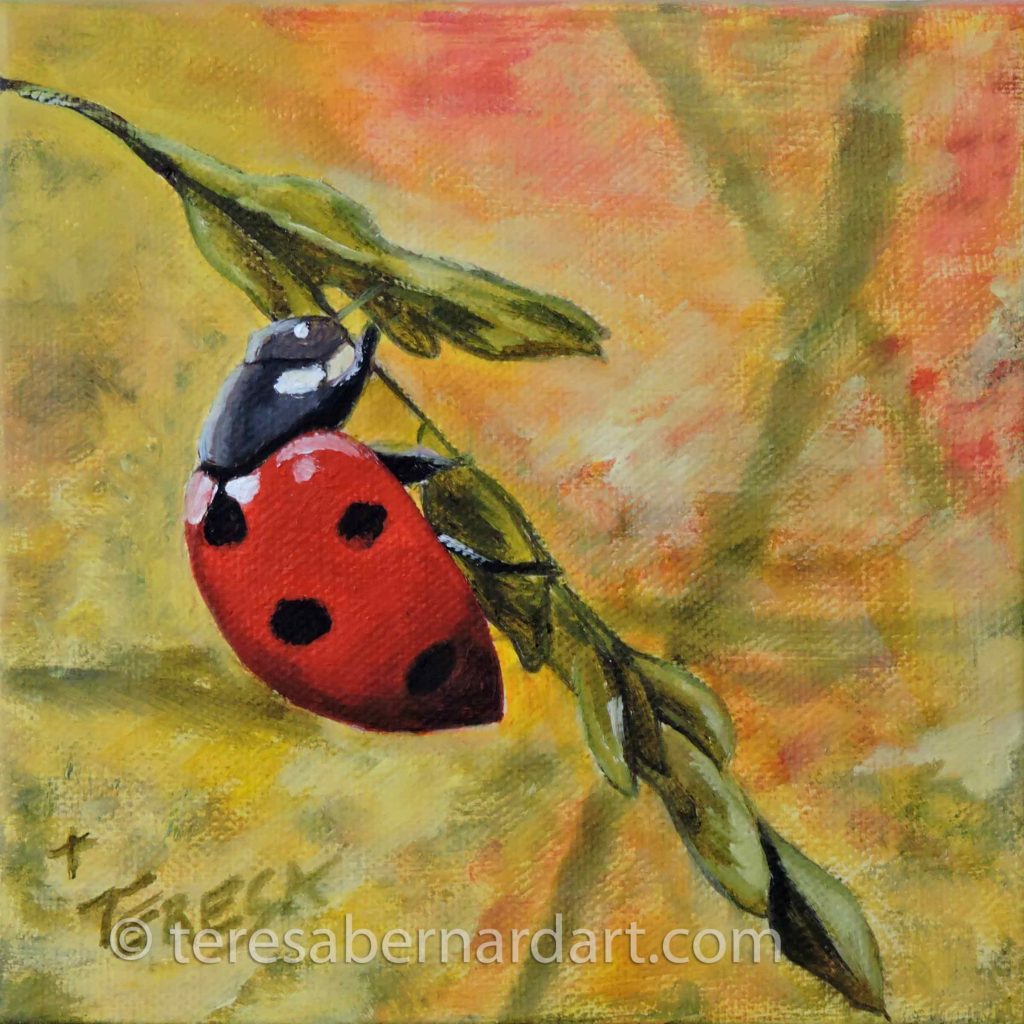 $120
FREE shipping and handling within the U.S.A.
Contact us for international postage and handling.
All transactions are via PayPal, a safe and secure way to make your purchase.
About this Ladybug Painting
Title: Ladybug #1 – Hanging on Tight
Size: 6″ w x 6″ h
Support: Gallery Wrap Stretched Canvas
Shape: Square
Description: A close-up oil painting of a ladybug. The red insect is hanging on tight to a leafy branch. The composition is bright, colorful, and cheerful. It would be ideal for a child's room or for anyone who has an interest in insects. The painting is signed by oil painting artist Teresa Bernard.
This small 6×6 inch ladybug painting is hand-painted on gallery wrap stretched canvas. Its small size makes it perfect for small spaces or areas where space is limited. It doesn't require a frame before display because the artwork stretches around the sides of the canvas giving it a modern look. However, if you prefer to have it mounted in a frame, Ladybug #1 will look great in your home or office, or any place it is put on display.
Copyright watermarks are prominently visible on all online artwork images. This watermark is to prevent unauthorized use of the painting's image. It is not depicted in any of the original canvas paintings.

This painting comes with an official Certificate of Authenticity. More information here.
Artist Comments
This painting is the first of two featuring a ladybug. I actually worked on both paintings simultaneously, i.e., Ladybug #1 and Ladybug #2. I painted the ladybug series on six-inch by six-inch canvases. For such a small creature, I felt 6×6 was a perfect size. I love ladybugs and had been wanting to paint one (or more) for quite some time.
I came across a good deal on some small canvases, and I couldn't pass up the opportunity to buy 24 of them. When my shipment of 6×6 canvases arrived, I thought this was the perfect time to paint the ladybugs. Before these two particular paintings, it had been quite some time since I last painted on such a small canvas. It was a lot of fun, and it didn't take any time at all to finish it.
Now About The Ladybugs!
Ladybugs are wondrous little creatures! They are sometimes called ladybeetles or ladybird beetles. They most commonly come in red, yellow, and orange colors, which fade as the beetle gets older. Some species have black spots while others have black stripes and still others are a solid color with no markings. Their bright colors serve to warn birds they don't taste good.
Surprisingly there are over 6,000 different species of this particular insect. They are beneficial insects because ladybugs eat other insects like aphids that often damage crops and garden plants. As such, ladybugs are often grown commercially and sold to farmers and gardeners.
The life cycle of a ladybug consists of four stages: egg, larva, pupa, and adult. Female ladybugs may lay as many as 1,000 eggs from spring to early summer, depending on the species. It usually takes four days for their eggs to hatch.
Read more about this insect in Ladybug #2.
Companion Ladybug Painting
Ladybug #1 has a companion called "Ladybug #2 – Almost Perfect Camouflage." Companion paintings are sold separately. Whether purchased with its companion or not, either of these paintings will look great when proudly displayed in your home or office.
Click on the thumbnail for a larger image.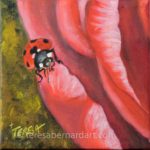 Have a question?
If you have a question about this painting, please contact us, and we'll be happy to answer any of your questions.
Other Wildlife Paintings of Interest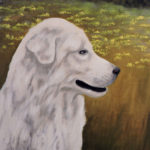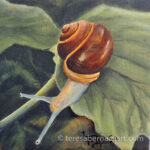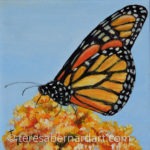 Thanks for looking!
Feel free to share this with your friends.
---