A Swallowtail Butterfly Caterpillar (Papilio Machaon Caterpillar) climbs its way up a flower in this small canvas painting. The bright colors in this artwork are eye-catching and sure to liven up any space.
$140
FREE shipping and handling within the U.S.A.
Contact us for international postage and handling.
All transactions are via PayPal, a safe and secure way to make your purchase.
About this Caterpillar Painting
Title: Swallowtail Butterfly Caterpillar
Size: 6″ w x 8″ h
Support: Gallery Wrap Stretched Canvas
Shape: Vertical (portrait)
Description: An insect art painting of the Papilio Machaon Caterpillar (commonly known as the Swallowtail Butterfly Caterpillar). The yellow and black striped caterpillar wiggles and climbs its way up a stalk of Queen Ann's Lace.
Hand-painted on high-quality 6×8 inch canvas by American artist Teresa Bernard. This artwork is ready to hang as is or can be framed for a more refined appearance.
Copyright watermarks are prominently visible on all online artwork images. This watermark is to prevent unauthorized use of the painting's image. It is not depicted in any of the original canvas paintings.

This painting comes with an official Certificate of Authenticity. More information here.
Artist Comments
I saw this little caterpillar one day and thought it would be a fun painting to do. Its colorful stripes and long body is what caught my attention. Someday soon this little insect will transform into a beautiful Swallowtail Butterfly.
Some Interesting Facts about Caterpillars
Are caterpillars insects?
Yes. Caterpillars, like their parent butterflies or moths, are insects. The caterpillar's only job is to eat. It can grow and expand its size more than 1,000 times while eating before metamorphosing into a moth or butterfly.
Caterpillars have twelve eyes.
A caterpillar has twelve tiny eyes called stemmata; six on each side of its head. One would think that a creature with so many eyes would have excellent vision, but not in this case. Their tiny eyes only aid in distinguishing between light and dark.
Caterpillars have a huge number of muscles in their bodies.
The muscles in a caterpillar far outnumber those in humans. A caterpillar has 4,000 muscles, while humans have 650. They rely on these muscles to move because they do not have any bones inside them.
Have a question?
If you have a question about this painting, please contact us, and we'll be happy to answer any of your questions.
Other Insect Art Paintings of Interest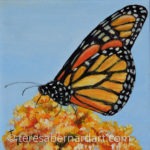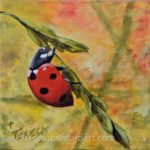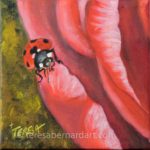 Your Feedback
♦ "It's really beautiful. Mother Nature had transforming animals before it was cool." — @TheKeyofB, Gab
Thanks for looking!
Feel free to share this with your friends.
---
UPDATED: 21 July 2023