A flower painting with white calla lilies against a blue background.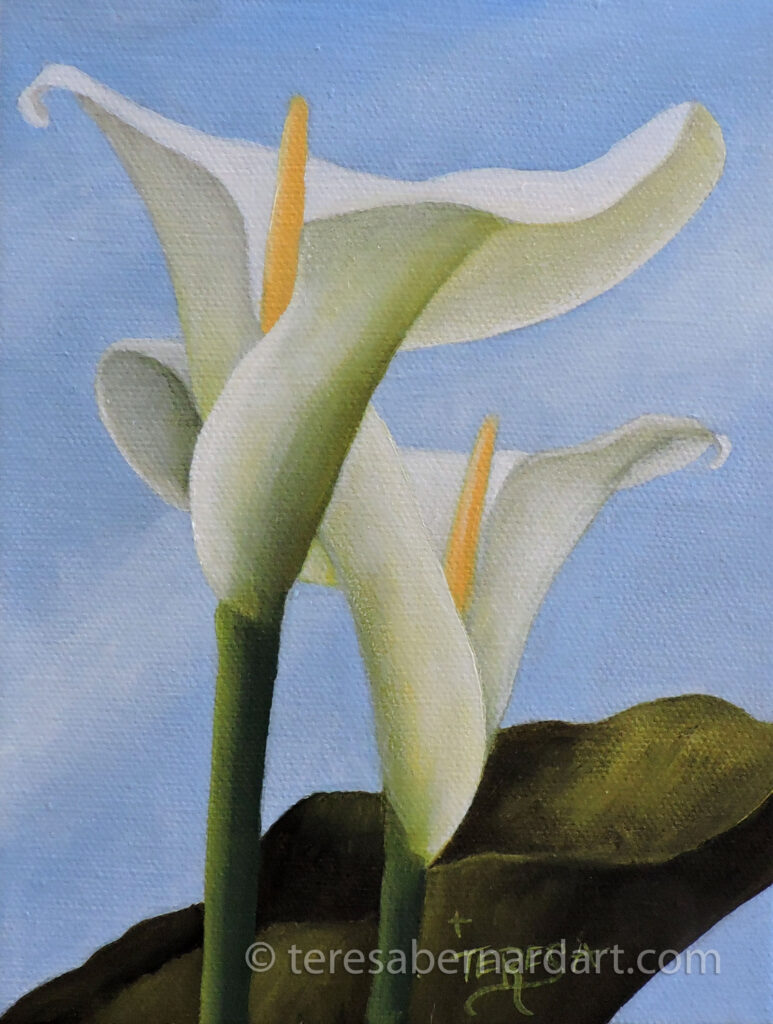 $140
FREE shipping and handling within the U.S.A.
Contact us for international postage and handling.
All transactions are via PayPal, a safe and secure way to make your purchase.
About this Calla Lilies Painting
Title: White Calla Lilies on Blue
Size: 6″ w x 8″ h
Support: Gallery Wrap Stretched Canvas
Shape: Vertical (portrait)
Description:  A small flower painting of two white calla lilies on a sky-blue background. The calla lilies are shown from the side, highlighting their distinctive trumpet shape. Each bloom has a yellow spadix in the center. The flowers are nestled within a large green leaf. Teresa Bernard, an artist whose specialty is oil paintings, signs this piece in the lower right corner.
This painting was created by hand on gallery wrap stretched canvas. Because the artwork composition extends around the edges of the canvas, no frame is required to display it. However, if you choose to have it framed, it will look fantastic.
Copyright watermarks are prominently visible on all online artwork images. This watermark is to prevent unauthorized use of the painting's image. It is not depicted in any of the original canvas paintings.

This painting comes with an official Certificate of Authenticity. More information here.
Artist Comments
I struggled to come up with a title for this painting. Every artist in the world seems to call their calla lily paintings by the same name. So I kept looking for title ideas and ended up at the website of Georgia O'Keeffe, an American artist whose artworks have influenced me.  She created several calla lily paintings, one of which she titled "Two Calla Lilies on Pink." Her title became an inspiration for mine: White Calla Lilies on Blue.
The calla lily has always been one of my favorite flowers. I just love its beauty. It gets its name from the Greek word for "beautiful." The calla lily has a bloom that resembles a trumpet. Did you know the most popular color of calla lily is white? The white calla lily symbolizes purity and innocence. It is also associated with faithfulness and holiness, which is a reason why you often see them used at Easter services and weddings.
Have a question?
If you have a question about this painting, please contact us, and we'll be happy to answer your questions.
Other White Flower Paintings of Interest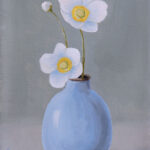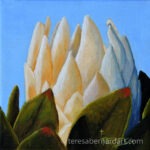 Your Feedback
♦ "Very Georgia-O'Keeffe-style. Keep up your good works " — @GuardianOfTheWoods, TRUTH Social
Thanks for looking!
Feel free to share this with your friends.
---
UPDATED: 29 April 2023