A small oil painting depicting a close-up of a ladybug sitting on a red flower. This insect painting is ideal for a budding entomologist or anyone who loves ladybugs.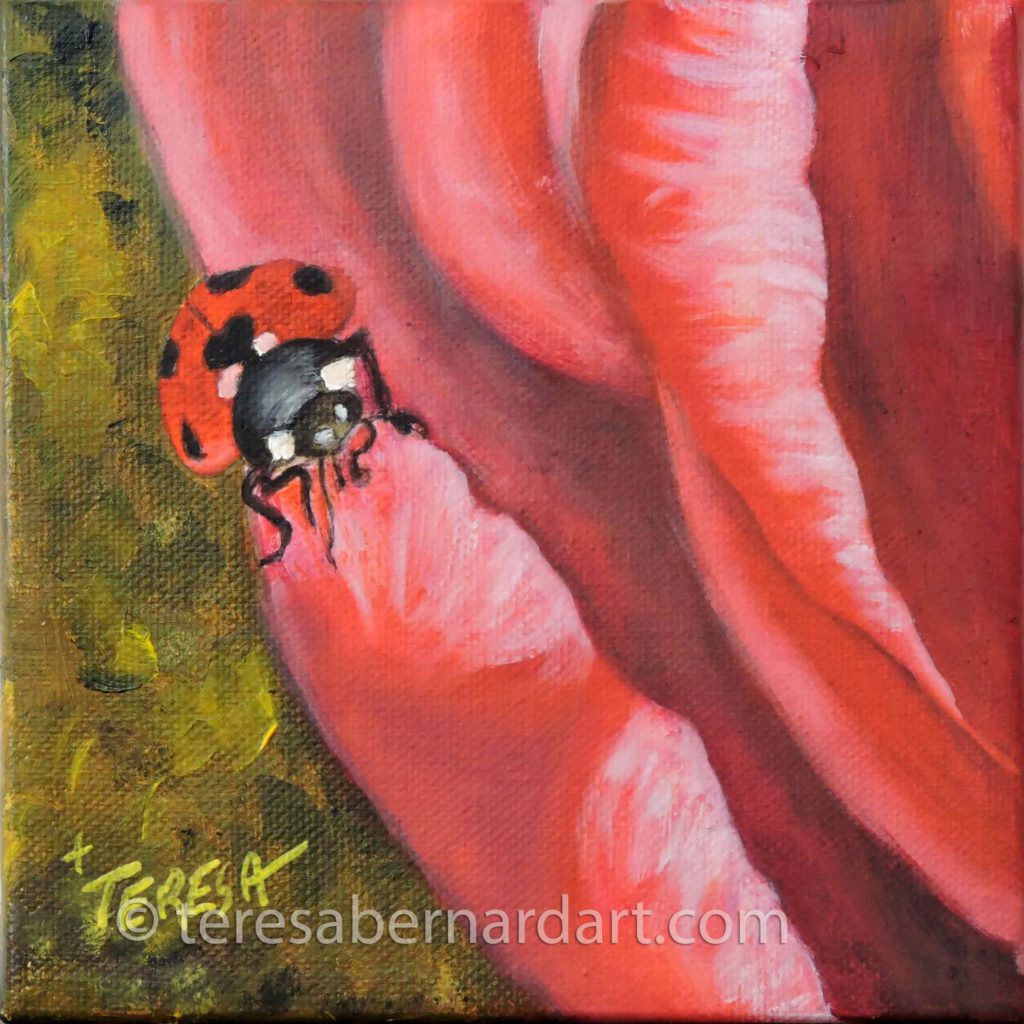 $120
FREE shipping and handling within the U.S.A.
Contact us for international postage and handling.
All transactions are via PayPal, a safe and secure way to make your purchase.
About this Ladybug Oil Painting
Title: Ladybug #2 – Almost Perfect Camouflage
Size: 6″ w x 6″ h
Support: Gallery Wrap Stretched Canvas
Shape: Square
Description: A close-up of a red ladybug sitting on a red flower creates an almost camouflaged environment for itself in this small oil painting. This is the second in a series of paintings depicting the ladybug. The artwork is signed by artist Teresa Bernard.
The painting's small size makes it perfect for small rooms or areas where space is limited. It measures 6×6 inches and is hand-painted on gallery wrap stretched canvas. This ladybug insect painting won't need a frame because the painting's composition spreads out around the edges of the canvas giving it a fashionable look. Framed or unframed, this painting will look great in your home or office, or any place it is put on view.
Copyright watermarks are prominently visible on all online artwork images. This watermark is to prevent unauthorized use of the painting's image. It is not depicted in any of the original canvas paintings.

This painting comes with an official Certificate of Authenticity. More information here.
Artist Comments
I named this insect painting "Almost Perfect Camouflage" because the red color of the ladybug blends in so well with the flower it sits on. A natural predator would have to look very close to see it.
Where did they get their name? Are all ladybugs female? What do you call a ladybug that is a male? How can you tell them apart? All great questions!
Ladybug is the common name for Coccinellidae, a Latin word that means scarlet. It is also the American name for the insect known as the "lady beetle" or "ladybird beetle" in Europe. Whether you call them ladybug, ladybird, or lady beetle, the name has its origins in an old legend from Europe during the Middle ages.
The Legend of the Ladybug
Legend has it that pests were destroying the Europeans' crops, so Catholic farmers began praying to the Blessed Lady (the Virgin Mary) for help. Soon afterward, they noticed tiny black and red beetles in their fields eating the unwanted pests. Their crops were miraculously spared of any damage from the infestation. The farmers attributed their good fortune to the tiny insects called "the beetles of our Lady." The red color of the beetle represents Mary's cloak, and the black spots her sorrows. Eventually, they came to be known as ladybugs.
Ladybugs come in both male and female varieties, and both sexes are called the same thing… "ladybugs." It is hard to distinguish male from female ladybugs with the naked eye, although females are larger than males. And that is hard to determine unless they are next to each other.
Read more about this insect in Ladybug #1.
Companion Ladybug Oil Painting
Ladybug #2 has a companion called "Ladybug #1 – Hanging On Tight." Companion paintings are sold separately. Whether purchased with its companion or not, either of these paintings will look great when proudly displayed in your home or office.
Click on the thumbnail for a larger image.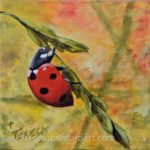 Have a question?
If you have a question about this painting, please contact us, and we'll be happy to answer any of your questions.
Other Wildlife Paintings of Interest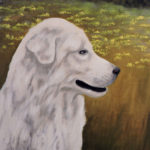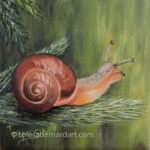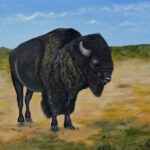 Thanks for looking!
Feel free to share this with your friends.
---