A silhouetted cowboy looks off into a vivid sunset in this large western painting.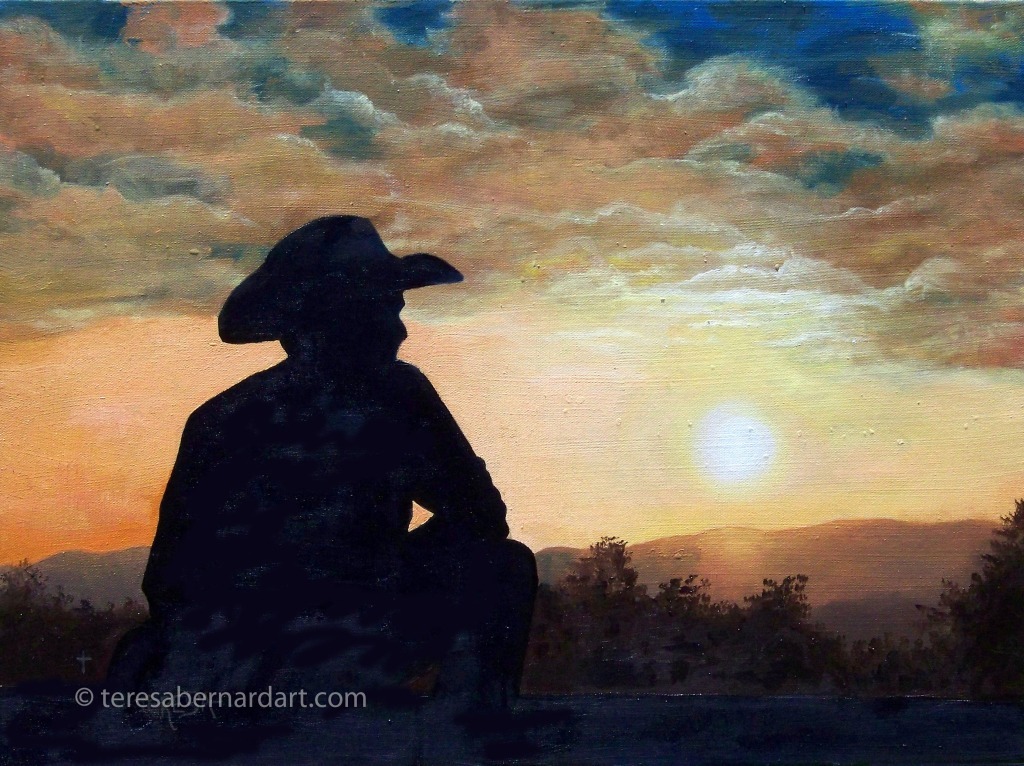 $420
FREE shipping and handling within the U.S.A.
Contact us for international postage and handling.
All transactions are via PayPal, a safe and secure way to make your purchase.
About this Cowboy Sunset Painting
Title: Cowboy Sunset
Size: 24″ w x 18″ h
Support: Gallery Wrap Stretched Canvas
Shape: Horizontal (landscape)
Description: A vivid sunset painting with the silhouette of a cowboy as he gazes across the horizon at the setting sun. The sky is ablaze with yellows, reds, and oranges. This work is part of the "Life in Texas" series.
This Western art painting will not need a frame as the painted image extends around the edges of the stretched canvas. Hand-painted and signed by fine artist Teresa Bernard.
Copyright watermarks are prominently visible on all online artwork images. This watermark is to prevent unauthorized use of the painting's image. It is not depicted in any of the original canvas paintings.

This painting comes with an official Certificate of Authenticity. More information here.
Artist Comments
Some of the most gorgeous sunsets in the world happen right here in Texas, but of course, I might be just a tad bit biased. I love the bright, colorful sunsets that I get to enjoy almost every evening. And I also love the idea of cowboys, horses, and the Old West.
This painting with a cowboy gazing off into the sunset reminds me of my childhood when pretty much all you could watch on TV were westerns. It was a fantasy life all of us kids dreamed about living someday. We would pretend to be cowboys and rode imaginary horses for hours until mom called us in for supper.
When my husband decided it was time to retire from the Navy and settle down to live life as civilians, we bought some land and built a small ranch in East Texas with a couple of horses, a donkey, and a few heads of cattle. It was our dream to live the cowboy way of life.
Have a question?
If you have a question about this painting, please contact us, and we'll be happy to answer any of your questions.
Other Sunset Paintings of Interest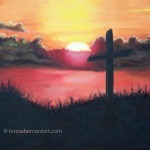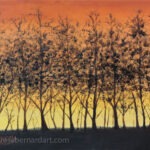 Your Feedback
♦ "Very impressive! I'm not an expert but I hate modern art. To me a real artist can capture a magical moment in time and share its essence with the world. Most "experts" lost credibility with me when they started pushing crap that could be duplicated by preschoolers." — Dustythepainter, Gab
♦ "Absolutely love your sunset and portrait of a man. What is the price for a commissioned painting from a photo?" — Kerri K., St. Paul MN
♦ "From one artist to another, this is amazing!" — Cameron, Businesses of Gab, Gab
♦ "Beautiful light and contrast." — @derusha, TRUTH Social
♦ "Great painting. It reminds me of my brother. His nickname is Cowboy. One of the few real cowboys left." — @lynnwilsonart, Gab
Thanks for looking!
Feel free to share this with your friends.
---