A painting depicting en pointe, a common classical ballet pose every ballerina learns to position her feet.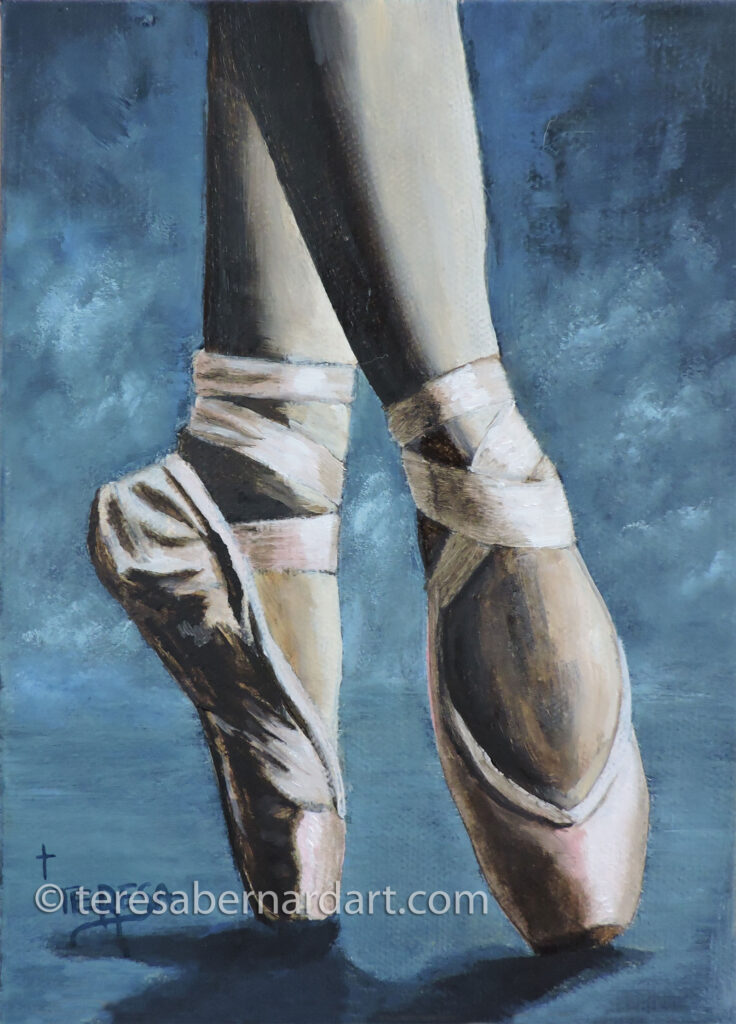 $140
FREE shipping and handling within the U.S.A.
Contact us for international postage and handling.
All transactions are via PayPal, a safe and secure way to make your purchase.
Details & Description
Title: Ballerina Feet En Pointe
Size: 6″ w x 8″ h
Canvas Type: Gallery Wrap Stretched Canvas
Signed: On the front 
COA: Signed Certificate of Authenticity
A cropped composition emphasizing just the feet of a ballerina in the en pointe position. Her feet are in a bright spotlight. Artist Teresa Bernard signs her work in the lower left-hand corner.
This original tiny dancer painting is painted by hand on gallery-wrapped stretched canvas. Its smaller size makes this painting perfect for small spaces or areas where space is limited. It doesn't require a frame before display because the composition stretches around the sides of the canvas giving it a modern look. However, if you prefer to have it framed, Ballerina Feet En Pointe painting will look great in your home or office, or anywhere it's put out for viewing.
The copyright watermark ©️ teresabernardart.com is not depicted on the original canvas painting.
Artist Comments
I never had the opportunity to take ballet as a child, but my daughter did for a time. She looked adorable in her little tutu and tiara. I was one proud momma watching my little ballerina do her dance routine with the other girls in her ballet company. This painting is not of my daughter's feet; it is an artwork of the feet of any girl who enjoys classical ballet dance.
Have a question?
If you have a question about this painting, please contact us, and we'll be happy to answer any of your questions.
You May Also Like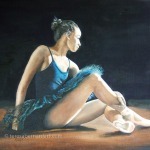 Thanks for looking!
Feel free to share this with your friends.
---
UPDATED: 29 November 2023