A landscape painting of Palo Duro Canyon State Park's famous Lighthouse geological rock formation.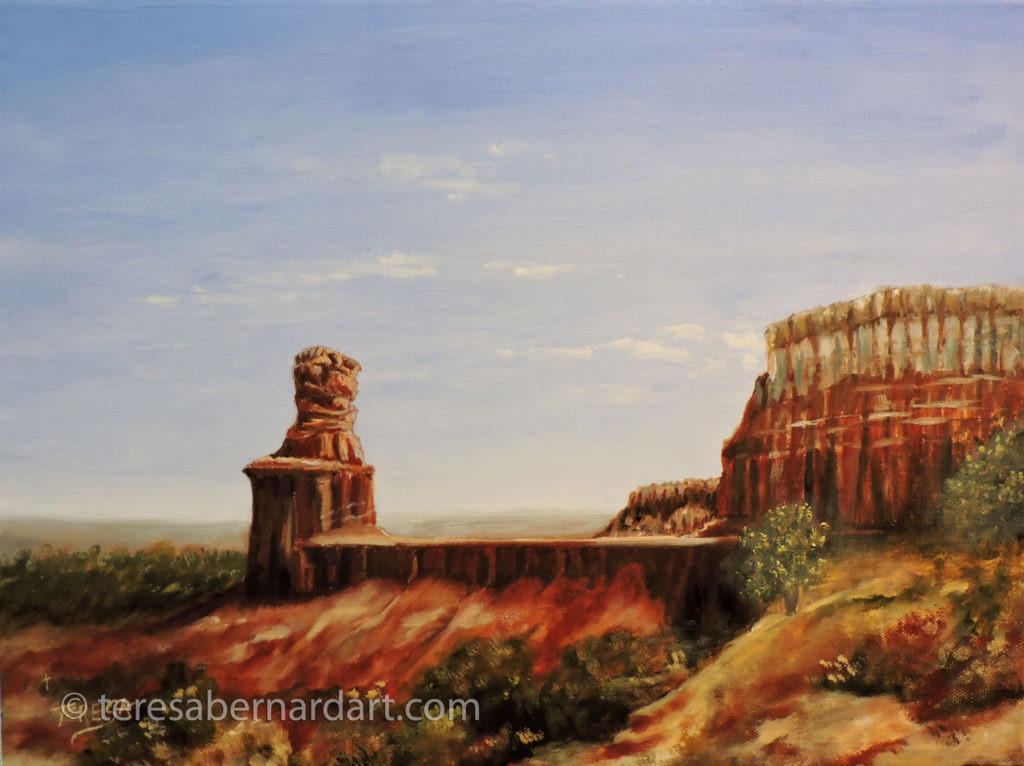 $280
FREE shipping and handling within the U.S.A.
Contact us for international postage and handling.
All transactions are via PayPal, a safe and secure way to make your purchase.
About this Palo Duro Canyon Painting
Title: Lighthouse of Palo Duro Canyon
Size: 16″ w x 12″ h
Support: Gallery Wrap Stretched Canvas
Shape: Horizontal (landscape)
Description: A landscape painting of the famous Lighthouse geological rock formation of Palo Duro Canyon, the largest canyon in Texas. It stands alone on the canyon's edge, a testament to the beauty of the Texas Panhandle.
This work of art will not need a frame as the painting image extends around the edges of the stretched canvas. Hand-painted and signed by fine artist Teresa Bernard.
Copyright watermarks are prominently visible on all online artwork images. This watermark is to prevent unauthorized use of the painting's image. It is not depicted in any of the original canvas paintings.

This painting comes with an official Certificate of Authenticity. More information here.
Artist Comments
In 2015 my husband Robert and I traveled to Amarillo, TX, on vacation. While there, we visited the Palo Duro Canyon State Park several times, as it quickly became the highlight of our trip. The Lighthouse is one of many "must-see" attractions when visiting this park. Multiple visits to the canyon also provided me with many photo ops that would be used as reference material for this Palo Duro Canyon painting and future paintings of this park.
Fun Facts About Palo Duro Canyon State Park
Palo Duro Canyon State Park is located in the Texas Panhandle near Amarillo, TX. Nicknamed "The Grand Canyon of Texas" because of its size and resemblance to the Grand Canyon located in Arizona. It is the second-largest canyon in the U.S., measuring 120 miles long, 20 miles at its widest point, and 800 feet at its maximum depth. It also has over 29,000 scenic acres for the tourist or vacationer to enjoy. Like the Grand Canyon in Arizona, the Palo Duro Canyon features dramatic geological features, multicolored rock layers, and steep mesa walls.
For the park visitor, there are hiking trails, campgrounds, horseback riding, and more! The canyon is also host to TEXAS Outdoor Musical, the longest-running musical ever performed on stage. This world-renown musical drama has been performed on an outdoor stage in the canyon since 1965.
For more information about this Texas state park, visit their website.
Have a question?
If you have a question about this painting, please contact us, and we'll be happy to answer any of your questions.
Other U.S. Landmark Paintings of Interest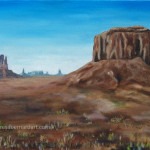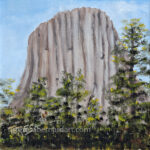 Your Feedback
♦ "Beautiful! You are very talented!!!" — @StephieOcean, Gab
Thanks for looking!
Feel free to share this with your friends.
---