A realistic painting of an African bull elephant.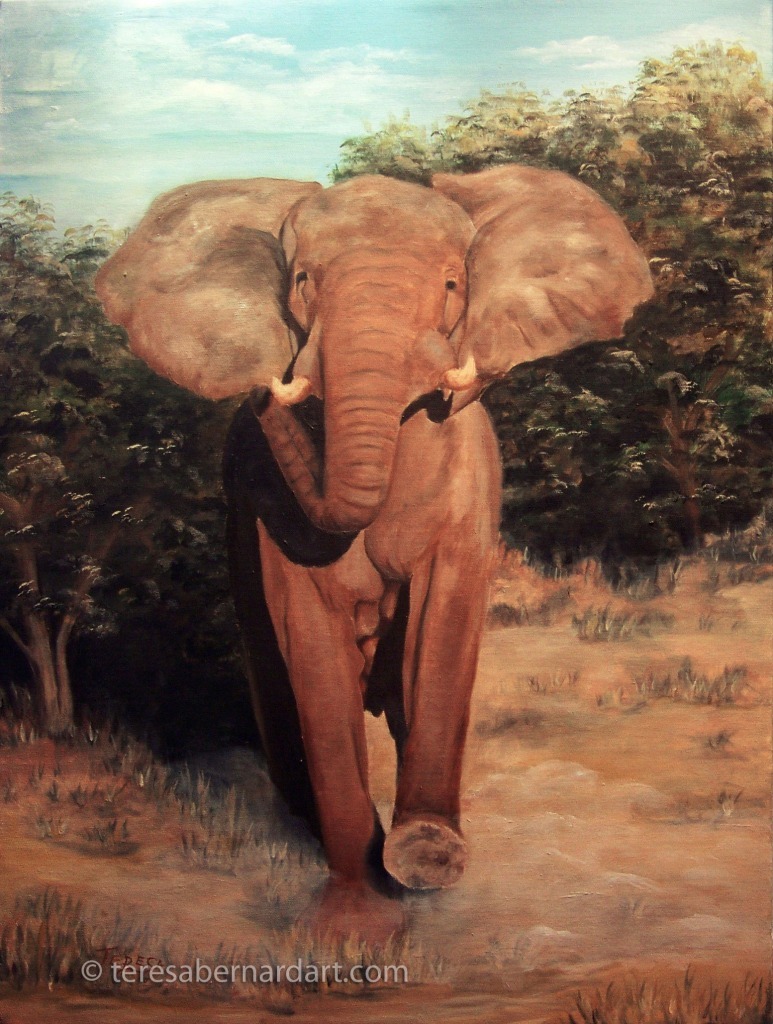 SOLD: This painting was sold to a private art collector in North Carolina.
Customer Feedback
Painting has arrived. I am pleased to add it to my collection. Thank you. — H. Shaw, Winston Salem NC
About this African Elephant Painting
Title: Raging African Elephant
Size: 18″ w x 24″ h
Support: Traditional-Style Stretched canvas
Description: A realistic painting depicting the wildlife of Africa. This specific painting is of an African bull elephant. Hand-painted and signed by artist Teresa Bernard.
Artist Comments
As an artist, I'm always looking for good reference photos to paint from. Taking lots of photos myself is one way I get them. Others like to give me their photos to use as well. Using resources like this to paint from is something many artists do when they paint. Other artists like to paint on location but will still take a photo of the scenery to take home. They use them to finish up their painting when they are back in their studio.
Several years ago, some acquaintances of mine went on an African safari. While there, they snapped a photo of an elephant and emailed it to me. They thought I might like to use it as a resource photo for a painting of an African elephant. And they were right! I liked it so much I painted it.
Some Interesting Facts About African Elephants
African elephants are native to Africa and are the world's largest land animals. They are distinguished by their massive flapping ears and ivory tusks. The fact that these animals are hunted for their ivory tusks and that their natural habitat is shrinking has contributed to their inclusion on the endangered species list. They are, in fact, one of Africa's most endangered species. In the 1980s, around 1 million African elephants roamed Africa's plains; today, the total population is less than 470,000.
Thanks for looking!
Feel free to share this with your friends.
---