The southern Magnolia Grandiflora blossom in a painting.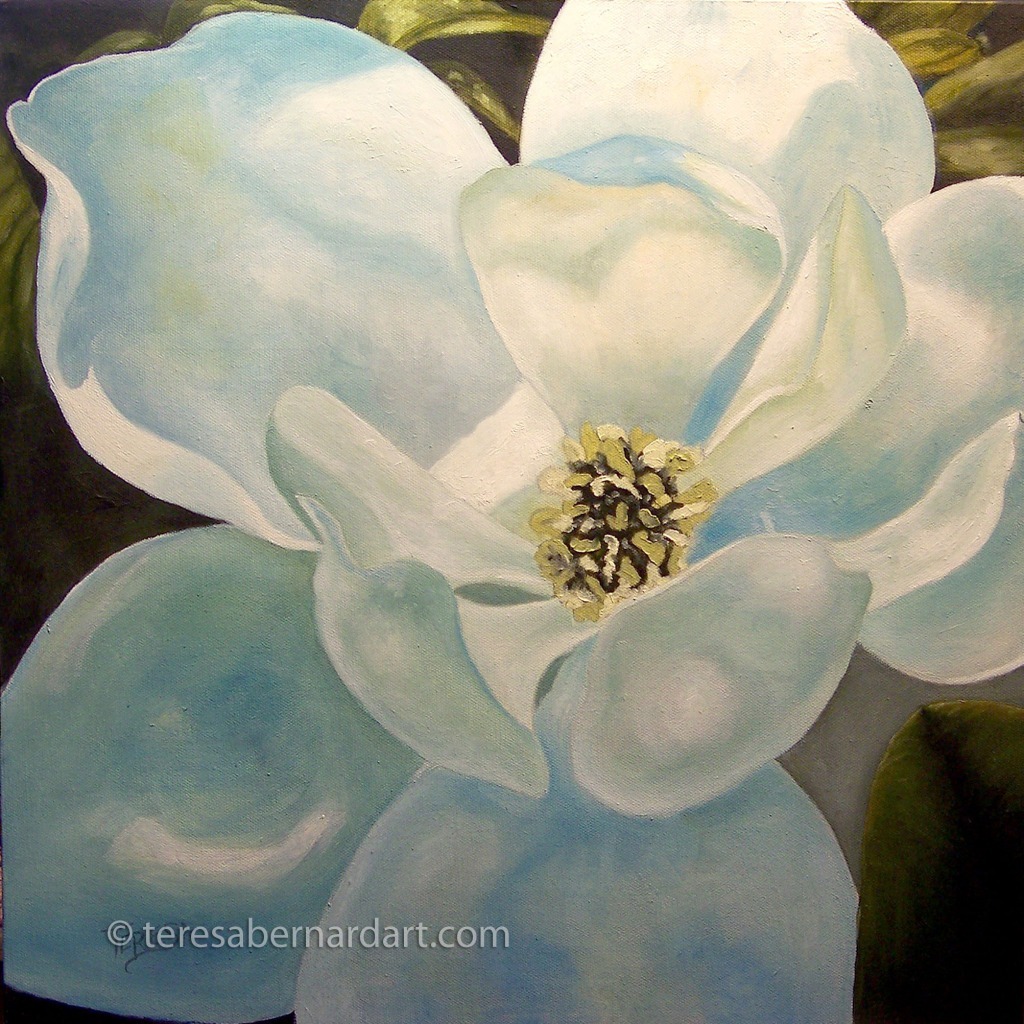 SOLD: This painting has been sold to a private art collector and is no longer available.
Customer Feedback
"Teresa, I just wanted to let you know that the painting arrived and it's absolutely phenomenal!! Thank you again." — K. Burke, Erie PA
Art Prints Available
Fine Art Prints
Although the original painting has been sold, this artwork can still be enjoyed in your home or office. Art prints are available for purchase at the link below.
⇒  Magnolia Blossom Painting by Teresa Bernard – Fine Art America
Details & Description
Title: Magnolia Blossom
Size: 18″ w x 18″ h
Canvas Type: Gallery Wrap Stretched Canvas
Shape: Square
A close-up depiction of the southern Magnolia Grandiflora blossom. Hand-painted and signed by artist Teresa Bernard.
©️ teresabernardart.com is a copyright watermark, it does not appear on the actual canvas artwork.
Artist Comments
This painting is of the Magnolia Grandiflora, commonly known as the southern magnolia or bull bay. These large, showy flowers grow on trees native to East Texas and several other southern and southeastern states. The trees have large, glossy leaves and huge, fragrant white blossoms. Their sweet-smelling flowers are considered an emblem of feminine sweetness and beauty.
Magnolias are often a favorite subject matter for many artists. They are certainly a favorite flower of mine. I was drawn to how the light hit this Magnolia's pedals and immediately knew I wanted to do a painting of this magnificent flower.
Some Interesting Things to Know About Magnolias
After planting, it can sometimes take up to 10 years for a Magnolia tree to bloom.
Magnolias bloom from April to June.
Southern Magnolia blossoms grow between 8 and 12 inches.
Magnolia blossoms grow at the end of the tree's branches.
The fragrance of the Magnolia flower has a pleasant scent that resembles the smell of tropical fruit.
The dense foliage and shallow roots make it very difficult to grow grass under its shade.
Its root system will crack sidewalks and pavements if planted too close to them.
Magnolia trees require plenty of space as they can grow up to 40 ft. wide and 80 ft. tall.
Both Louisiana and Mississippi claim the Magnolia as their official state flower.
Thanks for looking!
Feel free to share this with your friends.
---