A portrait of Tera in a painting.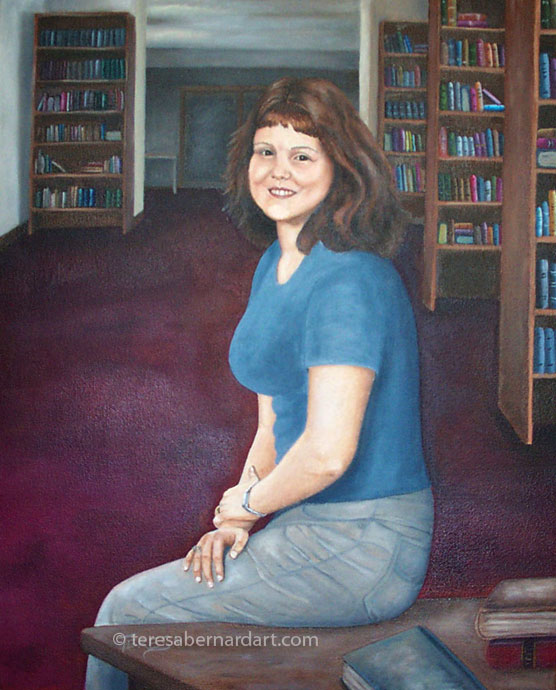 NOT FOR SALE: This painting is part of Teresa's private art collection and is not for sale.
About this Portrait Painting of Tera
Title: Portrait of Tera
Size: 16″ w x 20″ h
Support: Traditional-Style Stretched canvas
Description:  Portrait painting of Tera sitting in a library. Hand-painted on quality stretched canvas and signed by artist Teresa Bernard.
Artist Comments
This is a portrait painting of my daughter Tera. I painted it using her high school senior portrait as a reference photo. However, the background in the painting is an entirely different setting than what was used in the photo. When I did her painting, Tera was attending college and studying to become a librarian, so I chose a library setting for the background instead.
All through high school, Tera wanted to become a librarian and even worked after school and on weekends at a local branch of the public library. She loved books and reading and still does to this day. The background in her painting is of a fictional place and is not the library she was working at during high school.
This was a fun painting to do, and I took my time with it as I wanted everything to be just right. First of all, the subject matter is near and very dear to my heart. Secondly, it was both fun and challenging to paint all those books on the shelves. I captured a very good likeness of Tera with this painting; however, when I photographed it for my website, I realize my photography skills need some improvement!
Portrait of Tera is part of my private art collection and is not for sale. Someday it will be passed down to Tera as a family heirloom, but for now, it continues to hang on the wall in my living room.
Thanks for looking!
Feel free to share this with your friends.
---