A still life painting composed of vintage items from a home office or study. This painting has a vintage feel due to the single-color palette used to create it.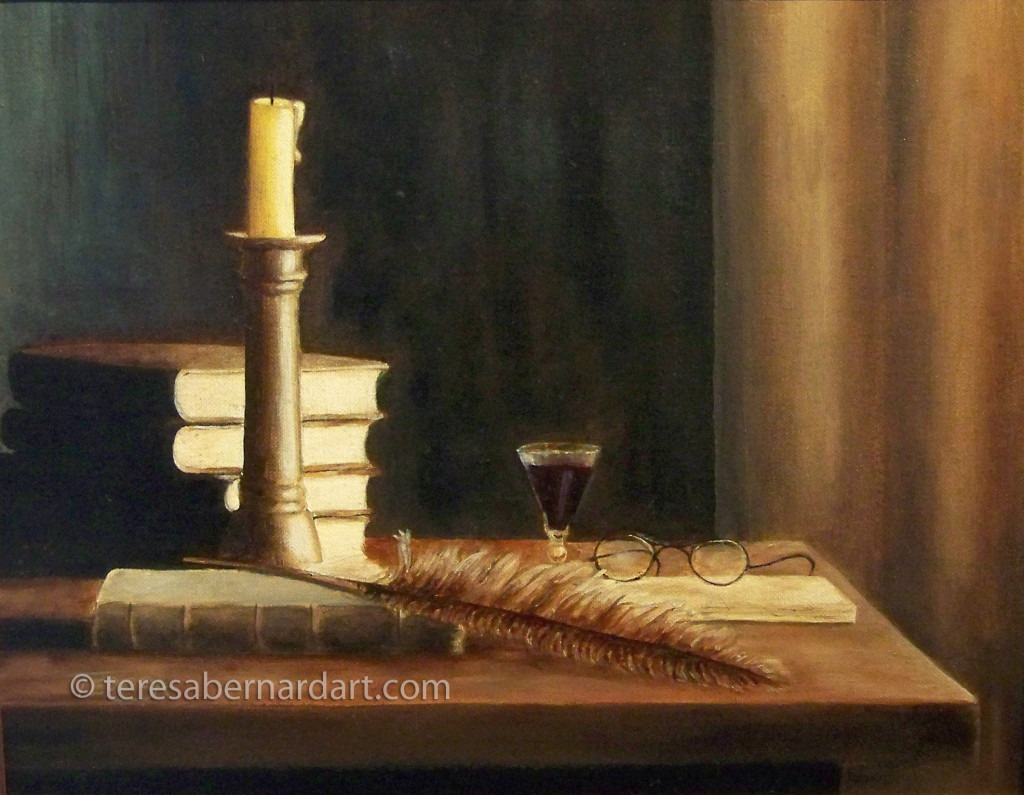 $250
FREE shipping and handling within the U.S.A.
Contact us for international postage and handling.
All transactions are via PayPal, a safe and secure way to make your purchase.
Details & Description
Title: The Study
Size:

 14" w x 11" h


Canvas Type: Traditional Stretched Canvas
Shape: Horizontal (landscape)
This painting depicts a still life of vintage objects typical of a home office or study. A stack of hardcover books, a feather quill pen, a candlestick in a tall candle holder, a pair of spectacles, and a glass of wine are arranged on top of an antique wood desk. The monochromatic (single-color) palette used in this painting gives it a vintage look. The painting is signed by artist Teresa Bernard.
The Study painting will need to be mounted in a frame before it is shown because the side-stapled edges are unpainted or raw.
The copyright watermark ©️ teresabernardart.com is used exclusively for online purposes and does not appear on the original canvas artwork.
Artist Comments
The Study is the first painting I've done using a monochromatic color scheme. What this means is that I deliberately chose to restrict the number of paint colors I used when doing this painting. The sepias I chose to use in this still life give it a vintage look.  This would be great wall décor for an office, study, den, or even a "man cave."
What exactly is monochromatic?
A monochromatic color scheme is one that is based on a single color or hue. The color scheme's other colors are all light and dark variations of that hue.
Have a question?
If you have a question about this painting, please contact us, and we'll be happy to answer any of your questions.
You May Also Like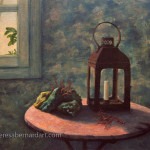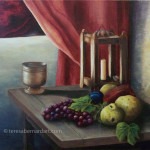 Your Feedback
"Nice Work!! With the glasses I can imagine Ben Franklin in the other room…" — @Jddddart, Gab
"Excellent paintings. Do you commission work?" — @Spychiatrist, Gab
"Beautiful. This looks like a beautiful way to spend an evening. No computer, no mobile phones, no tv. In the age where the quill pen was used, work (and life) was generally harder, but the leisure time was better as well." –@wheelbearings25, Gab
Thanks for looking!
Feel free to share this with your friends.
---
UPDATED: 20 November 2023