A snowy winter painting depicting the giant Sequoia trees of California's Sequoia National Park.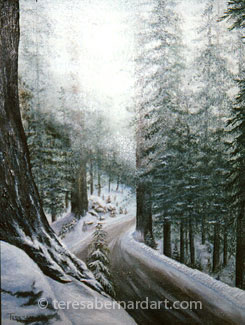 SOLD: This Sequoia National Park painting was sold to a private art collector living in California.
About this Sequoia Trees Painting
Titled: The Giants of Sequoia National Park
Size: 12″ w x 16″ h
Support: Traditional-Style Stretched canvas
Description: A winter landscape painting of the giant Sequoia trees in California's Sequoia National Park. A road winds through these massive trees, which are blanketed in snow. The painting is done in a traditional style, with precise brushstrokes and realistic colors.
This artwork is hand-painted and signed by artist Teresa Bernard.
Artist Comments
This is one of my early paintings, and I regret not having a better photograph of it. I was inspired to paint this painting by the massive Sequoia trees in this central California national park. Few tree species elicit as much awe as the Sequoia. Its enormous size gives them an otherworldly appearance. I've seen and walked among them; they truly are magnificent!
By volume, the Sequoia is the world's largest tree. Its massive trunk can reach circumferences of more than 100 feet. The Sequoia can grow to be anywhere between 60 and 275 feet tall. It's also worth noting that they have been designated as endangered species by the International Union for Conservation of Nature.
Visit the website of Sequoia National Park for more information.
Your Feedback
♦ "You captured your feelings in these snow pictures they are truly a work of art. You will be recommended to my friends and please make lithographs for future release maybe in years to come. By all means I"d love to see more of these." — L. Mundy, Santa Clarita CA
Thanks for looking!
Feel free to share this with your friends.
---