A seascape with a fisherman and a red rowboat is depicted in this oil painting. It's an ideal piece of art that you can proudly display on your wall.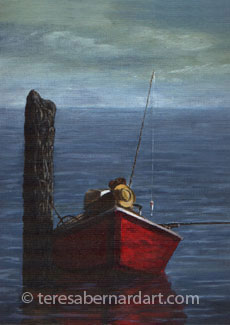 SOLD: This ocean-view painting has been sold to a private art collector in Virginia.
About this Fisherman Painting
Title: Fisherman in a Red Rowboat
Size: 9″ w x 12″ h
Support: Canvas panel board
Description:  A seascape with a fisherman and a bright red rowboat. The small fishing boat is moored to a piling surrounded by a calm sea. The sky is cloudy and overcast.  Inside the boat, a fisherman holds a fishing rod, waiting for a fish to take his bait. The colors are vibrant and full of life in this piece, and its composition is serene and calming.  It makes an excellent gift choice for someone who enjoys fishing.
Fisherman in a Red Rowboat is a seascape painting composed on a quality canvas panel board, it will require a frame before it is displayed. Hand-painted and signed by fine artist Teresa Bernard.
Artist Comments
Fishing is a popular recreation and pastime for those lucky enough to find the time to fish for the "big one." I don't particularly like to fish myself, I find it rather boring, however, I do have several friends who enjoy this sport. But this doesn't mean I don't enjoy painting someone fishing. I do!
I found this particular fisherman painting an interesting subject to paint with that red boat tied up to a piling. This is one of my earlier paintings and unfortunately, I don't have a better photograph of it. It is so much more wonderful when viewed in person.
Thanks for looking!
Feel free to share this with your friends.
---