A painting depicting the first footprint left behind by Neil Armstrong when he first set foot on the moon's surface.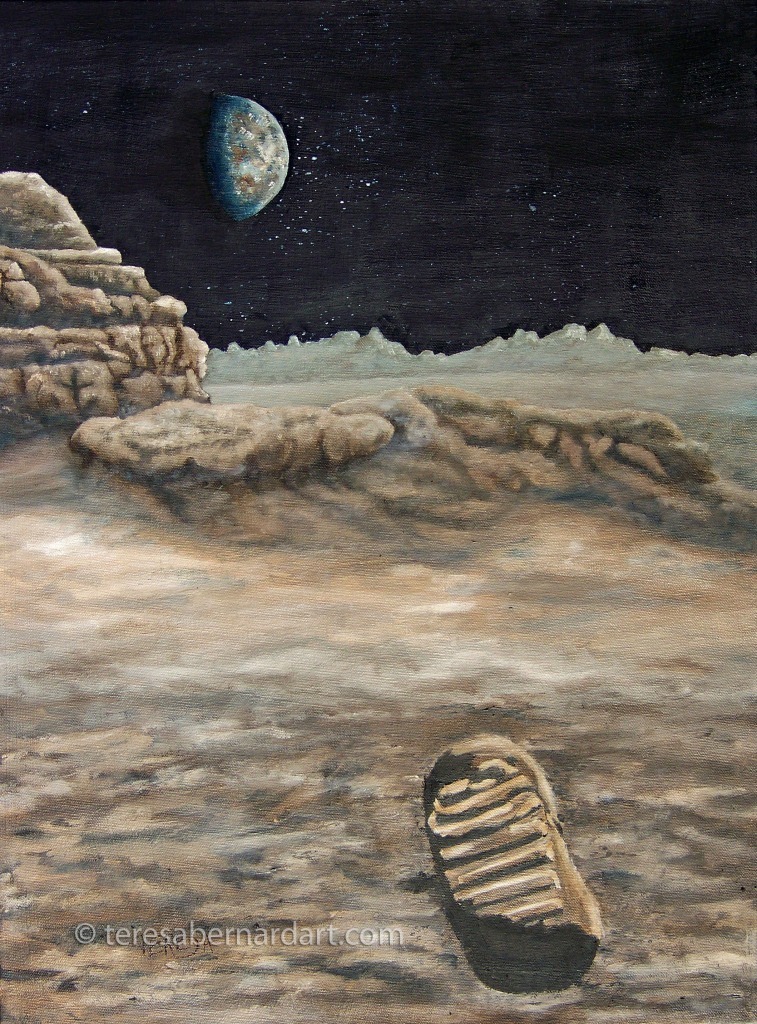 SOLD: This lunar landscape oil painting was a commission and has already been sold to an art collector in Japan.
Customer Feedback
I received my painting! Thank you very much, it's a beautiful work of art! — P. Cooper, Yokosuka, Japan
About this Moon Painting
Title: First Footprint on the Moon
Size: 18″ w x 24″ h
Support: Gallery wrap stretched canvas
Description: A rendition of man's first step onto the surface of the earth's moon. Hand-painted on quality stretched canvas and signed by artist Teresa Bernard.
Artist Comments
This painting depicts the historic event of man's first walk on the moon. It is one of two custom paintings commissioned by an art collector living in Japan. The other painting is "Land Rover Tracks of Mars."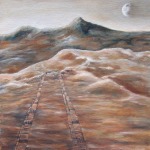 Man first stepped on the moon on July 20, 1969. The iconic footprint depicts the infamous day when Neil Armstrong first put his left foot on the rocky Moon surface. The Apollo 11 crew had taken TV cameras with them, which meant people worldwide could watch when it happened. You can read more about this historic event on NASA's website:  Apollo 11 – First Footprint on the Moon.
First Footprint on the Moon is my first painting of the space art genre. Since I have never been to the moon nor seen the iconic footprint in person, it required some research on my part to come up with this composition. First, I used a NASA photo of the footprint and spent time studying their photos of the moon's surface to get an idea of what it would be like there. Then, for the background, I used photos of strange "alien-looking" landscapes found right here on earth to complete the composition. Then, I added the distant view of Earth in the night sky to add the finishing touch. My client loved his painting when it was done. I love it too. He was so happy with it that he commissioned me to do another one for him. This time the setting would be Mars.
Thanks for looking!
Feel free to share this with your friends.
---