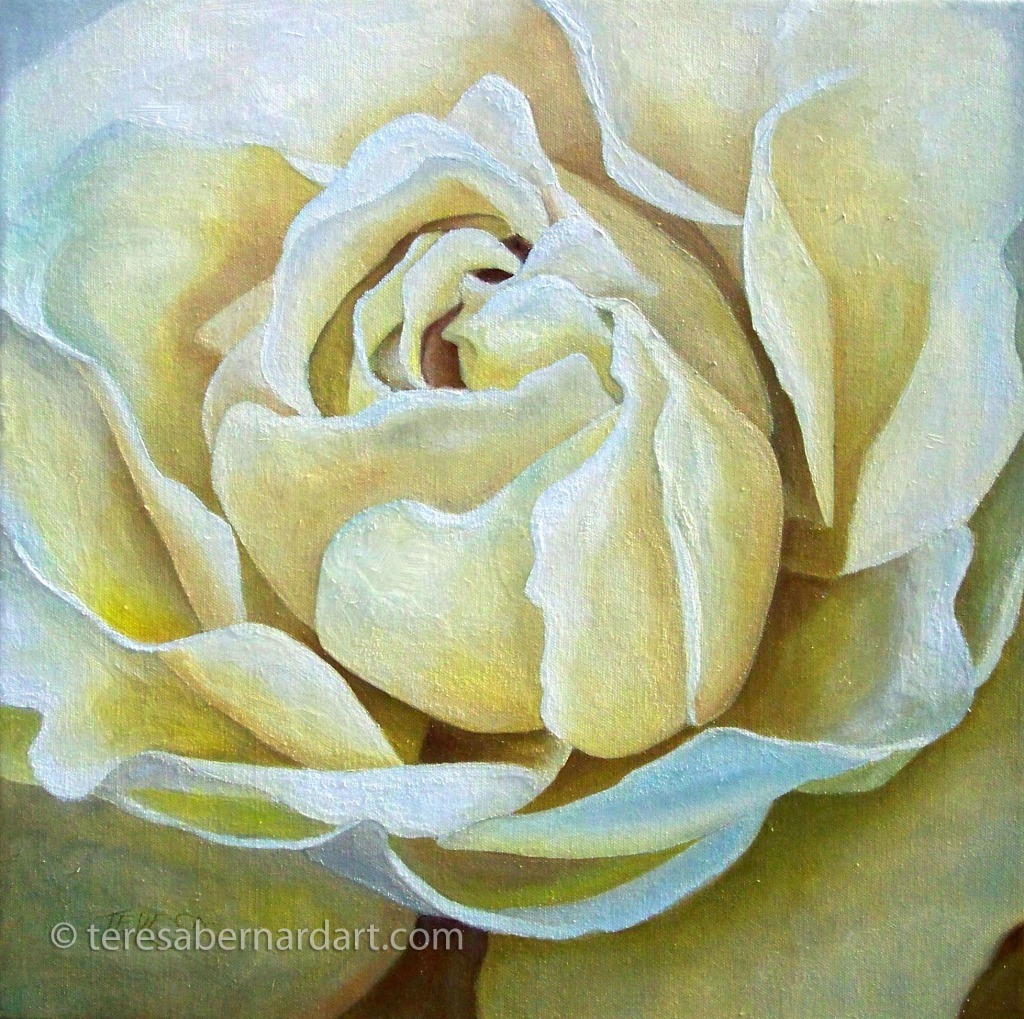 Size: 18″ w x 18″ h
Support: Gallery wrap stretched canvas
Description: A painting featuring the close-up of the center of a yellow rose blossom. This flower composition is the center of the rose enlarged by zooming in and really focusing on the flower blossom or petals. This painting will not need a frame because it is composed on a gallery wrap stretched canvas, which means the painted image extends around the edges of the canvas. Hand-painted and signed by fine artist Teresa Bernard.
SOLD: This painting has been sold to a private collector in Texas.
Artist Comments
I love all flowers, especially roses. I did this close-up oil painting of a yellow rose shortly after moving back home to Texas when my husband Robert retired from the military after 24 years of serving in the U.S. Navy. An old folk song kept coming to mind called "Yellow Rose of Texas," so I knew I just had to do an oil painting of a yellow rose. I decided to do a close-up composition because of a fellow artist whose paintings I admire.
Inspired by Georgia O'Keeffe's flower paintings, I wanted to use the same treatment as she when I painted my series of flowers. Ms. O'Keeffe likes to paint her flowers enlarged by zooming in and focusing on the flower blossom or petals in many of her paintings. I admire much of her floral art and accomplishments as an American female artist.
To my knowledge, O'Keeffe never did paintings of roses. Instead, her favorite flower to paint seems to have been the Jimson Weed since she painted quite a few of those flowers during her lifetime. I've painted several roses, a sunflower, and a magnolia blossom using this enlarged flower technique. I'm optimistic there will be more flower paintings like this one in the future.
For more information on Georgia O'Keeffe and her flower paintings.
Have a question?
If you have a question about this painting, please contact us, and we'll be happy to answer any of your questions.
Teresa's Insider News
Be the first to know! Sign up here to be among the first to receive sneak peeks of recently completed paintings, new announcements, and other updates at the art studio.
Teresa has an insider newsletter, and it's FREE! This is her way of keeping her friends up to date by giving you sneak peeks of new paintings she completes, as well as other announcements before they are made public. Her newsletter is published every other month, so be sure to get on her mailing list. You don't want to miss a thing!
Your Feedback
♦ "It is really beautiful. I love the delicate edges. I asked the Lord to give me inspiration as I have not painted in some time. Thank you for sharing." — JaneDoe1976, Cowboys, rodeos, horses & Cowgirls., Gab
♦ "Your style reminds me a little of Georgia O'Keeffe. Lovely." — Mrs. Honey, Rural Life, Gab
♦ "Lovely and your website is a joy." — CowsAndFlowers, Cowboys, rodeos, horses & Cowgirls., Gab
♦ "Oh. I really love the softness of the petals. I really love the colours too. they remind me of sweetness and the gentleness of touch. Lovely work!" — Felis_Gwyneviere, Artists Promoting Artists, Gab
Thanks for looking!
Feel free to share this with your friends.
---