A small oil painting composition of poppy pods. This artwork is a realistic depiction of the natural beauty of the opium poppy plant's seed pods. It would make a gorgeous addition to any home or office.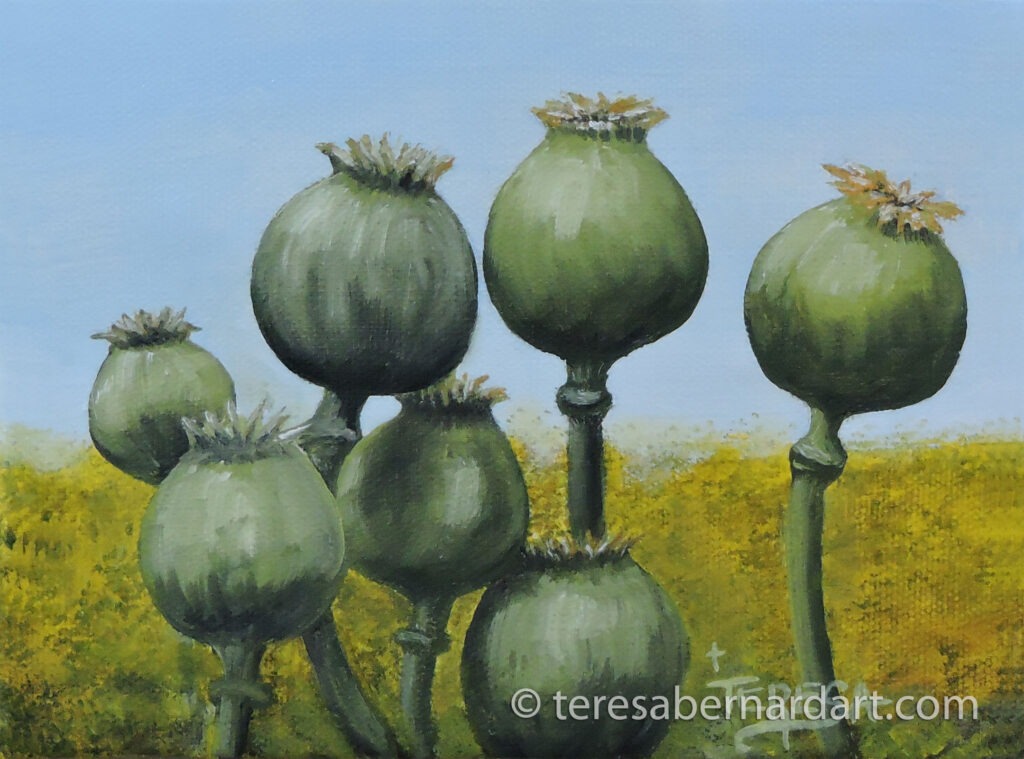 $140
FREE shipping and handling within the U.S.A.
Contact us for international postage and handling.
All transactions are via PayPal, a safe and secure way to make your purchase.
About this Painting of Poppy Pods
Title: Poppy Pods
Size: 8″ w x 6″ h
Support: Gallery Wrap Stretched Canvas
Shape: Horizontal (landscape)
Description: This painting is a realistic depiction of poppy pods. The background consists of sky-blue and yellow-green hues. The image is both peaceful and calming. Artist Teresa Bernard signs the painting.
Poppy Pods is a painting that does not need to be mounted in a frame before it is put on view. It is hand-painted on a gallery wrap stretched canvas which allows the composition to extend around the edges of the canvas. However, if you prefer to have it framed, it will look great!

This painting comes with an official Certificate of Authenticity. More information here.
Artist Comments
Poppy Pods is a painting that depicts the decorative seed pods of the opium poppy plant. They have such an interesting shape that I wanted to draw the viewer's attention to them.
More About Poppy Plants
Poppies are a widely cultivated plant that originated in the Mediterranean region and are used for a variety of purposes, including ornamental plants, pain relievers, poppy seed oils, opium-derived narcotics (such as heroin, morphine, and opioids), and food ingredients.
Have a question?
If you have a question about this painting, please contact us, and we'll be happy to answer any of your questions.
Other Poppy Flower Paintings of Interest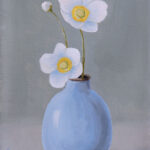 Your Feedback
♦ "Very pretty! Funny story…..I had a few poppies with beautiful flowers growing in my backyard when 1 day, my next door neighbor comes knocking on my door wanting the poppy pods. I obliged." — @HepflDesigns, TRUTH Social
Thanks for looking!
Feel free to share this with your friends.
---
UPDATED: 04 December 2022