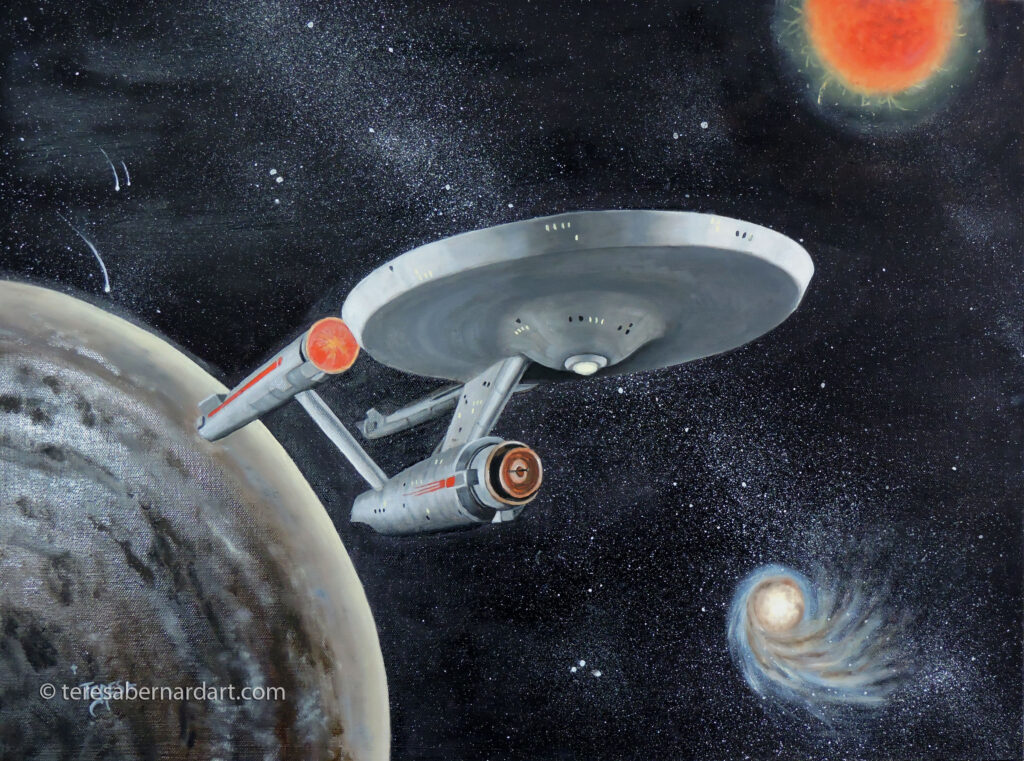 Size: 24″ w x 18″ h
Support: Gallery Wrap Stretched Canvas
Description:  Fan art depicting the famous fictional starship USS Enterprise from the iconic 1960s TV show Star Trek. The Enterprise is breaking orbit from some distant planet. In the background, we see the vastness of space with its bright red sun. There is also a myriad of stars with a spiral galaxy bidding farewell to the crew of this futuristic vessel.
This is a large painting and would be perfect for any fan of the Star Trek franchise. The fan art is composed on quality gallery wrap stretched canvas and does not require a frame before display since the composition extends around the edges of the canvas. Hand-painted and signed by fine artist Teresa Bernard.
Artist Comments
Star Trek (the original series) was my favorite TV show when I was a kid, and it still is! This painting isn't the first time I've created fan art of the USS Enterprise. I painted the famous starship years ago when I was a young teen and entered it in a local art show. My painting got a lot of attention back then, and I remember there were many conversations over it. Unfortunately, it's been so long ago that I can't remember if it was a juried art show or not. However, I do remember that the painting sold, and that was very exciting for a teenager just starting out as an artist of oil paintings.
The title for this Star Trek fan art came from the show's opening monologue.
Star Trek Opening Monologue
Space: the final frontier.
These are the voyages of the Starship Enterprise.
Its 5-year mission:
To explore strange new worlds;
To seek out new life and new civilizations;
To boldly go where no man has gone before!
Purchasing Information
NEW LOWER PRICE!
$420
was $470
FREE shipping and handling within the U.S.A.
Contact us for international postage and handling.
By purchasing your painting from this site, you are buying directly from Teresa Bernard. All transactions are via PayPal, a safe and secure way to make your purchase.
Authenticity Certified
This painting comes with an official Certificate of Authenticity. It is your guarantee the artwork you have purchased is a genuine Teresa Bernard Oil Painting.
Have a question?
If you have a question about this painting, please contact us, and we'll be happy to answer any of your questions.
Other Paintings Of Interest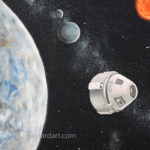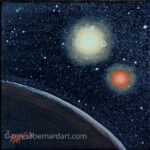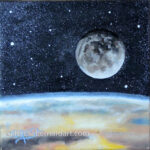 Teresa's Insider News
Be the first to know! Sign up here to be among the first to receive sneak peeks of recently completed paintings, new announcements, and other updates at the art studio.
Teresa has an insider newsletter, and it's FREE! This is her way of keeping her friends up to date by giving you sneak peeks of new paintings she completes, as well as other announcements before they are made public. Her newsletter is published every other month, so be sure to get on her mailing list. You don't want to miss a thing!
Your Feedback
♦ "Accurate, which is more than could be said for most paperback covers back in the day!" — Jupiter_Equilateral, SciFi & Fantasy Writers, Gab
♦ "Awesome, I'll share this with my trek group." — Dean Hotter, MOONS OF THE UNIVERSE, MeWe
♦ "I'm by no means a great Star Trek fan but that is a wonderful picture!" — josisenberg, SciFi & Fantasy Writers, Gab
♦ "Super nice, good job!" — Nicholas Sevilla Zamoyski, SCIFI AND DARK ART ZOCALO, MeWe
♦ "Treat her like a lady, and she'll always bring you home." — dg54321, SciFi & Fantasy Writers, Gab
Thanks for looking!
Feel free to share this with your friends.
---
UPDATED: 23 March 2022