A nighttime painting of the Delicate Arch formation in Utah's Arches National Park.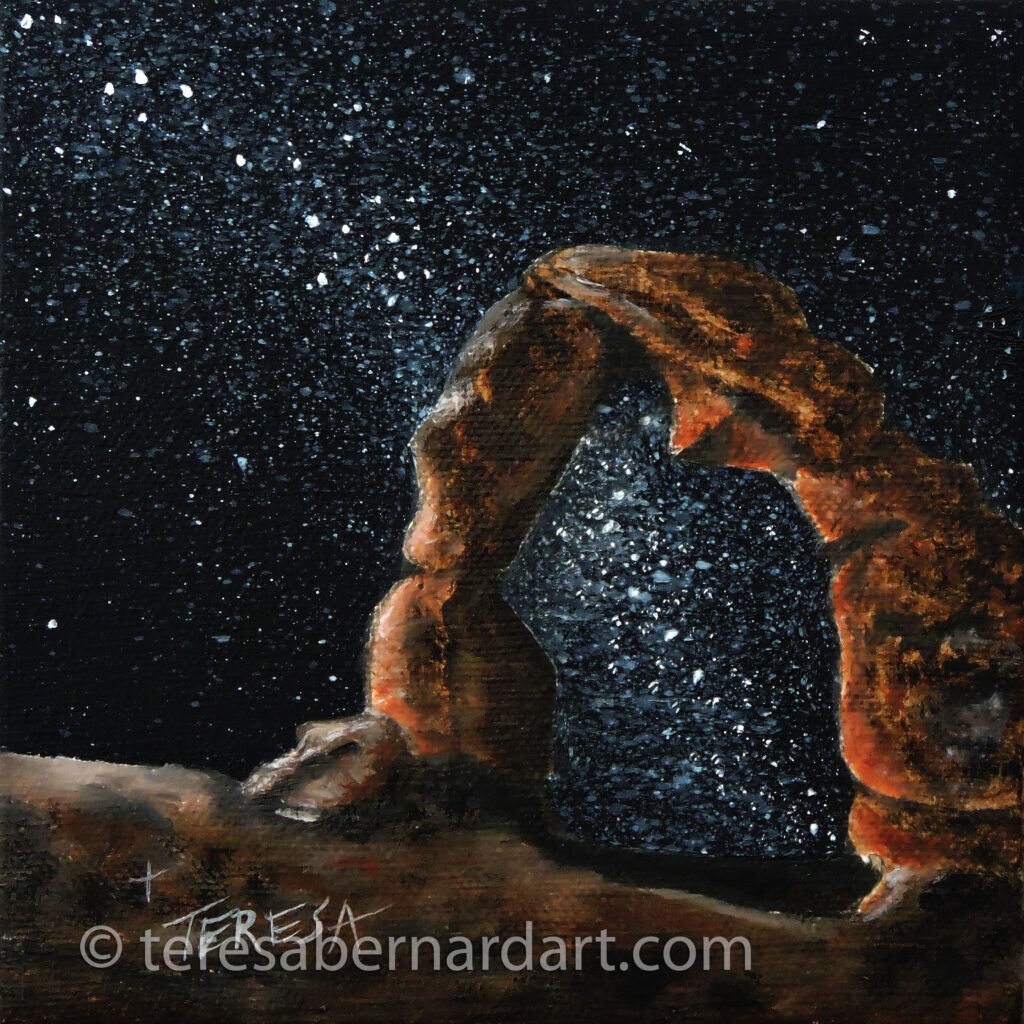 SOLD: This painting has been sold to a private art collector in Minnesota.
Customer Feedback
Hi Teresa, I received the painting today. I love it. It's beautiful. My husband and I have a couple of other paintings by you. We love your work. — N. Schiller, Apple Valley, MN
About this Painting of Delicate Arch
Title: Night Sky Over Delicate Arch
Size: 6″ w x 6″ h
Support: Gallery wrap stretched canvas
Description:  An original oil painting of the Delicate Arch formation located inside Arches National Park, Utah. Its nighttime setting includes the vastness of outer space as a backdrop for the arch.
This painting does not require framing because it is created on gallery wrap canvas, which allows the artist to paint around the edges. Hand-painted and signed by artist Teresa Bernard.
Artist Comments
Delicate Arch is depicted against a night sky in this painting. It is a natural geological formation inside Arches National Park near Moab, Utah. The arch stands 65 feet tall and spans 45 feet wide, and is the park's largest free-standing arch. It is the most visited of all the 2000 geological formations within the park and receives visitors worldwide. The arch has gone by many names over the years, including "Cowboy's Chaps," "Schoolmarms Bloomer's," and "Old Maid's Bloomers," as well as the more mundane "Salt Wash Arch." In 1934, the arch was given the name "Delicate."
Delicate Arch was formed by a gradual wearing away of the sandstone by weathering and erosion. The other arches in the park were formed in the same manner. It is the most famous of all the arches in the national park and has become a symbolic icon for Utah.
You can find more information about the arch by visiting this website.
Anyone who has visited this national park would probably agree it looks like the terrain of some faraway planet. I had the opportunity to visit this marvelous park in my younger days, and it was a fascinating place that I want to visit again someday.
Thanks for looking!
Feel free to share this with your friends.
---