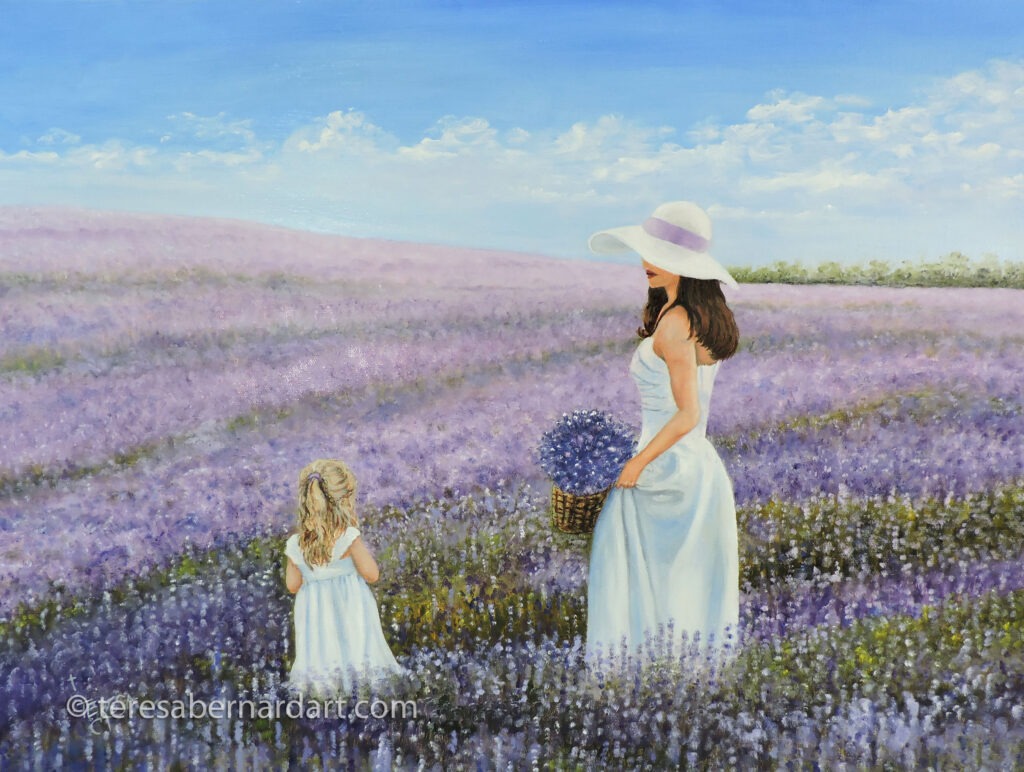 Size: 24″ w x 18″ h
Support: Gallery Wrap Stretched Canvas
Description:  A painting of two young ladies, sisters perhaps, in a field of lavender flowers. No frame is required because the composition extends around the edges of the canvas. Hand-painted and signed by fine artist Teresa Bernard.
See Artist Comments below for additional information regarding this painting.
Authenticity Certified
This painting comes with an official Certificate of Authenticity. It is your guarantee the artwork you have purchased is a genuine Teresa Bernard Oil Painting.
Purchasing Information
NEW LOWER PRICE!
$420
was $470
FREE shipping and handling within the U.S.A.
Contact us for international postage and handling.
By purchasing your painting from this site, you are buying directly from Teresa Bernard. All transactions are via PayPal, a safe and secure way to make your purchase.
Artist Comments
Sisters in Lavender painting is one of my favorite works and was pleasurable to paint. The calm, serene and tranquil feeling one gets viewing this artwork appeals to me. The ladies in the composition are no one specifically, just two young ladies who could be sisters enjoying an afternoon in a vast field of lavender flowers. I can imagine the smell of lavender wafting in the air and filling their noses with a sweet aroma as they stroll through the beautiful lavender, making some cherished memories.
Have a question?
If you have a question about this painting, please contact us, and we'll be happy to answer any of your questions.
Other Paintings Of Interest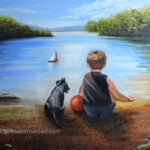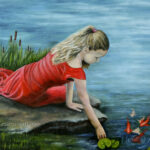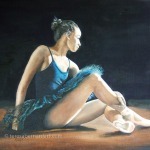 Teresa's Insider News
Be the first to know! Sign up here to be among the first to receive sneak peeks of recently completed paintings, new announcements, and other updates at the art studio.
Teresa has an insider newsletter, and it's FREE! This is her way of keeping her friends up to date by giving you sneak peeks of new paintings she completes, as well as other announcements before they are made public. Her newsletter is published every other month, so be sure to get on her mailing list. You don't want to miss a thing!
Your Feedback
♦ "Love the clouds and sky, especially. They are perfect and the fields lightening as they disappear over the hill. Very nice." — Russell Ford,  ART: REALISM AND HYPERREALISM STYLES (ONLY), MeWe
♦ "Beautiful! You are very talented! Love it!" — Mary Ann Dunaway, CHRISTIAN CONSERVATIVE PATRIOTS, MeWe
♦ "Great painting." — Ed Myers,  ART: REALISM AND HYPERREALISM STYLES (ONLY), MeWe
Thanks for looking!
Feel free to share this with your friends.
---
UPDATED: 15 August 2021