A small still life painting of a fine china teacup and saucer, similar to those used by grandmothers and great-grandmothers.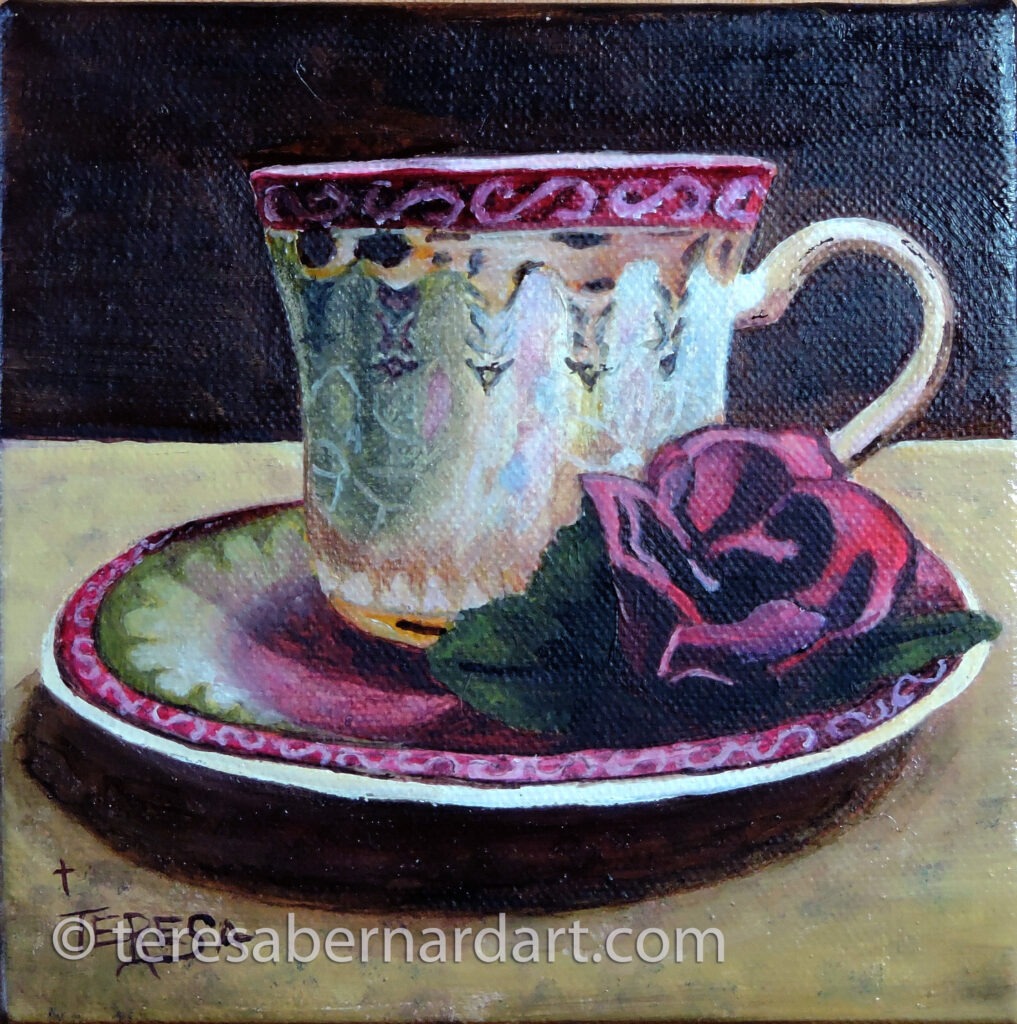 $120
FREE shipping and handling within the U.S.A.
Contact us for international postage and handling.
All transactions are via PayPal, a safe and secure way to make your purchase.
About this Fine China Teacup Painting
Title: Great-Grandma's Fine China Teacup
Size: 6″ w x 6″ h
Support: Gallery Wrap Stretched Canvas
Shape: Square
Description:  A small still life painting of a fine china teacup and saucer, the kind that grandma or great-grandma might have used to sip their tea or coffee. The teacup and saucer are decorated in burgundy and gold. A burgundy silk flower is also sitting in the saucer next to the teacup. The background is dark, and the tabletop is gold. This delicate and colorful teacup painting would be ideal for adding a touch of class to a small kitchen, dining area, or living room. The painting is signed by artist Teresa Bernard.
Because of its small size, this painting is ideal for small rooms or areas with limited space. It is 6×6 inches in size and was hand-painted on gallery wrap stretched canvas. The composition of Great-Grandma's Teacup spreads out around the edges of the canvas, giving it a fashionable appearance. This painting, whether framed or unframed, will look great in your home, office, or anywhere it is displayed.
Copyright watermarks are prominently visible on all online artwork images. This watermark is to prevent unauthorized use of the painting's image. It is not depicted in any of the original canvas paintings.

This painting comes with an official Certificate of Authenticity. More information here.
Artist Comments
I named this painting Great-Grandma's Fine China Teacup because, in this day and age of Starbucks, paper cups, and travel mugs, the art of drinking coffee or hot tea from fine china is quickly becoming a thing of the past for a great many Americans. Well, at least that is my perspective.
Here is a case in point. I read once about a young bride-to-be preparing for her upcoming wedding and how her mother coerced her into adding a set of fine china to her bridal registry. The young woman felt it would be ludicrous to do so as the china set would never get used except for holidays and perhaps rarely even then.
For many Americans, I suppose there is no longer a need for the loving memories that come from pulling out the fine china and using it for special occasions as our great-grandmothers did; or is there? And I guess it's been forgotten that hot beverages taste much better when served in a fine china cup. Not to mention that teacups are pretty and dainty, which helps to make a special occasion that much more special.
So, what are you waiting for? Bring out your great-grandma's (or grandma's) fine china and put it to use today. You're not getting any younger.
Have a question?
If you have a question about this painting, please contact us, and we'll be happy to answer any of your questions.
Other Still Life Paintings of Interest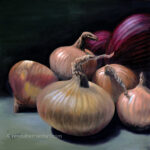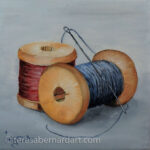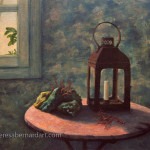 Your Feedback
♦ "I love the colors in this painting." — Donna Fullerton, THE ART GALLERY, MeWe
♦ "Aww! Absolutely amazing artwork!! Beautiful colors!!" — wotawota, Deviant Art
♦ "I love paintings of pretty vintage bases, flowers, and doilies!" — Jeanette Cox, THE ART GALLERY, MeWe
Thanks for looking!
Feel free to share this with your friends.
---
UPDATED: 15 July 2022