Enjoy this page? Please share it on: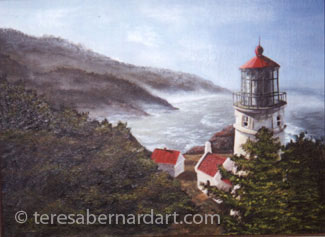 © Copyright 2000 – Present
Size: 16″ x 12″
Support: Stretched canvas
Description: A depiction of a famous Oregon coast lighthouse. This painting is one of artist Teresa Bernard's early works.
SOLD: This seaside painting sold to a private art collector in California and no longer available, however, if you would like a similar one of your own, contact us. For more information on how to commission a painting: Art Commissions Info.
Artist Comments
I find Oregon to be one of the most beautiful places in America. Having lived there for a number of years, "The Beaver State" has inspired numerous paintings of its scenery. Heceta Head Lighthouse is one of those paintings.
This oceanview oil painting is of the historic Heceta Head Lighthouse, built between 1892-1893. Perched high on a bluff approximately 150 feet above the sea, it stands watch over the Oregon coast 2 miles north of the famous Sea Lion Caves. Its beam can be seen for 21 nautical miles making it the strongest light on Oregon's coastline. Heceta Head Lighthouse is a favorite place for tourists as it is one of the most-visited lighthouses in the United States. The lighthouse offers visitors easy access and an outstanding view of the Oregon coastline and Pacific Ocean.
Although I no longer live in the Pacific Northwest, Oregon continues to be a source of inspiration for me. Below are two more paintings of Oregon.
A Few Interesting Facts About Heceta Head Lighthouse
Year beacon first lit: 1894
Height: 56′
Automated: 1963
Year first constructed: 1892
Materials: Stucco, Brick
Coordinates: 44.13737°N, 124.127835°W
Tower shape: Conical attached to workroom
Original lens: First order Fresnel lens
Range: 21 nautical miles
Listed in the National Register of Historic Places
For more information about this seaside attraction, please visit this website.
Art Commissions
Not Finding What You Are Looking For?
Teresa creates works of art for fellow art lovers all over the world. Follow this link to find out how to commission a painting of your own. Or contact us for more information.
Thanks for looking!
Feel free to share this with your friends.
---
Enjoy this page? Please share it on: